Blog/Market Talk
Posted Aug 22, 2016 by Martin Armstrong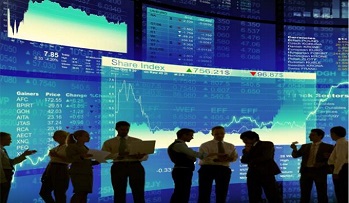 The Nikkei (cash market) had a lot to recover having just returned but recover it did. The early bounce was pulled back then the Friday afternoon recovery took over and we closed just off the days highs (+1.2%). China's Industrial Output was expected at 6.1% but came in a little short at 6% which did provide a bit of a pause but happily was just short lived. Retail Sales was also a little under the forecast (10.2 v's 10.5) but that too was quickly dismissed. Having pushed through the 3k level late yesterday we eventually saw a happy run into the weekend to close +1.6% up on the day. The Hang Seng was also strong closing with the Nikkei around 1% better.
Much of the excitement did not really occur until we saw the lunchtime data in the States. Europe had responded to the very positive Asian session but really was looking for confirmation in the form of positive data. However, what we saw was far from what the equity markets were looking for and all stocks came off their days highs. We did manage a rather neutral close but were searching for positive guidance.
US data disappointed not just the states but many markets. European currencies bounced, Gold, Oil and commodities responded but these conditions had a limited life span and by US close stocks were back to almost unchanged and we even saw the NASDAQ close higher on the day. Gold was interesting to watch after the numbers because having seen a $15 rally around $1360 but end of week selling saw us testing the $1333 level at the close. Timing needs to be watched next week as any further weakness could well accelerate.
Having been under pressure ahead of the US numbers, US Bonds recovered all and then made ground upon release. Again, we saw small flattening in 2/10's with 10's closing -5bp at 1.51% (curve closed +80bp). The afternoon was a rather tedious affair with little or no volume trading in peripherals. German Bund closed -0.11% (-1bp), Italy 1.04% (-2bp), Greece 7.99% (-2bp), Turkey 9.39%, Portugal 2.67% (-4bp) and UK 0.51% (-2bp).
The DXY did suffer upon data release but really masked the large movers. The JPY traded from 102+ to sub 101 (gaining 0.75%) whilst GBP lost its initial bounce to close 129.00 (-0.4%). We will not hear from the FED (directly) until the end of August but we will see FED July Minutes next Wednesday. We have to wait until next Tuesday for some meaningful data from Europe and the States.. Summer trading really was the name of the game this week.