Blog/Market Talk
Posted Aug 22, 2018 by Martin Armstrong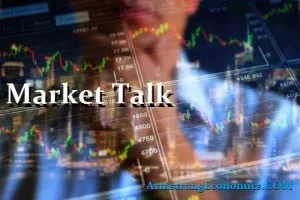 Record highs achieved in the US session and so expectedly the Asia markets responded. The Nikkei was the leader, but interestingly not from the open! It took a while for sentiment to build, but the weakness of the Yen probably helped massage prices to close up +0.64%. The talk for this and the rest of the week remains unchanged today US/China Trade talks, Powell's Jackson Hole address and Turkey. With most of that quiet the volumes remain thin despite US hitting record highs yesterday. The Hang Seng and the Shanghai appeared to off-set each other, whilst both remain at the lowest quartile of the past years trading range.
Lets just jump through the European session as most markets closed almost unchanged in the absence of news. So, onto the US session which has had its fair share of headlines yet limited impact on market movement. The S+P hit record levels yesterday, but has failed to build on that today. The news of Michael Cohen impacts President Trump campaign violations and could escalate quickly. The core US markets appear to be backing away from yesterdays levels, with the fear that nerves may now be rising. FED are still concerned about trade wars and we will probably hear more about that for Jerome Powell on Friday. Still, we continue to see strong earnings, repatriation of cash, tax incentives and a continued escalation of uncertainty almost everywhere else! Given this the flow of capital remains US bound. The DXY will be interesting as we approach month end. As the FED maintains its course so that should support the US dollar and therefore have an adverse impact on emerging market countries US debt load. Peripheral debt in Europe did come under some pressure today as the core held its ground. Italy was the weakest falling 7bp after it was rumoured the ratings maybe effected following the bridge disaster. Worth keeping an eye on BTP's, especially after the government has decided to continue with the infrastructure spend contrary to Brussels directive on austerity.
Japan 0.09%, US 2's closed 2.59% (-1bp), US 10's 2.82% (-3bp), US 30's 2.98% (-3bp), Bunds 0.34% (+1bp), France 0.68% (+1bp), Italy 3.05% (+7bp), Greece 4.13% (-3bp), Turkey 2.90%, Portugal 1.78% (+2bp), Spain 1.37% (+1bp) and Gilts 1.27% (u/c).