Blog/Market Talk
Posted Aug 22, 2017 by Martin Armstrong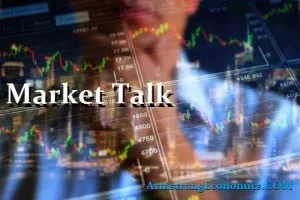 Asian markets loved the fact that the US managed to turn around yesterday and so we opened with an air of confidence for this mornings trade. After an initial sell-off in the Nikkei early session we saw a bounce that unfortunately failed. By mid afternoon we had slipped back to the days lows and watched as stocks struggled into the close (-0.1%) completing the fifth day of losses. The JPY continues to play around the mid 109's, which is interesting as equity markets are rounding yet the safe-haven bid remains for the yen! The SENSEX saw a similar pattern to the Nikkei having failed a concessive move in either direction.The Shanghai also managed small positive gains but the Hang Seng gained 1% as property companies closed well bid. ASX bounced with an encouraging resources rally (BHP +3%) and sees currency almost unchanged at 0.792.
It has been clear recently, that the US markets have been global leaders in trend. Asia bounced because of a better close and this afternoons trading in Europe accelerated because of a strong opening. The DAX was the strongest performer for Europe (+1.35%), but probably not surprising having been the most beaten-up in recent trading. This was followed closely by both the CAC and FTSE (+0.9%) with IBEX +0.5%. Volumes have been light however , as we are still in summer trading and we were led by basic resources. Worth keeping an eye on Global Market Watch for copper which has been forecast for a while now. Data from Germany was a hot topic earlier in the day after the ZEW index released way below expectations disappointing expectations. BREXIT headlines are never far away and today we hear the UK's desire to retain English Law governing business law following the divorce. GBP and the Euro both fell around -0.5% which helped the stock indices but the hot topic remains Jackson Hole for the immediate concerns. Talking around it sounds like the DXY is a heavy short amongst many players so worth being flexible especially when volumes are so light.
1%+ gains for all major US indices with the VIX losing 12% (last seen 11.60%). Interesting that the S+P bounced off of the 100 day moving average and is happy waiting for central bank news later in the week. We saw a broad based move across the board with Retailers coming back from the depths, Materials and even banks performed today. There was renewed whispers that the House maybe making progress on tax reforms, which certainly helped sentiment but remember it is not uncommon to see exaggerated moves when volumes are so low. Still a couple of days before headlines start to roll from central banks but the treasury market remains indifferent to a December rate increase.
2's closed 1.32% (+1bp), 10's 2.21% (+3bp), 30's 2.79% (+2bp), Bunds 0.4% (u/c) which closes the spread +181bp (+3bp). France 0.7% (+1bp), Italy 2.09% (+7bp), Greece 5.47% (-4bp), Turkey 10.35% (u/c), Portugal 2.72% (+1bp), Gilts 1.08% (+2bp).