Blog/Market Talk
Posted Aug 21, 2019 by Martin Armstrong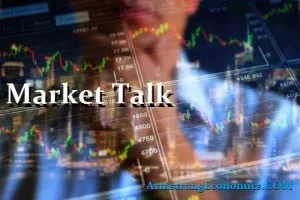 ASIA:
China announced that they will be looking into placing sanctions on any US company involved in the proposed US-Taiwan sale of F-16 fighter jets. The US approved of an 8 billion USD transaction of 66 aircrafts.
Twitter and Facebook have apparently shut down Chinese state-owned accounts that were trying to downgrade the Hong Kong protests. Meanwhile there are still ongoing huge peaceful protests in the city.
The major Asian stock markets had a mixed day today:
Shanghai increased 0.33 points or 0.01% to 2,880.33
Kospi increased 4.40 points or 0.22% to 1964.65
ASX 200 decreased 61.70 points or -0.94% to 6,483.30
NIKKEI 225 decreased 58.65 points or -0.28% to 20,618.57
Hang Seng increased 38.50 points or 0.15% to 26,270.04
SENSEX decreased 267.64 points or -0.72% to 37,060.37
The major Asian currency markets had a mixed day today:
AUDUSD increased 0.0016 or 0.23% to 0.6792
NZDUSD decreased 0.0002 or 0.03% to 0.6412
USDJPY increased 0.2530 or 0.24% to 106.4730
USDCNY decreased 0.0028 or 0.04% to 7.0670
Precious Metals:
Gold decreased 3.75 USD/t oz. or -0.25% to 1,504.89
Silver decreased 0.0095 USD/t. oz or -0.06%% to 17.1342
Some economic news from last night:
New Zealand:
Credit Card Spending (YoY) decreased from 6.6% to 5.0%
Australia:
MI Leading Index (MoM) increased from -0.1% to 0.1%
South Korea:
PPI (MoM) (Jul) increased from -0.3% to 0.0%
PPI (YoY) (Jul) decreased from 0.1% to -0.3%
EUROPE/EMEA:

British Prime Minister Boris Johnson will start his European tour today by meeting with Angela Merkel in Berlin. There are hopes that such a meeting could spur into an agreement between the EU and Britain. However, it is a tough task as it would have to be a bilateral agreement amongst the 28 nations. Germany's stance is strongly against editing the current withdrawal agreement. Boris Johnson will then meet with President Macron in Paris on Thursday to try and find a way forward.
Later in the evening, after Boris Johnson and Angela Merkel had their meeting, they held a joint press conference in which Angela Merkel stressed that it was up to the UK to present a reasonable plan. However, an alternative to the backstop agreement could be reached within 30 days.
A new scheme in Europe called the EES standing for entry and exit scheme is expected to come into force in 2022. This will monitor the whereabouts of travelers within the European Union, with one effect being the taxation of non-EU residents.
New reports are emerging that the UK is planning to rip up the freedom of movement act for EU citizens if a no-deal Brexit is reached. UK home secretary Priti Patel said that they will end free movement as soon as possible if there is no deal.
Israel has been given the go ahead from Russia and the US to strike Iranian targets in Iraq. Meanwhile, Iran has decided to slash four zeros of its currency as it has been spiraling since the crisis.
The Iranian PM has announced that if Iranian exports are cut to zero the waterways will not be as safe as before, which could be a threat to the US.
The major Europe stock markets had a green day today:
CAC 40 increased 90.84 points or 1.70% to 5,435.48
FTSE 100 increased 78.97 points, or 1.11% to 7,203.97
DAX increased 151.67 points or 1.30% to 11,802.85
The major Europe currency markets had a mixed day today:
EURUSD decreased 0.0002 or 0.02% to 1.1097
GBPUSD decreased 0.0028 or 0.23% to 1.2140
USDCHF increased 0.0035 or 0.36% to 0.9813
Some economic news from Europe today:
Norway:
Unemployment Rate (Jun) increased from 3.4% to 3.6%
Spain:
Spanish Trade Balance increased from -2.11B to -1.53B
UK:
Public Sector Net Borrowing (Jul) decreased from 5.67B to -1.97B
Public Sector Net Cash Requirement (Jul) decreased from 15.209B to -13.510B
US/AMERICAS:
The Federal Reserve released their July minutes report this Wednesday. According to the report, the FOMC agreed that the latest rate cut was not indicative of future cuts, but rather a "mid-cycle adjustment." Despite the White House urging the Fed to lower interest rates, FOMC participants "highlighted the need for policymakers to remain flexible and focused on the implications of incoming data for the outlook." Despite the 25 basis-point drop in rates, a few participants were hoping to see a larger decreased of around 50 basis points and cited stagnant inflation as their reasoning. Other members did not feel the need to reduce interest rates at all.
The yield curve momentarily inverted again this Wednesday after the 10-year Treasury note slipped beneath the 2-year note. By the end of the day, the 10-year Treasury note gained traction and surpassed the 2-year. The inversion heightened concerns as this is the second time this phenomenon has occurred this week.
Trade deals with China and other countries are "doing great," President Trump announced on Wednesday morning. The president was insistent that the only hindrance to US economic growth is the Federal Reserve's interest rate policies. Other countries are offering lower rates of interest, and the president believe the US should offer even lower rates to gain a competitive advantage.
Later in the day, the president told reporters in front of the White House that the trade war with China was not his war. "Somebody had to do it, so I'm taking on China," he exclaimed.
President Trump canceled his upcoming trip to Greenland after Denmark officials denied his request to purchase the autonomous Danish territory. "Greenland is not for sale. Greenland is not Danish. Greenland belongs to Greenland," Prime Minister Mette Frederiksen told the press. Danish officials called the proposal "absurd" and said it was akin to requesting to buy Alaska from the US. Further offending Danish officials, President Trump posted a photoshopped picture of a Trump tower in Greenland with a caption reading, "I promise not to do this to Greenland!"
US Market Closings:
Dow advanced 240.29 points or 0.93% to 26,202.73
S&P 500 advanced 23.92 points or 0.82% to 2,924.43
Nasdaq advanced 71.65 points or 0.90% to 8,020.21
Russell 2000 advanced 11.84 points or 0.79% to 1,509.85
Canadian Market Closings:
TSX Composite advanced 95.92 points or 0.59% to 16,309.23
TSX 60 advanced 6.77 points or 0.70% to 973.95
Brazil Market Closing:
Bovespa advanced 1,979.65 points or 2.0% to 101,201.90
ENERGY:
U.S. crude oil stocks fell by 3.5m barrels in the week of Aug. 16,  American Petroleum Institute (API) report showed today.
The oil markets had a mixed day today:
Crude Oil decreased 0.15 USD/BBL or -0.27% to 56.2645
Brent increased 0.74 USD/BBL or 1.23% to 60.6377
Natural gas decreased 0.049 USD/MMBtu or -2.21% to 2.1683
Gasoline increased 0.0118 USD/GAL or 0.70% to 1.6909
Heating oil increased 0.0124 USD/GAL or 0.67% to 1.8632
Top commodity gainers: Coffee (1.80%), Bitumen (1.78%), Ethanol (1.54%), and Orange Juice (2.56%)
Top commodity losers: Rubber (-2.27 %), Natural Gas (-1.98%), Lean Hogs (-1.89%), and Palladium (-1.14%)
The above data was collected around 12:10 EST on Wednesday.
BONDS:
Japan -0.24%(-0bp), US 2's 1.54% (+2bps), US 10's 1.57%(+1bps), US 30's 2.05%(+0bps), Bunds -0.68% (+1bp), France -0.41% (+1bp), Italy 1.33% (-2bp), Turkey 15.92% (+5bp), Greece 2.00% (+1bp), Portugal 0.12% (-1bp), Spain 0.09% (-1bp) and UK Gilts 0.46% (+1bp).
Germany 30-Year Bund Auction decreased from 0.300% to -0.110%