Blog/Market Talk
Posted Aug 21, 2018 by Martin Armstrong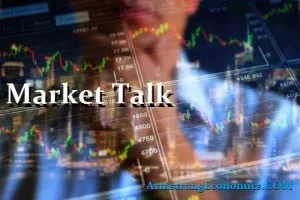 Middle of summer and if you ever needed an excuse not to trade, today was probably it! Volumes were so poor they hardly registered a change in markets. Although the Nikkei started lower, it spent the rest of the day making its way back to positive. That is probably the good news as the close was only +0.10%. The Yen did trade to high to mid 109's but has subsequently drifted back into the US afternoon session. The Shanghai has been the key driver today, helping sentiment for the Hang Seng (+0.6%) and pushed confidence into the European opening. SENSEX spent all day trading neutral, but probably not a surprise as Wednesday is a public holidays. The index continues to play around all time highs and so month end numbers will probably be quite supportive, lets see! ASX lost 1% as Malcolm Turnbull narrowly escapes a leadership challenge. Despite the largest stock BHP announcing a 33% improvement of increased profits – but, expectations were higher and consequently their shares lost almost 2%.
The US strength came a little too late to have a significant effort on Europe, but they caught the bullish trend none the less. The core CAC and DAX both finished around +0.5% and even saw a mild recovery in the Euro, which was expected for this week. Energy, commodities and base materials have all helped this week as they are all priced in USD and that is what is driving them this week. Europe is still fragmenting after today we see Italy plans to move ahead with an internal infrastructure spend, which helped FTSE MIB accelerate +1.53%. UK's FTSE traded heavy, but more due to the +0.7% rally in currency than anything else. BREXIT is being talked of a likely 'No Deal' but still the market is refusing to believe that outcome. This way the shock will be even more inflated, as no one seems to wish to hedge – even just in-case! Interesting why so many live in denial until its too late.
The biggest headline and market talk this afternoon has been the fact that the S+P index hit fresh record highs whilst setting a record for the longest bull run ever. It will be interesting to see the close on Friday, after we hear from Powell. Also, we have month end next week, which will be equally closely watched. The US Dollar has obviously helped this week, but the flow of cash continues to be towards the US. The NASDAQ still lags much of the core whilst the S+P Mid & Small Caps and DOW Transports all hit records.
Japan 0.08%, US 2's closed 2.60% (+1bp), US 10's closed 2.85% (+3bp), US 30's 3.01% (+3bp), Bunds 0.33% (+3bp), France 0.67% (+2bp), Italy 2.98% (-3bp), Greece 4.16% (-9bp), Turkey 20.90% (u/c), Portugal 1.76% (-2bp), Spain 1.36% (-2bp), and Gilts 1.27% (+5bp).