Blog/Market Talk
Posted Aug 20, 2018 by Martin Armstrong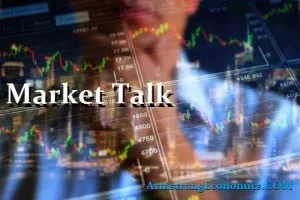 Japan was the outlier today after the majority produced a positive return. After an initial surge the Nikkei fell back into negative territory where it spent the rest of the day. Exporters, energy, base metals and banks fell victim to todays weakness and probably not helped by the Yen's strength. In late US trading it currently plays with a 109 handle having been edging its way for much of the day. Core Shanghai and Hang Seng both performed as much is being built into the resumption of US/China trade talks. A much welcomed 1%+ rally for both has helped bring a little relief, but both remain at the bottom of their 52wk range. The headlines will be very closely watched, especially later in the week when Powell speaks at Jackson Hole on Friday and Wednesdays FED Minutes release. In India today the SENSEX (+0.87%) rallied to another fresh high and probably helped by the fresh capital being repatriated. This cash flow does appear to be slowing, but it has helped bring the Rupee back to a 69 handle. ASX closed a touch firmer helped by a strong performances in base resources and the mining sector, this also massaged the A$ a touch pushing that back to a 0.7325 (+0.25%) quote.
We are quite light on economic data this week and so people will naturally focus on the US/China trade talk even though they are a precursor to the November conference. The positive talk and a reasonably healthy Asian session helped European indices also. The DAX returned 1%, and the CAC gaining +0.65%. Peripherals also managed to tag alone with FTSE MIB and IBEX both closing around +04% higher. The UK's FTSE added +0.45% in light summer volume as many await the next headline on BREXIT. Domestic headlines are quiet currently as the government is on summer recess, but we do see the odd scare comment from bank chiefs. A lot is being made of Greece finally exiting its EU bailout after eight years. A rough amount of $330bn will still take decades to repay. The debt stands at around 180% of GDP and is around 25% smaller than it was pre-crisis. Even though it now has the ability to raise cash, the yield will be in excess of current rates (10yrs at 4.25%) and that's hoping the ECB would be there to help.
Headlines are all about being within a whisker of fresh all time highs again. Today the S+P closed within 1% of record close after we closed up 7 points (+0.24%) today. The treasury market is helping this rally still, as yields decline in what many believe is gentle persuasion between the President and the Chair. Next, all eyes will be on headlines surrounding these trade talks, but it is probably doubtful we will hear much until the end of the week. Tech is back helping push the core to new heights and again this does not look as though it has run its course anytime soon. The trend remains buy the dips even with the light volume.
Japan 0.09%, US 2's closed 2.59% (-3bp), 10's 2.82% (-5bp), 30's 2.98% (-5bp), Bunds 0.30% (u/c), France 0.65% (-1bp), Italy 3.01% (-10bp), Greece 4.25% (-3bp), Turkey 20.90% (-7bp), Portugal 1.78% (-5bp), Spain 1.38% (-6bp) and Gilts 1.22% (-1bp). Treasury market is running ahead of the Trump comments and assuming they are having a knock-on effect on the Federal Reserve.