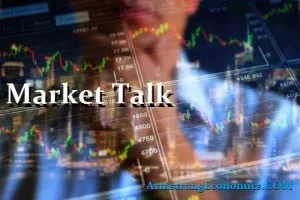 ASIA:
There has been news suggesting that China wants to retaliate to the tariffs imposed by Trump, but their faltering economy and high debt burden does not allow them to do so. Today, China's Ministry of Commerce, which is heavily involved in the country's trade policy, said it would "take necessary counter measures to resolutely defend the core interests of the country and the fundamental interests of the people."
South Korea today accused Japan of economic war after Japan removed South Korea from a favored trade list. The decision to drop South Korea off the list means that exports to South Korea need an additional layer of screening to make sure any instrument is not used for military purposes. But of course there will be a lot of items that will be able to be used as both military and civilians, and thus could create a disruption to the South Korean economy.
India has now slipped to 7th place according to GDP rankings. Last year, India occupied the 5th slot but since the economy has slowed somewhat France and the UK were able to jump above them on the leaderboard.
The major Asian stock markets had a mixed day today:
Shanghai decreased 40.93 points or -1.41% to 2,867.84
Kospi decreased 19.21 points or -0.95% to 1,998.13
ASX 200 decreased 20.30 points or -0.30% to 6,768.60
NIKKEI 225 decreased 453.83 points or -2.11% to 21,087.16
Hang Seng decreased 647.12 points or -2.35% to 26,918.58
SENSEX increased 99.90 points or 0.27% to 37,118.22
The major Asian currency markets had a mixed day today:
AUDUSD decreased 0.0002 or 0.03% to 0.6797
NZDUSD decreased 0.0029 or 0.44% to 0.6532
USDJPY decreased 0.7650 or 0.71% to 106.5650
USDCNY increased 0.0198 or 0.28% to 6.9738
Precious Metals:
Gold decreased 3.46 USD/t oz. or -0.24% to 1,439.57
Silver decreased 0.115 USD/t. oz or -0.70% to 16.2234
Some economic news from last night:
Japan:
Monetary Base (YoY) decreased from 4.0% to 3.7%
Australia:
PPI (QoQ) (Q2) remain the same at 0.4%
PPI (YoY) (Q2) increased from 1.9% to 2.0%
Retail Sales (MoM) (Jun) increased from 0.1% to 0.4%
Retail Sales (QoQ) (Q2) increased from -0.1% to 0.2%
Some economic news from today:
India:
Bank Loan Growth increased from 12.0% to 12.2%
Deposit Growth increased from 10.3% to 10.6%
FX Reserves, USD decreased from 430.38B to 429.65B
Singapore:
Manufacturing PMI (Jul) increased from 49.6 to 49.8
EUROPE/EMEA:
U.S. President Trump signed a deal this Friday to increase American beef sales to the EU. The new deal will nearly triple beef exports to the EU from $150 million to $420 million. "This is a tremendous victory for American farmers, ranchers and of course, European consumers," President Trump announced. It is thought that the new agreement will also help to ease trade tensions between the U.S. and EU.
The EU has now whittled the voting down to two candidates to replace Christine Lagarde's role as head of the IMF. Jeroen Dijsselbloem, the former chair of the Eurogroup of EU finance ministers, is up against Kristalina Georgieva, the Bulgarian World Bank chief executive, in a vote this afternoon.
PM Boris Johnson and President Donald Trump are expected to meet soon and had a telephone conversation on Thursday to discuss 5G mobile network security ahead of the meeting. Meanwhile Nigel Farage of the Brexit Party has warned the Tories will be "annihilated" if Boris Johnson does not deliver Brexit by October 31.
The major Europe stock markets had a negative day today:
CAC 40 decreased 198.41 points or -3.57% to 5,359.00
FTSE 100 decreased 177.81 points, or -2.34% to 7,407.06
DAX decreased 380.71 points or -3.11% to 11,872.44
The major Europe currency markets had a mixed day today:
EURUSD increased 0.0027 or 0.24% to 1.1110
GBPUSD increased 0.0034 or 0.28% to 1.2165
USDCHF decreased 0.0081 or 0.82% to 0.9820
Some economic news from Europe:
Norway:
Credit Indicator (YoY) (Jun) remain the same at 5.7%
Unemployment Change (Jul) increased from 77.02K to 78.60K
Unemployment Rate n.s.a. (Jul) increased from 2.10% to 2.40%
Swiss:
SVME PMI (Jul) decreased from 47.7 to 44.7
CPI (YoY) (Jul) decreased from 0.6% to 0.3%
CPI (MoM) (Jul) decreased from 0.0% to -0.5%
Spain:
Spanish Unemployment Change increased from -63.8K to -4.3K
Italy:
Italian Industrial Production (YoY) (Jun) decreased from -0.6% to -1.2%
Italian Industrial Production (MoM) (Jun) decreased from 1.0% to -0.2%
Italian Retail Sales (YoY) (Jun) increased from -1.8% to 1.3%
Italian Retail Sales (MoM) (Jun) increased from -0.6% to 1.9%
UK:
Construction PMI (Jul) increased from 43.1 to 45.3
Eurozone:
PPI (MoM) (Jun) decreased from -0.1% to -0.6%
PPI (YoY) (Jun) decreased from 1.6% to 0.7%
Retail Sales (YoY) (Jun) increased from 1.0% to 2.6%
Retail Sales (MoM) (Jun) increased from -0.6% to 1.1%
U.S./AMERICAS:
U.S. job growth in July closely met analysts' expectations after increasing by 164,000. Unemployment in the U.S. remains low at 3.7%, and wage growth increased in July by 3.2% YoY. Professional and tech positions increased by 31,000, healthcare positions increased by 30,000, social assistance increased by 20,000, and financial positions increased by 18,000. June's jobs report was revised to reflect 193,000 positions opposed to the original optimistic forecast of 224,000. May's underwhelming job report was also revised to reflect 62,000 positions, down from the original forecast or 72,000.
The number of $100 bills in circulation has surpassed the number of $1 bills, according to a recent report by the IMF. The number of $100 bills in circulation has doubled since the Great Recession. The Federal Reserve in Chicago noted that 80% of the $100 bills in circulation are held overseas, which reiterates the dollar's position as the world's reserve currency.
North Korea recently fired three short-range missiles which may be a United Nations violation. However, President Donald Trump assured the public that Kim Jong Un would not "want to disappoint me wit a violation of trust." Trump further added that there is too much to lose for North Korea to violate the agreement that was signed in Singapore.
According to a new report by the Fraser Research Institute, taxes consume 44% of the average Canadian's income. In contrast, basic necessities only compose 36.3% of consumption. "Taxes have grown much more rapidly than any other single expenditure for the average Canadian family: expenditures on shelter increased by 1,593%, clothing by 769%, and food by 639% from 1961 to 2018," the report stated.
U.S. Market Closings:
The Dow declined 98.41 points or -0.37% to 26,485.01
S&P 500 declined 21.51 points or -0.73% to 2,932.05
Nasdaq declined 107.05 points or 1.32% to 8,004.07
Russell 2000 declined 17.11 points or -1.10% to 1,533.66
Canada Market Closings:
TSX Composite declined 105.38 points or -0.64% to 16,271.66
TSX 60 declined 7.30 points or -0.75% to 969.49
Brazil Market Closing:
Bovespa advanced 547.74 points or 0.54% to 102,673.68
ENERGY:
Saudi Arabia could potentially cut Crude oil prices to Asia in September. The Middle East index price has dropped and Saudi Arabia is looking to drop premiums by at least 50 cents in September. CNBC has reported that there are between 12 to 14 million of barrels of  Iranian oil that has made its way to China since the sanctions took place, and the current market does not account for the oversupply.
The oil markets had a mixed day today:
Crude Oil increased 1.61 USD/BBL or 2.98% to 55.5697
Brent increased 1.25 USD/BBL or 2.07% to 61.8165
Natural gas decreased 0.072 USD/MMBtu or -3.27% to 2.1328
Gasoline increased 0.0294 USD/GAL or 1.68% to 1.7823
Heating oil increased 0.0325 USD/GAL or 1.75% to 1.8892
Top commodity gainers: Steel (3.28%), Wheat (3.15%), Crude Oil(3.00%), and Oat (3.19%)
Top commodity losers: Rubber (-7.44 %), Cotton (-4.75%), Copper (-3.95%), and Bitumen (-3.87%)
The above data was collected around 15:05  EST on Friday.
BONDS:
Japan -0.16%(-3bp), US 2's 1.72% (-0bps), US 10's 1.87%(-2bps), US 30's 2.41%(-3bps), Bunds -0.49% (-4bp), France -0.23% (-4bp), Italy 1.53% (-2bp), Turkey 15.02% (-12bp), Greece 2.05% (-1bp), Portugal 0.30% (-5bp), Spain 0.26% (-4bp) and UK Gilts 0.55% (-4bp).