Blog/Market Talk
Posted Aug 2, 2018 by Martin Armstrong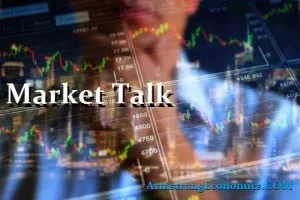 The optimistic rally seen earlier in the week over possible US / China Trade agreement, was soon to face the cold light of day and todays price action reflects just that. Both Shanghai and Hang Seng demonstrated this today as both fell over 2% and closed on the days lows. The Nikkei has also seen the concerns even though the Nikkei fell just 1%. The Yen is seeing a flight to safety bid again, even this tends not to make any sense at all! The Yen trades close to its days highs in late US trading although does look to be struggling at these levels. Commodities are trading heavy, but probably the result of the stronger US Dollar. This is having a knock-on effect on the ASX (-0.6%) and the Aussie dollar, which today fell another -0.5%. The SENSEX traded heavy all day as talk of money leaving the country starts to escalate. The INR trended weaker as the day wore-on and looks to be challenging the 69 handle once again very soon.
Trade concerns also hit European bourses with most closing down around -1.5%. DAX lead the chase for the core as the export concerns hit auto's again. Some financials released better than expected results (BNP, Soc Gen), but it was not nearly enough to turn the mood. The BOE rate decision of a hike and the vote split (9-0) was only enough to lend a helping hand, but then even that wore-off. Governor Carney suggested that the rate of increase would be slow was what really hit Sterling in afternoon trading. BREXIT was obviously major topic and we should hear more on that tomorrow when PM May meets French President Macron. GBP lost over 1% mostly in afternoon trading, with Euro also down -0.6%. This trend looks to be returning after earlier consolidation.
A very impressive day for US stocks recovering well from early futures losses. Guess mainstream starting to see the cash flow into the states now! The NASDAQ led the rally with Apple becoming the first stock to breach the $1tln mark. Finally adding over 1.25% as more cash starts to move from the side-lines. Friday we see the latest jobs number, but as we've come to expect now it is all about the 'Hourly earnings'. Headline number is expected 200k and anymore will further accelerate the USD's rise.
Japan 0.12%, US 2's closed 2.66% (-1bp), US 10's closed 2.98% (-2bp), US 30's 3.12% (u/c), Bunds 0.46% (-2bp), France 0.78% (u/c), Italy 2.90% (+12bp), Greece 4.03% (+13bp), Turkey 18.28% (+51bp) – Turkish Lira lost another 1.5% again today, Portugal 1.79% (+2bp), Spain 1.45% (u/c) and Gilts 1.38% (u/c).