Blog/Market Talk
Posted Aug 1, 2017 by Martin Armstrong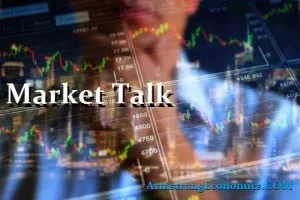 A solid day for Asia with gains for all core markets of between +0.3% in the Nikkei and +0.9% for the Australian ASX. All sectors contributed to the broad gains with no single area playing a dominant role. In China, we saw better than expected PMI which provided the boast many markets were looking for. Australia left cash rates unchanged at 1.5% as the currency still resides under the $0.8 psychological level. The yen has not moved much so far this week, but interestingly remains mid 110 area. The Hang Seng closed up +0.8% with Insurance, Property and Industrials leading the way. The late news from the USA did have an impact initially, but was soon pasted over when buying momentum caught-hold.
Europe also ignored much of the US politics responding more to bullish mood following-on from Asia. Volumes were a little light in typical August trading but also as Switzerland was on a public holiday. The initial move was supported very soon when a positive spin was awarded to some economic data. The Eurozone PMI released 56.6 for July, lower than the 57.4 released in June but talked any number above 50 is expansion. DAX, closed up over 1.1% on a day when the Euro eventually closed small down but in a tight range. The CAC, FTSE and IBEX were all around +0.7% higher on the day with a broad based rally helping all sectors.
Most of the talk in US hours was concerning the DOW and the likelihood of closing above the psychological 22k level. At one stage we came within inches of breaching the record number but was eventually rejected by the close. Earnings have been the reason we continue to push ahead, but we probably need economic data to retain the pace. This Friday we will see the employment data with many hoping this will be the sauce to propel this rally even more. DOW futures breached 22k today but we have yet to see that for cash.
2's closed 1.34% (-1bp), 10's 2.25% (-4bp), 30's 2.86% (-4bp), Bunds 0.49% (-5bp, closing the US/Germany spread at +176bp (+1bp). France 0.74% (-6bp), Italy 2% (-8bp), Greece 5.35% (+6bp), Turkey 10.29% (-4bp), Portugal 2.76% (-5bp) and Gilts 1.21% (-2bp)