Blog/Market Talk
Posted Aug 1, 2016 by Martin Armstrong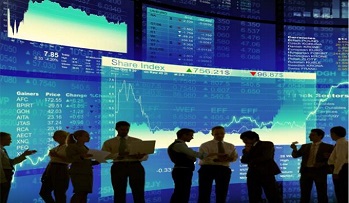 Other than individual bank stocks, Friday's EBA report had little overall effect on core markets as we heard nothing that we were not already familiar with. The Nikkei opened around 1% lower and then spent the rest of the day trying to recoup opening losses, which was pretty similar to the Hang Seng. Shanghai, on the other hand, found it extremely difficult to bounce having just seen weaker PMI at 49.9 against an expected 50 forecast. Services were marginally better but failed to boost confidence. In late US trading both China300 and the Nikkei have declined around 1% from the cash close.
It really is expected top be a quiet start to the week as we have plenty to talk about at the end and so on the back of poor PMI numbers, Europe traded heavy. Peripheral markets (Spain and Italy) were way below expectation but Germany and the Eurozone in general performed better and that reflected in the indices. CAC, UK and IBEX were all down around -0.75% whilst DAX closed with marginal a loss. UK PMI was even worse than some peripherals with a 48.2 print against expectations for a 49.1. This news hit GBP from the days highs to close down 0.6% with many expecting the BOE to act on Thursday. Unicredit did not help as with its shares down 9% before being suspended. HSBC, Barclays, Deutsche and RBS all were down around 2%.
The continued weakness in oil and the general lethargic trading volume we saw small losses for both the DOW and the broader S+P whilst the NASDAQ continues to perform. ISM came in slightly lower than forecast (52.6 against an expected 53) but given summer may have finally arrived there is still plenty to play for later in the week. Friday NFP will be the focus for many traders this week and with expectations so low (180k and 4.8%) from previous 287k and 4.9% it could well be a busy Friday afternoon session.
US Treasury curve saw some steepening today with 2/10 closing +3bp at +83.5bp. 10's lost 7bp today closing at 1.52%. Europe also saw weakness in fixed-income markets despite summer trading conditions. 10yr Bunds closed 2bp higher (less negative) at -0.06%, closing the US/Germany spread at +158bp. Italy closed 1.18% (+1bp), Greece 8.02% (+4bp), Turkey 9.47% (+2bp), Portugal 2.87% (-3bp) and UK Gilt at 0.73% (+4bp). UK Gilts were higher despite BOE rate cuts expectations but we do have additional supply tomorrow of £2.5bn 6yr paper.