Blog/Market Talk
Posted Aug 19, 2019 by Martin Armstrong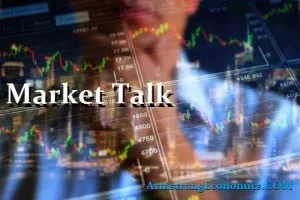 ASIA:
There are reports of military personnel in the city's largest sports complex across the Hong Kong border in neighboring Chinese city Shenzhen. This is a reminder to Hong Kong that China is ready if the situation gets out of hand for local police. Meanwhile, a report from website Gizmodo is reporting that China's largest state-run news agency Xinhua News is buying lots of Facebook and Twitter ads to smear the Hong Kong protestors. One of the Facebook ads discusses Democratic House Speaker Nancy Pelosi criticisms of China, calling on her to "fly to Hong Kong to see what the true facts are."
Economic reports out of Japan state that the economy is in a decline after the impact the US-China trade war as well as their own issues with South Korea. July saw their exports drop 1.6% as well as the manufacturers business confidence drop significantly.
Trump was quite optimistic over the state of affairs with the US and China. He said that China would like to make a deal, and billions of dollars' worth of tariffs could disappear. Apple CEO said that tariffs with China will make Apple less competitive with the likes of Samsung as he and the president had dinner on Friday night.
The major Asian stock markets had a green day today:
Shanghai increased 59.27 points or 2.10% to 2,883.10
Kospi increased 12.73 points or 0.66% to 1939.90
ASX 200 increased 61.90 points or 0.97% to 6,467.40
NIKKEI 225 increased 144.35 points or 0.71% to 20,563.16
Hang Seng increased 557.62 points or 2.17% to 26,291.84
SENSEX increased 52.16 points or 0.14% to 37,402.49
The major Asian currency markets had a mixed day today:
AUDUSD decreased 0.0004 or 0.06% to 0.6776
NZDUSD decreased 0.0006 or 0.09% to 0.6421
USDJPY increased 0.1480 or 0.14% to 106.5080
USDCNY increased 0.0152 or 0.22% to 7.0571
Precious Metals:
Gold decreased 11.25 USD/t oz. or -0.74% to 1,501.85
Silver decreased 0.078 USD/t. oz or -0.46% to 16.9684
Some economic news from last night:
New Zealand:
PPI Input (QoQ) (Q2) increased from -0.9% to 0.3%
PPI Output (QoQ) (Q2) increased from -0.5% to 0.5%
Japan:
Reuters Tankan Index (Aug) decreased from 3 to -4
Adjusted Trade Balance decreased from -0.03T to -0.13T
Exports (YoY) (Jul) increased from -6.6% to -1.6%
Imports (YoY) (Jul) increased from -5.2% to -1.2%
Trade Balance (Jul) decreased from 589.6B to -249.6B
Some economic news from today:
Hong Kong:
Unemployment Rate (Jul) increased from 2.8% to 2.9%
EUROPE:
There is not much certainty over the progress of Brexit. PM Boris Johnson is to meet with EU leaders for Brexit talks this week – but there seems to be little wiggle room in negotiations with his counterparties in France and Germany. There was a leak for a "no-deal" with a scenario described as "yellow hammer," confirmed by Michael Gove via Twitter as the worst-case scenario that could harm water and food suppliers to the island. Michael Gove also stated that there has been significant steps in the last few weeks to accelerate planning for a no-deal.
Iran has sent a warning to the US about their attempt to seize the newly freed ship from the waters off Gibraltar. Britain freed the tanker last Thursday as the court received a written statement from the Iranian government pledging that the tanker was not destined for an EU sanctioned country such as Syria. After its release, the US immediately put in a warrant for the seizure of the ship. President Trump stated that Iran would like to open talks but they don't know how to approach the talks.
The major Europe stock markets had a green day today:
CAC 40 increased 70.77 points or 1.34% to 5,371.56
FTSE 100 increased 72.50 points, or 1.02% to 7,189.65
DAX increased 152.63 points or 1.32% to 11,715.37
The major Europe currency markets had a mixed day today:
EURUSD increased 0.0010 or 0.09% to 1.1099
GBPUSD decreased 0.0021 or 0.17% to 1.2129
USDCHF increased 0.0021 or 0.21% to 0.9803
Some economic news from Europe today:
Eurozone:
Current Account (Jun) decreased from 30.2B to 18.4B
Current Account n.s.a. (Jun) increased from 13.5B to 23.1b
Core CPI (YoY) (Jul) decreased from 1.1% to 0.9%
Core CPI (MoM) (Jul) remain the same at -0.6%
CPI (MoM) (Jul) decreased from 0.2% to -0.5%
CPI (YoY) (Jul) decreased from 1.3% to 1.0%
CPI ex Tobacco (YoY) (Jul) decreased from 1.2% to 1.0%
CPI ex Tobacco (MoM) (Jul) decreased from 0.2% to -0.5%
HICP ex Energy & Food (YoY) (Jul) decreased from 1.3% to 1.1%
HICP ex Energy and Food (MoM) (Jul) decreased from 0.3% to -0.5%
UK:
Rightmove House Price Index (MoM) decreased from -0.2% to -1.0%
US/AMERICAS:
Director of the National Economic Council Larry Kudlow stated that he does not foresee a recession. "Our banks are well-capitalized, our financial system's in very good shape," Kudlow noted in an interview with NBC's Chuck Todd. Kudlow noted that current Todd reminded Kudlow that he made similar statements in 2007 prior to the Great Recession. Undeterred, Kudlow insists that this time is different.
The consumer-sentiment index fell from 92.1 to 98.4, according to the latest polling by the University of Michigan. Analysts expected a stronger reading around 97. According to Richard Curtin, the chief economist of the survey, consumers are uncertain about ongoing trade and monetary disputes, but not necessarily pessimistic. "Monetary and trade policies have heightened consumer uncertainty — but not pessimism — about their future financial prospects," Curtin stated. August's reading was the lowest of 2019.
According to a recent New York Times article, the White House is concerned that U.S. economic data is being manipulated in an attempt to discredit the current administration. Undisclosed sources claim that the data being put forward is skewed to make the economy look worse than reality. There are concerns that the end goal is to diminish the chances of a Trump win during the 2020 elections. President Trump confirmed his personal suspicions, "The Fake News Media is doing everything they can to crash the economy because they think that will be bad for me and my re-election."
US Market Closings:
The Dow advanced 249.78 points or 0.96% to 26,135.79
S&P 500 advanced 34.97 points or 1.21% to 2,923.65
Nasdaq advanced 106.82 points or 1.35% to 8,002.81
Russell 2000 advanced 15.21 points or 1.02% to 1,508.85
Canada Market Closings:
TSX Composite advanced 154.26 points or 0.96% to 16,304.05
TSX 60 advanced 9.28 points or 0.96% to 974.30
Brazil Market Closing:
Bovespa declined 337.11 points or -0.34% to 99,468.67
ENERGY:
OPEC released their latest report downgrading their forecast for global oil demand, lowering it to only 1.1 million barrels per day for 2019. It also stated that the supply could grow by 1.97 million barrels per day, outpacing demand.
The oil markets had a mixed day today:
Crude Oil increased 0.75 USD/BBL or 1.37% to 55.6697
Brent increased 0.68 USD/BBL or 1.16% to 59.3882
Natural gas decreased 0.021 USD/MMBtu or -0.95% to 2.1794
Gasoline increased 0.0084 USD/GAL or 0.51% to 1.6658
Heating oil increased 0.0124 USD/GAL or 0.68% to 1.8268
Top commodity gainers: Lean Hogs (3.55%), Palladium (2.11%), Live Cattle (1.53%), and Crude Oil (1.39%)
Top commodity losers: Oat (-3.30 %), Sugar (-1.63%), Ethanol (-1.46%), and Corn (-1.35%)
The above data was collected around 11:05 EST on Monday.
BONDS:
Japan -0.23%(+1bp), US 2's 1.52% (+4bps), US 10's 1.60%(+6bps), US 30's 2.11%(+11bps), Bunds -0.68% (+2bp), France -0.35% (+6bp), Italy 1.45% (+5bp), Turkey 15.15% (+8bp), Greece 2.02% (-54bp), Portugal 0.15% (+3bp), Spain 0.13% (+3bp) and UK Gilts 0.48% (+1bp).
French 3-Month BTF Auction decreased from -0.599% to -0.612%
French 6-Month BTF Auction decreased from -0.678% to -0.730%
French 12-Month BTF Auction decreased from -0.679% to -0.728%
US 3-Month Bill Auction decreased from 1.960% to 1.900%
US 6-Month Bill Auction decreased from 1.890% to 1.840%