Blog/Market Talk
Posted Aug 18, 2017 by Martin Armstrong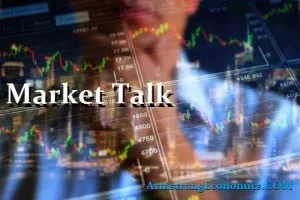 We didn't really need an excuse for why equity markets were lower in Asia today, but we certainly found it in US markets irrespective of political uncertainties – if we were looking! Ahead of the weekend and a move into US Dollars the Nikkei lost 1.2% but interestingly the JPY only just moved back to the low 109's. The index was weighed down by Insurers, Banks, Exporters and Energy providers and is back now to last seen in May. Unfortunately for many pension funds, the index now is less than 2% higher on the year and in danger of revisiting the April lows (18,350). So all eyes will be on the currency as a counter-weight for stocks – if they can detach it from its safe-haven title. A lot of the talk surrounded the Trump Presidency and all the rumours that his resignation was imminent. this saw the large cap Hang Seng suffer with mainstream and we saw the index close down 1.1%.
US markets had only completed part of its move when European markets closed yesterday and so today Europe finished that move – lower. FTSE, CAC and IBEX were the worst hit closing around -0.7% lower on the day. There was a bit of a safety support bid for German stocks (DAX -0.3%) which is interesting as the Bund has lost that support bid recently. It is worth keeping an eye on that US/Bund spread as this could well supply the future trend. The tragic events that took place in Spain has brought many sad headlines with only minor impact on markets. US politic headlines are back dominating our screens as we close the week, so it is not surprising we closed lower with weekend papers and Jackson Hole a concern.
early weakness was reversed upon the news that Steve Bannon (a top advisor to President Trump) was no longer part of the team. This even managed to turn the S+P positive and handed over 125 points back to the DOW. There have been reports that he was not welding that well within the team and so his departure clears a few hurdles along the way. Also, eases the likelihood that Chief Economic Advisor Gary Cohen would leave the House. This rally was only short-lived and we drifted back to the lows in the final hour of trading. Next week will be interesting with Jackson Hole probably the spotlight for the market. The end of earnings season and so we are probably focused on the last few which were less than had been hoped for. The bounce in the price of oil (+3%) helped sentiment for a while but that also was not to last. By the close most core was back on the days lows with DOW finishing -0.35% lower.
2's closed 1.31% (+1bp), 10's at 2.19% (u/c), 30's at 2.78% (u/c), Bunds closed 0.42% (u/c) closes the spread unchanged from yesterday at +177bp. France 0.71% (-1bp), Italy 2.02% (u/c), Greece 5.52% (+1bp), Turkey 10.48% (u/c), Portugal 2.71% (-1bp) and Gilts 1.09% (also unchanged).