Blog/Market Talk
Posted Aug 17, 2021 by Martin Armstrong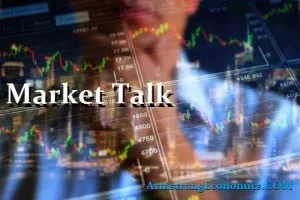 ASIA:
China's  State Administration for Market Regulation (SAMR) has imposed new regulations that prohibit businesses from altering product information regarding their product orders and sales. The agency also has prohibited companies from leaving fake reviews or fabricating consumer sentiment. Using algorithms to redirect online consumers to avoid online competitors is also illegal and seen as "unfair competition." SAMR cracked down on Alibaba earlier in the year, forcing the company to pay a hefty $2.8 billion fine. Big Tech companies in China shed more than $50 billion in market value today after the news was released.
Singapore has become the first country to reimburse a citizen who suffered complications from the coronavirus vaccine. A 16-year-old boy suffered a heart attack after receiving a second dose of the Pfizer vaccine, according to the Ministry of Health. The department maintains that the benefits "continue to outweigh the risk of vaccination," but will provide medical care for anyone who suffers complications. The boy and his family are set to receive S$225,000 ($166,000).
The major Asian stock markets had a mixed day today:
NIKKEI 225 decreased 98.72 points or -0.36% to 27,424.47
Shanghai decreased 70.37 points or -2.00% to 3,446.98
Hang Seng decreased 435.59 or -1.66% to 25,745.87
ASX 200 decreased 71.50 points or -0.94% to 7,511.00
Kospi decreased 28.20 points or -0.89% to 3,143.09
SENSEX increased 209.69 points or 0.38% to 55,792.27
Nifty50 increased 51.55 points or 0.31% to 16,614.60
The major Asian currency markets had a mixed day today:
AUDUSD decreased 0.00881 or -1.20% to 0.72516
NZDUSD decreased 0.01201 or -1.71% to 0.69076
USDJPY increased 0.21 or 0.19% to 109.52
USDCNY increased 0.01818 or 0.28% to 6.49375
Precious Metals:
Gold decreased 1.74 USD/t oz. or -0.10% to 1,785.50
Silver decreased 0.15 USD/t. oz or -0.62% to 23.675
Some economic news from last night:
South Korea:
Exports (YoY) (Jul) remain the same at 29.6%
Imports (YoY) (Jul) decreased from 38.2% to 38.1%
Trade Balance (Jul) increased from 1.76B to 1.77B
Singapore:
Non-Oil Exports (YoY) (Jul) decreased from 15.90% to 12.70%
Non-Oil Exports (MoM) (Jul) decreased from 6.00% to -0.90%
Trade Balance decreased from 4.609B to 3.973B
New Zealand:
RBNZ Offshore Holdings (Jul) increased from 45.10% to 46.60%
Some economic news from today:
Japan:
Tertiary Industry Activity Index (MoM) increased from -2.9% to 2.3%
New Zealand:
GlobalDairyTrade Price Index increased from -1.0% to 0.3%
EUROPE/EMEA:
Republic of Ireland truckers have noticed increasingly expensive travel routes to the EU since Brexit. The Freight Transport Association of Ireland (FTAI) is now asking the government to lower costs under the Brexit Adjustment Reserve. Price increases have nearly doubled post-Brexit from €1400 to €1500 on average for a direct EU route, while the traditional route through Britain only costs €700 to €800. The FTAI now would like the subsidy to cover 30% of the bill. Trade between Britain and Ireland has significantly declined as well, with time Irish Maritime Development Office noting a 29% decline in ferry freight for the first six months of the year.
The Taliban now has full control over Afghanistan. "To avoid bloodshed, I thought it would be better to leave," the now former Afghan President Ashraf Ghani said on Facebook in his first public comment since leaving the country. However, Ghani is now coming under criticism after it was reported that he fled with four carloads of money that may have been taken from the state budget. Zamir Kabulov, Russian ambassador for Afghanistan, said that it is unclear how much money departed with Ghani. "It will be the bedrock of the budget if something is left," Kabulov stated.
The European Union will not recognize the Taliban regime as the official government. However, leaders have stated they are willing to talk to the group. "We have to get in touch with the authorities in Kabul, whatever they are. The Taliban have won the war, so we will have to talk with them," EU foreign policy chief Josep Borrell told reporters. "This dialogue will also have to focus on the means to prevent the return of foreign terrorists."
The major Europe stock markets had a mixed day:
CAC 40 decreased 18.93 points or -0.28% to 6,819.84
FTSE 100 increased 27.13 points or 0.38% to 7,181.11
DAX 30 decreased 3.78 points or -0.02% to 15,921.95
The major Europe currency markets had a mixed day today:
EURUSD decreased 0.00617 or -0.52% to 1.17164
GBPUSD decreased 0.0106 or -0.77% to 1.37355
USDCHF increased 0.00171 or 0.19% to 0.91421
Some economic news from Europe today:
UK:
Average Earnings ex Bonus (Jun) increased from 6.6% to 7.4%
Average Earnings Index +Bonus (Jun) increased from 7.4% to 8.8%
Claimant Count Change (Jul) increased from -114.8K to -7.8K
Employment Change 3M/3M (MoM) (Jun) increased from 25K to 95K
Labour Productivity  decreased from 0.4% to -0.5%
Unemployment Rate (Jun) decreased from 4.8% to 4.7%
Euro Zone:
Employment Change (YoY) (Q2) increased from -1.8% to 1.8%
Employment Change (QoQ) (Q2) increased from -0.2% to 0.5%
Employment Overall (Q2) increased from 157,683.0K to 158,446.7K
GDP (QoQ) (Q2) remain the same at 2.0%
GDP (YoY) (Q2) decreased from 13.7% to 13.6%
US/AMERICAS:
Retail sales in the US declined 1.1% in July, according to the Commerce Department. Accounting for 70% of US economic activity, this reading is a key indicator for assessing the economic recovery. Analysts had anticipated a 0.4% monthly decline. However, retail sales in July were 15.8% up from the same time last year. On the monthly level, motor vehicles and parts saw the most significant decline of 3.9%. Clothing stores experienced a 2.6% weakening, while online sales also experienced a 3.1% decline.
President Biden assured Americans that their part in the war in Afghanistan is officially over. "Here is what I believe to my core. It is wrong to order American troops to step up when Afghanistan's own armed forces would not," the president said. "How many more generations of America's daughters and sons would you have me send to fight Afghanistan's civil war when Afghan troops will not?" The president has deployed 6,000 troops to Kabul, Afghanistan, in order to assist with evacuation efforts. However, the objective is clear and American troops will not continue to fight an endless war.
Manufacturing in Canada increased 2.1% or $59.2 billion in June, according to Statistics Canada. Motor vehicle production pushed the figure higher after increasing 25.6% as many plants were allowed to increase production despite the ongoing global semiconductor chip shortage. Petroleum and coal rose 5.2% as well. However, the ongoing chip shortage has many concerned about future growth. "Recent reports from auto manufacturers suggest that we aren't out of the woods yet, with some citing that shortages may continue to cloud the outlook into next year," TD Bank economist Omar Abdelrahman commented.
The Canadian government will not acknowledge the new Taliban regime. "(The Taliban) have taken over and replaced a duly elected democratic government by force… They are a recognized terrorist organization under Canadian law," Prime Minister Trudeau stated on Tuesday. Canada is now committed to helping 20,000 Afghans flee the country. "Canada has no plans to recognize the Taliban as the government of Afghanistan. When they were in government 20 years ago, Canada did not recognize them," Trudeau stated.
US Market Closings:
Dow declined 282.12 points or -0.79% to 35,343.28
S&P 500 declined 31.63 points or -0.71% to 4,448.08
Nasdaq declined 137.58 points or -0.93% to 14,656.18
Russell 2000 declined 26.24 points or -1.19% to 2,177.17
Canada Market Closings:
TSX Composite declined 119.83 points or -0.59% to 20,363.59
TSX 60 declined 5.98 points or -0.49% to 1,225.72
Brazil Market Closing:
Bovespa declined 1,276.22 points or -1.07% to 117,903.81
ENERGY:
The oil markets had a negative day today:
Crude Oil decreased 0.7 USD/BBL or -1.04% to 66.5900
Brent decreased 0.48 USD/BBL or -0.69% to 69.0300
Natural gas decreased 0.115 USD/MMBtu or -2.91% to 3.8310
Gasoline decreased 0.0363 USD/GAL or -1.65% to 2.1646
Heating oil decreased 0.0123 USD/GAL or -0.60% to 2.0360
The above data was collected around 13:45 EST on Tuesday
Top commodity gainers: Rubber (1.13%), Orange Juice (3.01%), Cocoa (1.14%) and Bitumen (1.30%)
Top commodity losers: Palladium (-4.23%), Copper (-2.92%), Natural Gas (-2.91%), and Wheat (-3.19%)
The above data was collected around 13:50 EST on Tuesday.
BONDS:
Japan 0.008%(-0bp), US 2's 0.2113%(+0.00%), US 10's 1.2467%(-2.17bps); US 30's 1.91%(-0.023%),Bunds -0.4760% (-1bp), France -0.1300% (-0.8bp), Italy 0.5733% (+1bp), Turkey 16.89% (+20bp), Greece 0.5480% (-1bp), Portugal 0.137% (+2bp); Spain 0.235% (+7.42bp) and UK Gilts 0.556% (-2bp).
Spanish 3-Month Letras Auction decreased from -0.618% to -0.626%
German 2-Year Schatz Auction decreased from -0.670% to -0.750%