Blog/Market Talk
Posted Aug 17, 2018 by Martin Armstrong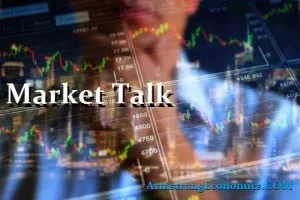 Although we saw some small relief bounces in Asia, there are still many questions left unanswered. The Nikkei managed a 0.35% recovery, which was pretty much where it [played all day. The Yen is still acting as a store for safety and in late US trading we see it edging in the low 110's, possibly nudging for a 109 handle. Core Shanghai did not do so well and even with the resurgence of trade talks – or should we say, 'talk of talks' – afternoon book squaring ahead of the weekend saw sellers. The index closed down another 1.34% as holding positions over the weekend could be tricky if headlines change. Many are highlighting the Merkel/Putin meeting, as possible attention reminder that could come out of left field. SENSEX was up over 1% at one stage, but drifted back into the close. The INR has been reasonably well supported as money is moving back to help with flood relief. However, given the added volume its remains with a 70 handle and on the bearish path.
Core Europe closed weaker, but an interesting inflation release of 2.1% seemed to split opinion. On the one hand, it could mean ECB may wish to adopt a backseat, but on flip side who is willing to buy paper at these yields! Stocks voted with prices even with the extremely low volume trading, we still saw dealers liquidating inventory at every opportunity. One wonders why the Bund still found a bid when treasuries rallied when the Turkish Lira turned negative again today. FTSE MIB (-0.53%) was weaker again following yesterdays declines and IBEX followed both the CAC and DAX with small losses. The late headline that Trump and Xi will meet in November to discuss trade helped all core US markets and only had a mild impact on DAX futures. Guess we'll see the results of that on Monday.
A couple of topics that moved markets early, were the Lira trading 5% lower again and also Merkel/Putin meeting. President Trump tweeted earlier the possibility of the SEC looking into half-year corporate reporting rather than the current quarterly. If changed, this will put them on an equal footing as European reporting, but many will argue this may impact their PE ratio's. The common thinking is that US companies are priced on a more generous ratio because they quote quarterly! Not so sure this would help for banks, as share holders have no clue what assets are held on banks balance sheets. No matter when they release, they are at the bottom of the repayment schedule as a bank depositor. So even if you heard every three months it would not help when there are problems! The trade headline certainly helped US stocks and in a late rally sees the DOW breaching the psychological 25,700 level although it is up over 16% over the past 52wks, although it did drift back marginally at the close.
Japan 0.09%, US 2's closed 2.62% (u/c), US 10's closed 2.87% (-1bp), 30's 3.03% (-1bp), Bunds 0.30% (-2bp), France 0.66% (-1bp), Italy 3.11% (u/c), Italy 3.11% (u/c), Greece 4.28% (+3bp), Turkey 20.97% (+1bp), Portugal 1.83% (u/c), Spain 1.44% (+1bp) and Gilts 1.23% (-1bp).