Blog/Market Talk
Posted Aug 16, 2021 by Martin Armstrong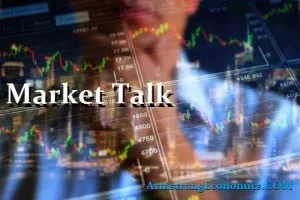 ASIA:
China's economic recovery slowed in July, according to new data by the National Bureau of Statistics. Retail sales grew 8.5% last month, beneath analysts' expectations of 10.9%, and below June's reading of 12.1%. Industrial production slowed to 6.4% YoY after experiencing an 8.3% boost the month prior. Unemployment increased from 5% to 5.1%, with many concerned the number could rise further due to the Delta variant.
Amid world leaders panicking to evacuating embassies in Afghanistan as the Taliban rapidly overpowers the former government, both Russia and China have decided to remain in place. Russian Ambassador Dmitriy Zhirnov will meet with Taliban leaders on Tuesday, according to the Russian Foreign Ministry who noted they have no plans to close their embassy in Kabul. China has cited the US pulling troops out of Afghanistan as "a lesson that Taiwan needs to learn." In an editorial for the Global Times, a spokesperson for China elaborated, "The drastic change in Afghanistan's situation is undoubtedly a heavy blow to the US. It declared the complete failure of US intent to reshape Afghanistan." Furthermore, China compared the US leaving Afghanistan as "a clearer demonstration of US impotence than the Vietnam War — the US is indeed like a 'paper tiger.'"
The major Asian stock markets had a mixed day today:
NIKKEI 225 decreased 453.96 points or -1.62% to 27,523.19
Shanghai increased 1.05 points or 0.03% to 3,517.34
Hang Seng decreased 210.16 or -0.80% to 26,181.46
ASX 200 decreased 46.40 points or -0.61% to 7,582.50
Kospi closed
SENSEX increased 145.29 points or 0.26% to 55,582.58
Nifty50 increased 33.95 points or 0.21% to 16,563.05
The major Asian currency markets had a negative day today:
AUDUSD decreased 0.00255 or -0.35% to 0.73365
NZDUSD decreased 0.00268 or -0.38% to 0.70158
USDJPY decreased 0.37900 or -0.35% to 109.22
USDCNY decreased 0.0001 or 0.00% to 6.47556
Precious Metals:
Gold increased 6.94 USD/t oz. or 0.39% to 1,786.09
Silver increased 0.11 USD/t. oz or 0.46% to 23.850
Some economic news from last night:
China:
House Prices (YoY) (Jul) decreased from 4.7% to 4.6%
Fixed Asset Investment (YoY) (Jul) decreased from 12.6% to 10.3%
Industrial Production (YoY) (Jul) decreased from 8.3% to 6.4%
Chinese Industrial Production YTD (YoY) (Jul) decreased from 15.9% to 14.4%
Retail Sales (YoY) (Jul) decreased from 12.1% to 8.5%
Chinese Retail Sales YTD (YoY) (Jul) decreased from 23.02% to 20.72%
Japan:
GDP (YoY) (Q2) increased from -3.9% to 1.3%
GDP (QoQ) (Q2) increased from -1.0% to 0.3%
GDP Capital Expenditure (QoQ) (Q2) increased from -1.2% to 1.7%
GDP External Demand (QoQ) (Q2) decreased from -0.2% to -0.3%
GDP Price Index (YoY) decreased from -0.1% to -0.7%
GDP Private Consumption (QoQ) (Q2) increased from -1.5% to 0.8%
Some economic news from today:
India:
WPI Food (YoY) (Jul) decreased from 3.09% to 0.00%
WPI Fuel (YoY) (Jul) decreased from 32.83% to 26.02%
WPI Inflation (YoY) (Jul) decreased from 12.07% to 11.16%
WPI Manufacturing Inflation (YoY) (Jul) increased from 10.88% to 11.20%
Japan:
Capacity Utilization (MoM) (Jun) increased from -6.8% to 6.2%
Industrial Production (MoM) (Jun) increased from -6.5% to 6.5%
EUROPE/EMEA:
The Taliban reclaimed power over Afghanistan, forcing Afghan President Ashraf Ghani to flee the country. World leaders are now scrambling to flee their embassies and evacuate as many people as possible. Boris Johnson is urging the west to collectively work to eradicate the regime. "Nobody wants Afghanistan once again to be a breeding ground for terror," the prime minister stated. Chancellor Angela Merkel stated similar sentiments, noting that the aftermath of the Taliban's take over will have lasting effects for years to come.
The European Union is beginning to recover from the pandemic after growing 1.9% during Q2, according to Eurostat. The 19 EU countries on the euro grew by 2%. Southern Europe saw notable gains after experiencing a more significant decline than northern nations. Italy posted a 2.7% growth, while Portugal jumped by 4.9%.
The major Europe stock markets had a negative day:
CAC 40 decreased 57.27 points or -0.83% to 6,838.77
FTSE 100 decreased 64.73 points or -0.90% to 7,153.98
DAX 30 decreased 51.71 points or -0.32% to 15,925.73
The major Europe currency markets had a negative day today:
EURUSD decreased 0.00178 or -0.15% to 1.17772
GBPUSD decreased 0.00207 or -0.15% to 1.38420
USDCHF decreased 0.0031 or -0.34% to 0.91213
Some economic news from Europe today:
Norway:
Trade Balance (Jul) increased from 25.0B to 42.2B
Euro Zone:
Reserve Assets Total (Jul) increased from 869.05B to 888.49B
US/AMERICAS:
Shortly after withdrawing troops from Afghanistan following a 20-year war following 9/11, the Taliban has seized control of the nation once again. The US embassy has been evacuated and personnel was instructed to destroy all records. The US claimed it knew that there was a "possibility" that Afghanistan could fall under the Taliban regime once again, but did not see it as inevitable. President Biden has stated that indefinite was is not acceptable, although an additional 6,000 US military personnel were deployed to secure the local airport and ensure a safe departure for US citizens, SIV applicants, US embassy personnel, and targeted Afghans. Although all eyes were on the US this weekend after the siege, it does not appear that America is willing to continue fighting an endless war.
The Biden Administration has expanded the country's Supplemental Nutrition Assistance Program (SNAP) program by 30%. Around 40 million Americans are currently receiving some form of supplemental food benefits, previously averaging $121 per recipient each month. Under the new program, recipients will receive an additional $1.19 per day, equating to $157.24 on a monthly basis.
Pfizer and BioNTech have submitted data to the FDA in hopes of creating an approved booster shot for the COVID-19 virus. The company said that the booster shot could be available to anyone over the age of 16, with phase one of the trial "significantly higher [at] neutralizing antibodies" in both COVID-19 and the delta variant. Trial participants received the booster shot 8-9 months after receiving the initial two-dose vaccination.
US Market Closings:
Dow advanced 110.02 points or 0.31% to 35,625.4
S&P 500 advanced 11.71 points or 0.26% to 4,479.71
Nasdaq declined 29.14 points or -0.2% to 14,793.76
Russell 2000 declined 19.69 points or -0.89% to 2,203.41
Canada Market Closings:
TSX Composite declined 34.65 points or -0.17% to 20,483.42
TSX 60 declined 1.39 points or -0.11% to 1,231.7
Brazil Market Closing:
Bovespa declined 2,013.72 points or -1.66% to 119,180.03
ENERGY:
The oil markets had a mixed day today:
Crude Oil decreased 1.25 USD/BBL or -1.83% to 67.1900
Brent decreased 1.17 USD/BBL or -1.66% to 69.4200
Natural gas increased 0.09 USD/MMBtu or 2.33% to 3.9510
Gasoline decreased 0.0615 USD/GAL or -2.72% to 2.2011
Heating oil decreased 0.0301 USD/GAL or -1.45% to 2.0478
The above data was collected around 14:22 EST on Monday
Top commodity gainers: Methanol (7.82%), Natural Gas (2.33%), Oat (4.96%) and Lean Hogs (3.03%)
Top commodity losers: Bitumen (-3.02%), Lumber (-6.10%), Orange Juice (-2.21%), and Gasoline (-2.72%)
The above data was collected around 14:25 EST on Monday.
BONDS:
Japan 0.015%(-1bp), US 2's 0.21%(-0.004%), US 10's 1.2483%(-3.51bps); US 30's 1.9168%(-0.02%),Bunds -0.4700% (-0.7bp), France -0.1240% (+0bp), Italy 0.5618% (+1bp), Turkey 16.88% (+11bp), Greece 0.5580% (+1bp), Portugal 0.116% (+0bp); Spain 0.239% (+8.52bp) and UK Gilts 0.575% (-0bp).
US 3-Month Bill Auction increased from 0.050% to 0.070%
US 6-Month Bill Auction remain the same at 0.050%
French 3-Month BTF Auction remain the same at -0.648%
French 6-Month BTF Auction increased from -0.673% to -0.672%
French 12-Month BTF Auction decreased from -0.645% to -0.648%