Blog/Market Talk
Posted Aug 16, 2019 by Martin Armstrong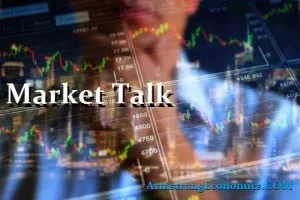 ASIA:
Reuters today reported that Chinese ships are reportedly changing their names in order to bypass US sanctions on Iranian crude oil. Meanwhile, China General Nuclear Power Group (CGN) has been placed on a blacklist by the US meaning that no US firm will be allowed to trade with such companies. The Chinese officials responded that they were not surprised and they have already planned for such a situation.
Successful hedge fund manager Ray Dalio has warned that he could envision China using their treasury holdings as a potential weapon against the US.
China have been doing police exercises in Shenzhen a city across from Hong Kong as locals are expecting the worst with the potential of the Chinese military police entering Hong Kong.
China has expressed grave concerns over Indian action in Kashmir, earlier this week Pakistani PM Imran Khan vowed to show India that they are making a grave mistake. Indian rep to the UN Syed Akbaruddin said that Article 370 has "no external ramifications." China disagreed, stating it was serious and dangerous.
The major Asian stock markets had a mixed day today:
Shanghai increased 8.03 points or 0.29% to 2,823.82
Kospi decreased 11.20 points or -0.58% to 1927.17
ASX 200 decreased 2.60 points or -0.04% to 6,405.50
NIKKEI 225 increased 13.16 points or 0.06% to 20,418.81
Hang Seng increased 238.76 points or 0.94% to 25,734.22
SENSEX increased 38.80 points or 0.10% to 37,350.33
The major Asian currency markets had a mixed day today:
AUDUSD increased 0.0010 or 0.15% to 0.6785
NZDUSD decreased 0.0016 or -0.25% to 0.6431
USDJPY increased 0.1680 or 0.16% to 106.2780
USDCNY decreased 0.0022 or -0.03% to 7.0465
Precious Metals:
Gold decreased 11.15 USD/t oz. or -0.73% to 1,510.75
Silver decreased 0.113 USD/t. oz or -0.65% to 17.1837
Some economic news from last night:
New Zealand:
Business NZ PMI (Jul) decreased from 51.3 to 48.2
RBNZ Offshore Holdings (Jul) increased from 50.30% to 51.70%
Japan:
Foreign Bonds Buying decreased from 292.0B to 173.1B
Foreign Investments in Japanese Stocks increased from -339.9B to -187.0B
Thomson Reuters IPSOS PCSI (Aug) decreased from 40.27 to 39.44
Singapore:
Non-Oil Exports (YoY) (Jul) increased from -17.40% to -11.20%
Non-Oil Exports (MoM) (Jul) increased from -7.80% to 3.70%
Trade Balance increased from 2.450B to 2.830B
China:
China Thomson Reuters IPSOS PCSI (Aug) decreased from 78.83 to 71.26
Some economic news from today:
India:
Bank Loan Growth remain the same at 12.2%
Deposit Growth decreased from 10.6% to 10.1%
FX Reserves, USD increased from 428.95B to 430.57B
Hong Kong:
GDP (YoY) (Q2) decreased from 0.6% to 0.5%
GDP (QoQ) (Q2) decreased from 1.3% to -0.4%
EUROPE/EMEA:
The CEO of Huawei, Ren Zhengfei, stated that he is confident that the UK will still go ahead with the proposed 5G roll out despite security concerns from the parliament and the US.
UK Prime Minister Boris Johnson is set to meet French PM Macron and Germany's Merkel the following week in a bid to unlock the Brexit deadlock. It is also believed that he will have a phone call with the Irish PM and Donald Tusk as the Brexit date draws near.
Germany's Angela Merkel has called for a restart to the migrant mission. She declared that the EU should restart the migrant rescue mission in the Mediterranean as it was initially closed due to a push back from Italy.
UK paper Express, has reported that the term "italexit" could well be on the cards sooner than later as Italian Chamber of Deputies vice-president Fabio Rampelli demanded the European Union be "radically changed" to put an end to Franco-German "selfishness."
Apple computers ongoing 13 billion Euro tax battle with the EU is set to come to a conclusion at a hearing in September.
The major Europe stock markets had a green day today:
CAC 40 increased 63.87 points or 1.22% to 5,300.79
FTSE 100 increased 50.14 points, or 0.71% to 7,117.15
DAX increased 150.07 points or 1.31% to 11,562.74
The major Europe currency markets had a mixed day today:
EURUSD decreased 0.00119 or -0.11% to 1.10941
GBPUSD increased 0.0066 or 0.55% to 1.2150
USDCHF increased 0.97880 or 0.0025% to 0.97880
Some economic news from Europe today:
Euro zone:
Trade Balance (Jun) decreased from 22.6B to 20.6B
U.S./AMERICAS:
Americans who owe money to the IRS may be barred from leaving the country. The Fixing America's Surface Transportation Act (FAST) permits the law to revoke passports and decline new applications due to outstanding debts. Since enacted in 2018, over 400,000 Americans have received letters in the mail to notify them that their freedom to move throughout the world may be at risk. The State Department recently announced that they will begin enforcing the law in a stricter manner. Those at risk include anyone who owes more than $52,000 to the IRS. Expats who no longer reside in the country will also face penalties.
The war in Afghanistan began in 2001; Osama bin Laden was captured and killed ten years later. Yet, many American military members remain situated in Afghanistan. This Friday, President Trump is meeting with advisers to discuss withdrawing troops from the country. However, certain members of the Republican Party are urging the president to reconsider. Republican Senator Lindsey Graham posted a series of Tweets this Friday to discourage the withdrawal. "I hope the President and his team make sound and sustainable decisions about radical Islamist threats emanating from Afghanistan – the place where 9/11 originated," Gram commented. "A bad agreement puts the radical Islamist movement all over the world on steroids."
The Census Bureau released encouraging housing stat data Friday morning. Housing starts rose 0.6% YoY in July, while single-family housing starts rose 1.9% MoM. New housing permits rose 8.4% MoM and 1.5% YoY. The data provided some encouragement and helped to alleviate fears of a looming recession foreshadowed by the inverted yield curve. In the last 40 years, single-family housing stats declined by 20% or more on a YoY basis prior to four of the five recessions that occurred in that time.
US Market Closings:
The Dow advanced 306.62 points or 1.20% to 25,886.01
S&P 500 advanced 41.08 points or 1.44% to 2,888.68
Nasdaq advanced 129.38 points or 1.67% to 7,895.99
Russell 2000 advanced 31.99 points or 2.19% to 1,493.64
Canadian Market Closings:
TSX Composite advanced 137.26 points or 0.86% to 16,149.79
TSX 60 advanced 9.18 points or 0.96% to 965.02
Brazil Market Closing:
Bovespa advanced 748.87 points or 0.76% to 99,805.78
ENERGY:
Crude oil remained somewhat stable today after data showed that Saudi and OPEC have culled production by 246,000 bpd in July.
The oil markets had a mixed day today:
Crude Oil increased 0.27 USD/BBL or 0.50% to 54.6578
Brent increased 0.37 USD/BBL or 0.64% to 58.5167
Natural gas decreased 0.045 USD/MMBtu or -2.02% to 2.1833
Gasoline increased 0.0193 USD/GAL or 1.18% to 1.6579
Heating oil increased 0.005 USD/GAL or 0.28% to 1.8182
Top commodity gainers: Baltic Dry (2.00%), Orange Juice (2.46%), Corn(2.29%), and Ethanol (1.97%)
Top commodity losers: Rubber (-4.86 %), Feeder Cattle (-2.26%), Natural Gas (-2.06%), and Coffee (-1.90%)
The above data was collected around 13:35 EST on Friday.
BONDS:
Japan -0.23%(+1bp), US 2's 1.52% (+2bps), US 10's 1.58%(+5bps), US 30's 2.04%(+6bps), Bunds -0.66% (+4bp), France -0.38% (+4bp), Italy 1.42% (+7bp), Turkey 15.07% (+4bp), Greece 1.96% (-7bp), Portugal 0.13% (+5bp), Spain 0.10% (+6bp) and UK Gilts 0.48% (+7bp).