Blog/Market Talk
Posted Aug 15, 2018 by Martin Armstrong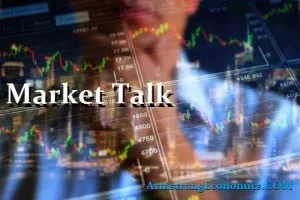 Well, that bounce was short-lived! China led Asia lower today even as Turkey was recovering. Core Shanghai has found it difficult even with good news. The debt overhang and the sudden decline in allocated cash continue to have a negative effect on the Shanghai, which closed down over 2% today. The Yuan is suffering as the strong tone for USD's continues, last seen just avoiding a 7 handle. Hang Seng was also off over 1.5% as real estate, tech, and energy stocks led the way lower. We saw a similar cross-section of stocks that took the Nikkei lower also. Exporters, energy and industrials and a currency that in late trading is moving stronger, will continue to impact stocks again for Thursday's trading.  Even though India was closed for national holidays, the Rupee hit new lows trading to within a whisker of a 71 handle. A decline today over -0.6% it joins bulk emerging market currency declines. Talk is that intervention is close, but probably ear-marked for the mid 71 range.
All core European indices were off around -1.5% today and with CAC leading the way at -1.82%. The dollar strength continues to weigh on emerging markets, but probably more noticeable industrial commodities. Public holidays stole what volume there has been recently and so the losses were probably exaggerated again. Even as the Turkish Lira recovered (5% today) the 10yr bond closed almost unchanged, but the BIST All-100 lost another 3.3% on the day. The exposure concerns are spreading from European, MENA to Asian banks with the only safe-haven being the US Dollar for the moment. As US markets start to decline, so Europe accelerates their losses. Strong UK inflation data could not help the Pound (at 14-month lows) nor the FTSE. Worth keeping an eye on peripheral debt, as these will suffer even more as confidence shifts back towards the core.
Initial fears saw core US indices mirror much of the worlds declines. However, having hit the days lows around mid-session, we then saw a measured recovery into the close. Many are clueless that emerging market weakness is accelerating and are still looking to catch a falling knife. The cash is flowing into the USA and that does not look likely to stop anytime soon. Turkey has cracked and Europe is close behind. The exposure many banks took is in the hope that no-one defaults until the risk has rolled-off. Little do they realize that they all have the same risk and soon it will be 'Pass-the-parcel'. Any bounce should probably be used as an opportunity to liquidate risk before it elevates to 'sell what you can and not what you should'.
Japan 0.09%. US 2's closed 2.60% (-3bp), US 10's 2.85% (-4bp), US 30's closed 3.02% (-3bp), Bunds 0.3% (-2bp), France 0.66% (-2bp), Italy 3.15% (+13bp), Greece 4.20% (+1bp),Turkey 20.59% (+13bp), Portugal 1.83% (+3bp), Spain 1.44% (+3bp) and Gilts 1.22% (-4bp).