Blog/Market Talk
Posted Aug 14, 2020 by Martin Armstrong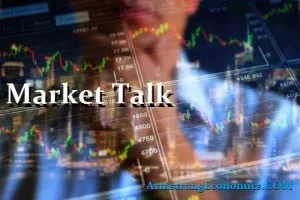 ASIA:
China's retail sales slipped in July, dashing expectations for a modest rise as consumers in the world's second-largest economy failed to shake off wariness about the coronavirus, while the factory sector's recovery struggled to pick up pace. Retail sales dropped 1.1% year on year, missing predictions for a 0.1% rise and following June's 1.8% fall. Industrial output grew 4.8% in July from a year earlier, in line with June's growth but less than a forecast 5.1% rise. July data from the National Bureau of Statistics on Friday showed weaker-than-expected year-on-year industrial output growth and retail sales extending declines into a seventh straight month. That was slightly offset by firmer property investment, which showed recent stimulus was supporting construction.
China's ByteDance is in early talks with India's conglomerate Reliance Industries Ltd for an investment in its video-based app TikTok's business in India, an online news agency reported on Thursday. The two companies began conversations late last month and have not reached a deal yet.
India's retail inflation rose to 6.93% in July on higher food prices, remaining above the central bank's medium-term target for a 10th straight month, according to government data released on Thursday. Food prices soared due to supply-side disruptions caused by the coronavirus lockdown. They rose 9.62% compared to a jump of 8.72% in June. The steady rise in coronavirus cases has disrupted the supply chain as lockdowns continue at regional levels.
Japan's economy will contract more than previously expected and suffer mild deflation during the current fiscal year, analysts predict, underscoring the fragile nature of the recovery from the devastating coronavirus pandemic. The economy is forecast to shrink 5.6% in the current fiscal year to next March, the poll of 32 economists showed, more than a 5.3% contraction projected last month. In a worst-case scenario, it will shrink 8.0%.
The major Asian stock markets had a mixed day today:
NIKKEI 225 increased 39.75 points or 0.17% to 23,289.36
Shanghai increased 39.37 points or 1.19% to 3,360.10
Hang Seng decreased 47.66 points or -0.19% to 25,183.01
ASX 200 increased 35.20 points or 0.58% to 6,126.20
Kospi decreased 30.04 points or -1.23% to 2,407.49
SENSEX decreased 433.15 points or -1.13% to 37,877.34
Nifty50 decreased 122.05 points or -1.08% to 11,178.40
The major Asian currency markets had a mixed day today:
AUDUSD increased 0.00212 or 0.30% to 0.71739
NZDUSD decreased 0.0001 or -0.02% to 0.65484
USDJPY decreased 0.41 or -0.38% to 106.56
USDCNY decreased 0.00468 or -0.07% to 6.94195
Precious Metals:
Gold decreased 16.7 USD/t oz. or -0.85% to 1,943.15
Silver decreased 1.271 USD/t. oz or -4.60% to 26.342
Some economic news from last night:
China:
House Prices (YoY) (Jul) decreased from 4.9% to 4.8%
China Thomson Reuters IPSOS PCSI (Aug) increased from 72.52 to 75.34
Fixed Asset Investment (YoY) (Jul) increased from -3.1% to -1.6%
Industrial Production (YoY) (Jul) remain the same at 4.8%
Chinese Industrial Production YTD (YoY) (Jul) increased from -1.3% to -0.4%
Retail Sales (YoY) (Jul) increased from -1.8% to -1.1%
Chinese Retail Sales YTD (YoY) (Jul) increased from -11.76% to -10.44%
Chinese Unemployment Rate remain the same at 5.7%
Japan:
Thomson Reuters IPSOS PCSI (Aug) decreased from 33.82 to 32.23
Foreign Bonds Buying increased from 1,146.4B to 1,434.9B
Foreign Investments in Japanese Stocks increased from -578.6B to 233.8B
South Korea:
Export Price Index (YoY) (Jul) decreased from -5.7% to -5.8%
Import Price Index (YoY) (Jul) decreased from -7.4% to -9.0%
New Zealand:
Business NZ PMI (Jul) increased from 56.3 to 58.8
Some economic news from today:
Japan:
Tertiary Industry Activity Index (MoM) increased from -2.9% to 7.9%
India:
WPI Food (YoY) (Jul) increased from 2.04% to 4.08%
WPI Fuel (YoY) (Jul) increased from -13.60% to -9.84%
WPI Inflation (YoY) (Jul) increased from -1.81% to -0.58%
WPI Manufacturing Inflation (YoY) (Jul) increased from 0.08% to 0.51%
Bank Loan Growth decreased from 5.8% to 5.5%
Deposit Growth increased from 10.8% to 11.1%
FX Reserves, USD increased from 534.57B to 538.19B
Exports (USD) (Jul) increased from 21.91B to 23.64B
Imports (USD) (Jul) increased from 21.11B to 28.47B
Trade Balance (Jul) decreased from 0.79B to -4.83B
Hong Kong:
GDP (YoY) (Q2) remain the same at -9.0%
GDP (QoQ) (Q2) remain the same at -0.1%
EUROPE/EMEA:
The UK's chief Brexit negotiator Frost has issued EU negotiator Michel Barnier a tough timeline on trade talks. David Frost's warning that the UK's patience is running out will serve as a major wake-up call to Barnier, who has so far remained stubborn on key issues. Despite the lack of progress, Frost insisted he was "looking forward" to the seventh round of post-Brexit talks with his European counterpart scheduled during next week in Brussels. He also went on to repeat Britain's assertion that it is not seeking an unfair trade pact with the bloc.
The European Central Bank urged banks to refrain from paying dividends or offering bonuses until January 1, 2021, to ensure lenders, have sufficient buffers to survive the economic storm unleashed by the coronavirus crisis. The recommendation, which extends a previous call to halt such payments until at least October 2020, "remains temporary and exceptional," the ECB said in a statement. The aim is to preserve "banks' capacity to absorb losses and support lending to the real economy" at a time of "exceptional uncertainty."
The major Europe stock markets had a negative day:
CAC 40 decreased 79.45 points or -1.58% to 4,962.93
FTSE 100 decreased 95.58 points or -1.55% to 6,090.04
DAX 30 decreased 92.37 points or -0.71% to 12,901.34
The major Europe currency markets had a mixed day today:
EURUSD increased 0.0019 or 0.16% to 1.18387
GBPUSD increased 0.00145 or 0.11% to 1.30883
USDCHF decreased 0.00017 or -0.02% to 0.90935
Some economic news from Europe today:
Swiss:
PPI (YoY) (Jul) increased from -3.5% to -3.3%
PPI (MoM) (Jul) decreased from 0.5% to 0.1%
France:
French CPI (MoM) (Jul) increased from 0.1% to 0.4%
French CPI (YoY) increased from 0.2% to 0.8%
French HICP (MoM) (Jul) remain the same at 0.4%
French HICP (YoY) (Jul) remain the same at 0.9%
Euro Zone:
Employment Change (QoQ) decreased from -0.2% to -2.8%
Employment Change (YoY) decreased from 0.4% to -2.9%
Employment Overall (Q2) decreased from 160,438.5K to 155,894.7K
GDP (QoQ) (Q2) remain the same at -12.1%
GDP (YoY) (Q2) remain the same at -15.0%
Trade Balance (Jun) increased from 9.4B to 21.2B
US/AMERICAS:
Democrats and Republicans were unable to compromise on a new round of coronavirus relief aid. Instead, both the Senate and Congress are taking off for holiday until next month. The payroll tax and student loan deferral programs, implemented last weekend through an executive order, and renter protections are all that remains in place currently. The $600 unemployment benefit was reduced by half through the executive order, but would not be in place at all had the president not taken action. Republicans were pushing for a $1 trillion package while Democrats were fighting for $3 trillion. House Republican leader Kevin McCarthy told reporters at CNBC that he believed the $3 trillion proposed package would cause the market to "drop hard" and "put greater debt on all taxpayers."
A new survey by the Philadelphia Federal Reserve paints an optimistic picture for the American economy in Q3. The quarterly Survey of Professional Forecasters predicts that the economy will advance at a 19.1% annualized rate, which is nearly double the prior forecast of 10.6% from July to September. Those surveyed see growth slowing during Q4 to 5.8%, which is still a drastic improvement from the -32.9% contraction experienced during Q2.
Canada's Competition Bureau announced this Friday that they are launching an investigation into Amazon's business practices, as there remain concerns that the online retail giant has monopolized the marketplace. The news comes as Amazon faces similar trials in the US and EU. A representative for Amazon maintained that the company is dedicated to helping third-party small and medium-sized businesses grow throughout Canada.
Brazil's President Bolsonaro wishes to launch a new aid initiative called Renda Brasil (Brazil Income) that will replace government provided emergency pandemic aid. Economy Minister Paulo Guedes must find billions to implement this social program without raising the current spending cap. Guedes admitted that Brazil cannot have another year with a deep fiscal deficit as it will destroy investor confidence and cost the country credit downgrades. However, the law implemented in 2016 froze government's spending cap on public expenditures for two decades.
US Market Closings:
Dow advanced 34.3 points or 0.12% to 27,931.02
S&P 500 declined -0.58 of a point or -0.02% to 3,372.85
Nasdaq declined 23.2 points or -0.21% to 11,019.3
Russell 2000 declined 1.91 points or -0.12% to 1,577.88
Canada Market Closings:
TSX Composite declined 15.45 points or -0.09% to 16,514.61
TSX 60 declined -0.64 of a point to -0.06% to 990.34
Brazil Market Closing:
Bovespa advanced 892.85 points or 0.89% to 101,353.45
ENERGY:
The oil markets had a mixed day today:
Crude Oil decreased 0.09 USD/BBL or -0.21% to 42.1500
Brent decreased 0.08 USD/BBL or -0.18% to 44.8800
Natural gas increased 0.169 USD/MMBtu or 7.77% to 2.3450
Gasoline increased 0.0036 USD/GAL or 0.29% to 1.2484
Heating oil decreased 0.0062 USD/GAL or -0.50% to 1.2414
The above data was collected around 16:04 EST on Friday.
Top commodity gainers: Natural Gas (7.77%), Ethanol (13.64%), Oat (2.03%), and Copper (2.18%)
Top commodity losers: Lean Hogs (-1.07%), Cocoa (-2.13%), Silver (-4.60%), and Palladium (-2.49%)
The above data was collected around  16:11 EST on Friday.
BONDS:
Japan 0.05%(+2bp), US 2's 0.15% (-2bps), US 10's 0.70%(-1bps); US 30's 1.43%(+0bps), Bunds -0.42% (+2bp), France -0.13% (-1bp), Italy 1.06% (-2bp), Turkey 14.26% (+14bp), Greece 1.14% (+3bp), Portugal 0.39% (-1bp); Spain 0.37% (+6bp) and UK Gilts 0.25% (+1bp).