Blog/Market Talk
Posted Aug 14, 2018 by Martin Armstrong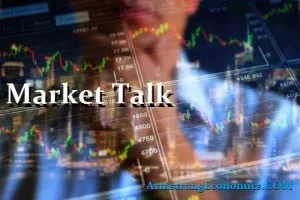 It was good to see a healthy 2.28% bounce in the Nikkei today, especially after yesterdays 2% decline. Unfortunately, some of this was at the expense of the currency as the Yen lost 0.5% back to a 111 handle. The currency drop helped exporters recover some of yesterdays losses, but there is still plenty of room to go just yet. Summer trading is distorting much of this play, so worth keeping an eye on a cross-section of core and emerging market currencies to understand if is USD strength or country specific. ASX also recovered 0.75% today helped by exporters and commodities. China closed down with losses for both the Hang Seng -0.6% and Shanghai -0.17%, with many losses being generated from Hong Kong's tech sector. SENSEX traded well for much of the day and even saw s small recovery in the INR successfully rejecting the 70 handle – for now anyway! India will be closed Wednesday for independence day.
European indices spent much of the day watching Turkey and its markets. The initial confidence from Asia, soon wore-off as Turkey tested the days lows and Europe failed to trade on strong German data. Yes, the Lira recovered well (+8%), but there is plenty of talk that intervention and short-covering is only temporary. There were rumours also that Turkey is seeking help from its neighbours, but these went unqualified. In late US trading the talk is that the demand for dollars grows by the day and that certainly looked the case as the Euro, GBP and Yen are all trading on the days lows. There is even talk that some countries have been liquidating gold to restock US Dollar supplies. UK saw its lowest unemployment number in 40 years, but the early Sterling rally was soon turned on the persistent USD bid.
Core US markets traded from strength to strength today as sentiment appeared to recover and cash is put to work. There has been and still is, considerable monies sitting on the side-lines waiting for confidence to be gained. As core indices return to record highs, this is again starting to take the crown of the most hated bull market yet again! Whilst many call for a correction we again see new highs being achieved. This weeks and month end numbers will be closely watched even as summer trading volumes misleads many. Interesting to see that todays rally was led by the Russell 2k at a near 1% return, with NASDAQ and broad S+P at +0.65%. The large cap DOW is yet to witness the big money play.
Japan 0.10%, US 2's closed 2.63% (+2bp), 10's 2.89% (+1bp), US 30's 3.05% (+1bp), Bunds 0.32% (+1bp), France 0.68% (u/c), Italy 3.02% (-7bp), Greece 4.19% (-2bp), Turkey 20.46% (-161bp), Portugal 1.80% (-2bp), Spain 1.41% (-4bp) and UK Gilts 1.26% (+1bp).