Blog/Market Talk
Posted Aug 13, 2019 by Martin Armstrong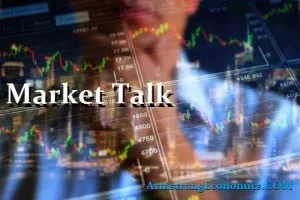 ASIA:
Today the US stated that it will remove Chinese imports from its target list and delay tariffs up to December 15th from the 1st of September on Chinese cell phones, laptops and other electrical goods which in turn caused a rally in the US markets. The office of the US Trade Representative stated that it still hasn't deviated from the plans of a 10% tariff on approximately 300 bn USD worth of Chinese imports.
Meanwhile, Hong Kong police are clashing with protesters at the main airport, police were said to be using batons and pepper sprays as violence erupted between the police and for the most part peaceful protestors. At least 40 people are said to be injured from the protests since the weekend.
Indian car manufacturing industry is in decline as recent figures showed that the sales of passenger vehicles has plunged 31% in July, marking the worst monthly drop in more than 18 years.
The major Asian stock markets had a negative day today:
Shanghai decreased 17.73 points or -0.63% to 2,797.26
Kospi decreased 16.46 points or -0.85% to 1,925.83
ASX 200 decreased 21.80 points or -0.33% to 6,568.50
NIKKEI 225 decreased 229.38 points or -1.11% to 20455.44
Hang Seng decreased 543.42 points or -2.10% to 25,281.30
SENSEX decreased 623.75 points or -1.66% to 36,958.16
The major Asian currency markets had a mixed day today:
AUDUSD increased 0.0040 or 0.60% to 0.6792
NZDUSD increased 0.0005 or 0.07% to 0.6451
USDJPY increased 1.3650 or 1.30% to 106.6550
USDCNY decreased 0.0886 or 1.25% to 7.0135
Precious Metals:
Gold decreased 8.55 USD/t oz. or -0.57% to 1,503.46
Silver decreased 0.0935 USD/t. oz or -0.55% to 16.9550
Some economic news from last night:
New Zealand:
FPI (MoM) (Jul) increased from -0.7% to 1.1%
Japan:
PPI (MoM) (Jul) increased from -0.5% to 0.0%
PPI (YoY) (Jul) decreased from -0.1% to -0.6%
Singapore:
GDP (YoY) (Q2) remain the same at 0.1%
GDP (QoQ) (Q2) increased from -3.4% to -3.3%
Australia:
NAB Business Confidence (Jul) increased from 2 to 4
NAB Business Survey (Jul) decreased from 3 to 2
South Korea:
M2 Money supply (Jun) increased from 6.50% to 7.10%
Some economic news from today:
Japan:
Tertiary Industry Activity Index (MoM) decreased from 0.0% to -0.1%
Machine Tool Orders (YoY) increased from -37.9% to -33.0%
India:
CPI (YoY) (Jul) decreased from 3.18% to 3.15%
EUROPE/EMEA:
The UK Prime Minister Boris Johnson, although stressing that he is willing to bring the UK out of the single market with a no-deal, stated today that the EU was the most important trade deal. "The single biggest deal that we need to do is a free trade agreement with our friends and partners over the Channel," he told Sky News.
Albania is looking to gain membership into the EU with over 90% of nationals in favor of joining the EU. The French and Dutch were members against the idea of allowing Albania to join. The Albanian ambassador to the EU said today that there is still a lot of progress needed to be done and they are still more towards the beginning stages of the process of joining rather than the latter.
A UK court will decide on Thursday whether it should release the Iranian tanker seized in the seas of Gibraltar, some reports were stating that the ship was due to be released back to the Iranians today, but this was contrary to the truth as its fate is still yet to be decided. Meanwhile Mike Pompeo has urged US allies to keep the pressure on Iran to force them to stop their "destabilizing" behavior.
The major Europe stock markets had a green day today:
CAC 40 increased 52.77 points or 0.99% to 5,363.07
FTSE 100 increased 24.18 points, or 0.33% to 7,250.90
DAX increased 70.45 points or 0.60% to 11,750.13
The major Europe currency markets had a mixed day today:
EURUSD decreased 0.0037 or 0.33% to 1.1175
GBPUSD decreased 0.0018 or 0.15% to 1.2055
USDCHF increased 0.0071 or 0.73% to 0.9762
Some economic news from Europe today:
Germany:
German CPI (YoY) (Jul) remain the same at 1.7%
German CPI (MoM) (Jul) remain the same at 0.5%
German HICP (MoM) (Jul) remain the same at 0.4%
German HICP (YoY) (Jul) remain the same at 1.1%
German WPI (YoY) (Jul) decreased from 0.3% to -0.1%
German WPI (MoM) (Jul) increased from -0.5% to -0.3%
German ZEW Current Conditions (Aug) decreased from -1.1 to -13.5
German ZEW Economic Sentiment (Aug) decreased from -24.5 to -44.1
Spain:
Spanish CPI (MoM) (Jul) decreased from -0.1% to -0.6%
Spanish CPI (YoY) (Jul) increased from 0.4% to 0.5%
Spanish HICP (YoY) (Jul) decreased from 0.7% to 0.6%
Spanish HICP (MoM) (Jul) decreased from -0.1% to -1.1%
UK:
Average Earnings ex Bonus (Jun) increased from 3.6% to 3.9%
Average Earnings Index +Bonus (Jun) increased from 3.5% to 3.7%
Claimant Count Change (Jul) decreased from 31.4K to 28.0K
Employment Change 3M/3M (MoM) (Jun) increased from 28K to 115K
Unemployment Rate (Jun) increased from 3.8% to 3.9%
Euro zone:
ZEW Economic Sentiment (Aug) decreased from -20.3 to -43.6
U.S./AMERICAS:
Inflation is beginning to rise in the U.S., according to newly released data. Inflation in the U.S. rose to 1.8% in July compared to 1.6%. The Consumer Price Index (CPI) rose by 0.3% in July. Food prices remained consistent while rent, airfares, clothing, and medical care all rose. Energy prices notably rose by 1.3% last month. Despite the rise, inflation remains below the 2% target and it is not expected to largely influence the Fed's next rate decision.
The U.S has agreed to delay select Chinese tariffs, noting the holiday season as a concern. Predominantly the highest grossing quarter for consumer spending, the holiday season is a key money maker for U.S. retailers. Despite claiming the Chinese tariffs impact on American consumers was "virtually none," President Trump told reporters this Tuesday that the tariff delay is a measure "just in case they might have an impact on people." Originally intended to be implemented in September, select Chinese tariffs will go into effect on December 15.
Perhaps worsening US-Chinese tensions, numerous US politicians have come out in favor of the protestors in Hong Kong who the Chinese government have referred to as "terrorists." "The people of Hong Kong are trying to preserve the promise of One Country – Two Systems. If we don't speak out for human rights in China because of commercial interests, we lose all moral authority to speak out elsewhere," Speaker Nancy Pelosi commented. The protestors have received bipartisan support from both Democrats and Republicans. Senate Majority Leader Mitch McConnell voiced his concerns on Monday, warning China, "The world is watching."
U.S. Market Closings:
The Dow advanced 372.54 points or 1.44% to 26,279.91
S&P 500 advanced 42.57 points or 1.48% to 2,926.32
Nasdaq advanced 152.95 points or 1.95% to 8,016.36
Russell 2000 advanced 16.30 points or 1.09% to 1,510.58
Canada Market Closings:
TSX Composite advanced 113.07 points or 0.70% to 16,350.84
TSX 60 advanced 7.98 points or 0.82% 976.59
Brazil Market Closing:
Bovespa advanced 1,384.25 points or 1.36% to 103,299.47
ENERGY:
A big move in energy prices today as positive news comes from the US-Chinese trade deal which could help prop up global growth forecasts. Meanwhile, according to oilprice.com an Iranian lawmaker is suggesting that the US is after high Crude prices by causing instability in the Middle East.
The oil markets had a green day today:
Crude Oil increased 2.04 USD/BBL or 3.71% to 56.8650
Brent increased 2.66 USD/BBL or 4.54% to 61.1487
Natural gas increased 0.047 USD/MMBtu or 2.23% to 2.1480
Gasoline increased 0.0701 USD/GAL or 4.21% to 1.7371
Heating oil increased 0.0711 USD/GAL or 3.94% to 1.8789
Top commodity gainers: Brent (4.59%), Gasoline (4.25%), Heating Oil(3.99%), and Crude Oil (3.79%)
Top commodity losers: Ethanol (-4.79 %), Corn (-5.06%), Feeder Cattle (-5.54%), and Live Cattle (-4.55%)
The above data was collected around 15:20 EST on Tuesday.
BONDS:
Japan -0.23%(-2bp), US 2's 1.66% (+8bps), US 10's 1.68%(+4bps), US 30's 2.14%(+1bps), Bunds -0.61% (-2bp), France -0.31% (-3bp), Italy 1.63% (-11bp), Turkey 14.64% (+34bp), Greece 2.13% (-5bp), Portugal 0.24% (-1bp), Spain 0.21% (-3bp) and UK Gilts 0.49% (-0bp).