Blog/Market Talk
Posted Aug 13, 2018 by Martin Armstrong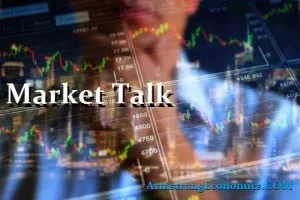 Asia suffered from the Friday hangover with most core indices falling over -1.5%. All eyes and ears continued to focus on Turkey again today and especially seeing the Lira opened with a 7 handle. It has been scrambling to recover opening losses and did manage a 6.45 print early European trading, but has been struggling to maintain a 6 handle since. The Nikkei was worse hit, with a 2% decline. Exporters traded heavy all day, as did the index. The trend was negative from the opening as energy, financials and industrials were all hit with some key names off over 5%. The Yen has held its strength all day, trading in the mid 110 range until the US close. The Heng Seng lost 1.5%, but talk was that core China saw big support where even the Shenzhen closed firmer on the day. SENSEX did well only to decline -0.6% today, having seen the weakness of the INR. This looks to have only just started its move, with a 70 handle just a fraction away.
European markets opened weak but manage to recover throughout the day, helped mostly by US opening firmer. Banks, energy, tech and financials were the leading decliners and most of those because of their relationship either with Turkey or indirectly to emerging countries problems. The Euro too has been heavy, but fortunately not a patch on last weeks declines. Turkey has been the main talking point through all time zones and today was no exception. The 10yr yields lost another 140bp to close over 22% today. The Turkish Lira appears a one-way play again today trading with a 7 handle and losing another 10% against the US Dollar. This negativity is melting over into Italian BTP's as we saw the 10yr spread gain an additional 11bp today. The strength of the USD is becoming noticeable in many markets and non more-so than in the gold
price. Breaking the $1200 level today, now trading around $1190 has lost over $20 today.
Despite a positive morning session, the escalating geopolitical concerns were to weigh on prices again in afternoon trading. The disappointing closure of talks between the US and Turkey has led volumes to decrease even more, resulting in bids having to be chased. Core Europe still trades heavy, even the DAX lost over -0.5%, with peripheral markets not that far behind. With volumes so thin and the data so sparse any headline could result in a few hundred points move in any direction.
Japan 0.9%, US 2's closed 2.61% (+2bp), 10's closed 2.88% (+3bp), 30's 3.04% (+3bp), Bunds 0.31% (u/c), France 0.68% (+2bp), Italy 3.09% (+11bp), Greece 4.21% (+6bp), Turkey 22.07% (+140bp), Portugal 1.82% (+6bp), Spain 1.45% (+5bp) and UK Gilts 1.25% (+1bp).