Blog/Market Talk
Posted Aug 12, 2020 by Martin Armstrong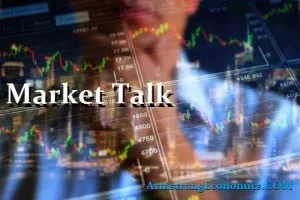 ASIA:
US President Donald Trump has said China is failing to meet commitments to buy more American goods under the phase one trade deal, a sign of increasing pressure on Beijing ahead of a six-month review of the deal between senior officials. US Trade Representative Robert Lighthizer, US Treasury Secretary Steven Mnuchin, and Chinese Vice-Premier Liu He are set to meet in the coming days for a semi-annual review of the agreement, where they are likely to discuss problems with its implementation and future work arrangements.
China announced that it will allow eligible foreign nationals from 36 European countries to apply for new Chinese visas at any Chinese embassy or consulate within the stipulated countries. The new announcement reopening visa services for 36 European countries is the first sign that shows China is reversing the foreign national travel ban put into effect in late March when the coronavirus pandemic affected many countries. We now expect Chinese borders to open to increasingly more countries, likely to be based on their respective pandemic response. However, no official announcement has been made by China's Ministry of Foreign Affairs or any other EU embassy so far.
India's Industrial output fell 16.6% year-on-year in June, shrinking for the fourth month in a row, though the monthly measure indicated some recovery in the coronavirus-hit sector. The weekend lockdown in many states and restrictions on public transport have hit production in factories and domestic and overseas sales of garments, vehicles, and consumer durables. Manufacturing, which contributes nearly 17% to the economy, contracted 40.7% in the three months to end-June, indicating a sharp fall in economic activity.
A one-time debt restructuring allowed by India's central bank to help lenders and borrowers amid the COVID-19 pandemic will prolong uncertainty about the banking sector's asset quality, Fitch Ratings said on Tuesday. India's central bank said last week it will allow restructuring of corporate and personal loans to ease debt strains on companies and lenders, a move widely awaited by the banking industry. Indian banks are saddled with more than $120 billion in bad loans and the sector is ranked the third worst among 13 major world economies in asset quality
The major Asian stock markets had a mixed day today:
NIKKEI 225 increased 93.72 points or 0.41% to 22,843.96
Shanghai decreased 21.02 points or -0.63% to 3,319.27
Hang Seng increased 353.34 points or 1.42% to 25,244.02
ASX 200 decreased 6.70 points or -0.11% to 6,132.00
Kospi increased 13.68 points or 0.57% to 2,432.35
SENSEX decreased 37.38 points or -0.10% to 38,369.63
Nifty50 decreased 14.1 points or -0.12% to 11,308.40
The major Asian currency markets had a mixed day today:
AUDUSD increased 0.00179 or 0.25% to 0.71662
NZDUSD increased 0.00138 or 0.21% to 0.65843
USDJPY increased 0.33 or 0.31% to 106.83
USDCNY decreased 0.00954 or -0.14% to 6.93385
Precious Metals:
Gold increased 21.63 USD/t oz. or 1.13% to 1,938.35
Silver increased 0.698 USD/t. oz or 2.76% to 25.943
Some economic news from last night:
Japan:
M2 Money Stock (YoY) increased from 7.3% to 7.9%
M3 Money Supply (Jul) increased from 1,884.6T to 1,894.8T
South Korea:
Unemployment Rate (Jul) decreased from 4.3% to 4.2%
Australia:
Westpac Consumer Sentiment (Aug) decreased from -6.1% to -9.5%
Wage Price Index (YoY) (Q2) decreased from 2.1% to 1.8%
Wage Price Index (QoQ) (Q2) decreased from 0.5% to 0.2%
New Zealand:
RBNZ Interest Rate Decision remain the same at 0.25%
External Migration & Visitors (Jun) increased from -99.00% to -98.40%
Permanent/Long-Term Migration (Jun) increased from 640 to 760
Visitor Arrivals (MoM) decreased from 82.8% to 65.6%
EUROPE/EMEA:
The UK's economic output shrank by 20.4% in the second quarter of 2020, the worst quarterly slump on record, pushing the country into the deepest recession of any major global economy. This crash in GDP in the April-June period, compared with the first quarter, is the worst since quarterly records began in 1955. Industries most exposed to government lockdown measures to contain the coronavirus pandemic — services, production, and construction — saw record drops. Compared with the end of 2019, UK economic output fell by a cumulative 22.1% in the first six months of 2020, a worse outcome than Germany, France and Italy, and double the 10.6% fall recorded in the United States, the Office for National Statistics said.
German Health Minister Jens Spahn on Wednesday said Russia's COVID-19 vaccine had not been sufficiently tested, adding the aim was to have a safe product rather than just being first to start vaccinating people. Russia's decision to grant approval before final trials have been completed has raised concerns among some experts.
The major Europe stock markets had a green day:
CAC 40 increased 45.32 points or 0.90% to 5,073.31
FTSE 100 increased 125.78 points or 2.04% to 6,280.12
DAX 30 increased 111.74 points or 0.86% to 13,058.63
The major Europe currency markets had a mixed day today:
EURUSD increased 0.00563 or 0.48% to 1.17950
GBPUSD decreased 0.00226 or -0.17% to 1.30325
USDCHF decreased 0.00577 or -0.63% to 0.91135
Some economic news from Europe today:
UK:
NIESR GDP Estimate increased from -20.4% to -7.9%
Business Investment (QoQ) (Q2) decreased from -0.3% to -31.4%
Business Investment (YoY) (Q2) decreased from 0.8% to -31.3%
Construction Output (MoM) (Jun) increased from 7.6% to 23.5%
U.K. Construction Output (YoY) (Jun) increased from -40.0% to -24.8%
GDP (YoY) (Q2) decreased from -1.7% to -21.7%
GDP (MoM) increased from 1.8% to 8.7%
GDP (QoQ) (Q2) decreased from -2.2% to -20.4%
Index of Services decreased from -18.9% to -19.9%
Industrial Production (YoY) (Jun) increased from -20.0% to -12.5%
Industrial Production (MoM) (Jun) increased from 6.2% to 9.3%
Labour Productivity decreased from -0.6% to -3.0%
Manufacturing Production (MoM) (Jun) increased from 8.3% to 11.0%
Manufacturing Production (YoY) (Jun) increased from -23.1% to -14.6%
Monthly GDP 3M/3M Change decreased from -18.7% to -20.4%
Trade Balance (Jun) decreased from -1.77B to -5.12B
Trade Balance Non-EU (Jun) decreased from 2.16B to 0.30B
Italy:
Italian CPI (MoM) (Jul) decreased from -0.1% to -0.2%
Italian CPI (YoY) (Jul) decreased from -0.3% to -0.4%
Italian CPI Ex Tobacco (MoM) (Jul) decreased from -0.3% to -0.4%
Italian HICP (MoM) (Jul) decreased from -0.6% to -0.7%
Italian HICP (YoY) (Jul) decreased from 0.9% to 0.8%
Euro Zone:
Industrial Production (YoY) (Jun) increased from -20.4% to -12.3%
Industrial Production (MoM) (Jun) decreased from 12.3% to 9.1%
US/AMERICAS:
Tesla's Board of Directors approved a five-for-one common stock split. At the time of this writing, Tesla shares have soared by 228.54% on a year-to-date basis. At the end of August, each shareholder will receive a dividend of four extra common stock shares for every share previously held. Tesla shares will trade on a split-adjusted basis beginning August 31, 2020.
The consumer price index (CPI) in the US advanced 0.6% last month. The CPI rose by 1% overall in the 12 month period through July. The core personal consumption expenditures (PCE), a number the central banks observes to gauge inflation, rose 0.9% YoY this June.
Boston Fed President Eric Rosengren specified today that US economic activity for the fall remains "quite uncertain" but he foresees a prolonged downturn. "The recent slowdown in economic activity that we have seen in high-frequency data is likely to continue," Rosengren stated this Wednesday. The Boston Fed president also blamed individual states for implementing inconsistent policies that have not helped to curb the spread. "Limited or inconsistent efforts by states to control the virus based on public health guidance are not only placing citizens at unnecessary risk of severe illness and possible death – but are also likely to prolong the economic downturn," Rosengren declared.
Dallas Fed President Robert Kaplan also commented on the pandemic this Wednesday, stating that people may have to learn to "live with" the virus by following proper safety measures to ensure the economy can stay open. "If we don't follow that, while people may feel freer, the economy will grow slower," Kaplan noted. Kaplan predicts that unemployment will hover around 9% by the end of the year (the current rate as of July is 10.2%) if the virus can be contained.
US Market Closings:
Dow advanced 289.93 points or 1.05% to 27,976.84
S&P 500 advanced 46.66 points or 1.4% to 3,380.35
Nasdaq advanced 229.42 points or 2.13% to 11,012.24
Russell 2000 advanced 8.15 points or 0.52% to 1,583.25
Canada Market Closings:
TSX Composite advanced 78.27 points or 0.47% to 16,575.28
TSX 60 advanced 4.39 points or 0.44% to 995.48
Brazil Market Closing:
Bovespa declined 56.61 points or -0.06% to 102,117.79
ENERGY:
The oil markets had a mixed day today:
Crude Oil increased 1.04 USD/BBL or 2.50% to 42.6500
Brent increased 0.92 USD/BBL or 2.07% to 45.4200
Natural gas decreased 0.005 USD/MMBtu or -0.23% to 2.1370
Gasoline increased 0.0356 USD/GAL or 2.95% to 1.2439
Heating oil increased 0.0182 USD/GAL or 1.47% to 1.2591
The above data was collected around 14:23 EST on Wednesday.
Top commodity gainers: Ethanol (2.54%), Gasoline (2.95%), Silver (2.76%), and Lumber (4.11%)
Top commodity losers: Cotton (-2.28%), Bitumen (-3.03%), Coal (-2.82%), and Palm Oil (-1.39%)
The above data was collected around 14:28 EST on Wednesday.
BONDS:
Japan 0.04%(+2bp), US 2's 0.16% (-0bps), US 10's 0.68%(+3bps); US 30's 1.38%(+3bps), Bunds -0.46% (+2bp), France -0.18% (+2bp), Italy 1.03% (+2bp), Turkey 13.87% (+7bp), Greece 1.14% (+6bp), Portugal 0.34% (+3bp); Spain 0.31% (+9bp) and UK Gilts 0.24% (+4bp).
US 10-Year Note Auction increased from 0.653% to 0.660%
Italian 12-Month BOT Auction decreased from -0.124% to -0.192%
German 10-Year Bund Auction remain the same at -0.460%