Blog/Market Talk
Posted Aug 12, 2019 by Martin Armstrong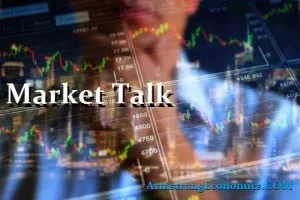 ASIA:
A lot of videos are emerging on social media regarding the police brutality against the Hong Kong protestors, with a lot of attention on the Chinese government's actions regarding the rising protests. Meanwhile, there is still no positive news regarding the US-Chinese trade war with some analysts speculating that trade negotiations have broken down for good and to expect further escalation of tariffs in the upcoming future.
China today questioned India's decision to revoke article 370 regarding Kashmir, India responded to China stated it was an internal decision and will not impact the borders of either China or Pakistan.
South Korea is seemingly planning to retaliate to the Japanese decision earlier this month to take South Korea off the favored trade partners list by doing the exact same thing in reciprocal. Industry Minister Sung Yun-mo said Japan would be placed on a newly created restrictive trade list instead.
The major Asian stock markets had a mixed day today:
Shanghai increased 40.24 points or 1.45% to 2,814.99
Kospi increased 4.54 points or 0.23% to 1,942.29
ASX 200 increased 5.90 points or 0.09% to 6,590.30
NIKKEI 225 closed (public holiday)
Hang Seng decreased 114.58 points or -0.44% to 25,824.72
SENSEX closed (public holiday)
The major Asian currency markets had a mixed day today:
AUDUSD decreased 0.0035 or 0.52% to 0.6752
NZDUSD decreased 0.0015 or 0.24% to 0.6450
USDJPY decreased 0.45 or -0.42% to 105.22 on
USDCNY increased 0.0050 or 0.07% to 7.1012
Precious Metals:
Gold increased 16.56 USD/t oz. or 1.11% to 1,516.03
Silver increased 0.18 USD/t. oz or 1.06% to 17.0964
Some economic news from last night:
New Zealand:
Electronic Card Retail Sales (MoM) (Jul) decreased from 0.0% to -0.1%
Electronic Card Retail Sales (YoY) (Jul) increased from 1.1% to 1.6%
Some economic news from today:
China:
M2 Money Stock (YoY) decreased from 8.5% to 8.1%
New Loans decreased from 1,660.0B to 1,060.0B
Outstanding Loan Growth (YoY) decreased from 13.0% to 12.6%
Chinese Total Social Financing decreased from 2,260.0B to 1,010.0B
EUROPE/EMEA:
Things are heating up in the EU regarding negotiations over Brexit, with reports stating that British diplomats are expected to pull out from the EU decision making meetings this week. The meaning of this is to reinforce the 31st of October leaving date as a permanent fixture which will finally be adhered to. Some members are criticizing the plan as that could damage the national interest of losing the insights of strategy of how to move forward.
A recent poll by the UK telegraph shows that 54% of the UK nations still want Brexit by any means possible – this gives PM Boris Johnson some support to shut down the parliament to get Brexit completed.
Meanwhile US national security advisor Bolton has stated that the US strongly backs Brexit even if there is a no deal.
The Iranian foreign minister again reinstated that the US are behind the tensions in the region, and that they are inflaming a fire with there continual sales of military weapons in the region. The foreign minister stated the Middle East is like a "matchbox ready to ignite" due to the US military presence in the region. "We believe the best the Americans can do for protection of maritime navigation is to just leave people alone. Don't interfere, this is a hostile act against Iran and I don't believe any other impact other than insecurity," Zarif added.
Meanwhile Russia has taken a swipe at google, insisting they should stop promoting Moscow protests on Youtube about terminating Putin as PM.
The major Europe stock markets had a negative day today:
CAC 40 decreased 17.61 points or -0.33% to 5,310.31
FTSE 100 decreased 27.13 points, or -0.37% to 7,226.72
DAX decreased 14.12 points or -0.12% to 11,679.68
The major Europe currency markets had a mixed day today:
EURUSD increased 0.0015 or 0.13% to 1.1213
GBPUSD increased 0.0040 or 0.34% to 1.2074
USDCHF decreased 0.0029 or 0.29% to 0.9694
U.S./AMERICAS:
On Monday, analysts at Morgan Stanley announced that they are expecting interest rates to continue declining. Morgan Stanley's analysts are banking on a rate cut in September at the next FOMC meeting. Furthermore, they expect the Fed to drop rates even lower in October. "Trade's 'simmer' has begun to boil, business sentiment and capex (capital expenditures) have softened further, global growth remains weak and inflation expectations have fallen," the bank reported.
President Trump retweeted a post by the U.S. embassy in Warsaw, Poland, which put pressure on Germany to meet their NATO obligations. "Poland meets its 2% of GDP spending obligation towards NATO.  Germany does not.  We would welcome American troops in Germany to come to Poland," the post stated. This is not the first time that the U.S. and other countries have verbalized their dismay at Germany for not meeting the 2% GDP spending requirement.
The White House passed new immigration reform this Monday "to protect benefits for American citizens, immigrants must be financially self-sufficient." According to the official White House press release, the new legislation will prevent individuals from entering the country if they are likely to become a "public charge," or in other words someone who may require government assistance. In 1996, former President Bill Clinton signed two bills that prevented non-citizens from receiving government welfare. The White House claims that the new measures will "ensure that non-citizens in this country are self-sufficient and not a strain on public resources."
U.S. Market Closings:
The Dow declined 391 points or -1.49% to 25,896.44
S&P 500 declined 36.02 points or -1.23% to 2,882.63
Nasdaq declined 95.73 points or -1.20% to 7,863.41
Russell 2000 declined 18.58 points or -1.23% to 1,494.46
Canada Market Closings:
TSX Composite declined 103.57 points or -0.63% to 16,237.77
TSX 60 declined 5.73 points or -0.59% to 968.61
Brazil Market Closing:
Bovespa declined 2,080 points or -2.0% to 101,915.22
ENERGY:
Still a lot of volatility in the crude markets as the US-Chinese trade war seems to be directionless in its progress. More reports and speculations that Crude price could drop further if Chinese open up about buying Iranian oil.
The oil markets had a mixed day today:
Crude Oil increased 0.23 USD/BBL or 0.42% to 54.8253
Brent decreased 0.07 USD/BBL or -0.12% to 58.3477
Natural gas decreased 0.011 USD/MMBtu or -0.52% to 2.1117
Gasoline decreased 0.0098 USD/GAL or -0.59% to 1.6619
Heating oil decreased 0.002 USD/GAL or -0.11% to 1.8095
Top commodity gainers: Steel (2.50%), Rice (1.63%), Bitumen(1.27%), and Gold (1.05%)
Top commodity losers: Ethanol (-7.70 %), Corn (-6.15%), Wheat (-5.41%), and Coffee (-3.91%)
The above data was collected around 15:20 EST on Monday.
BONDS:
Japan -0.22%(-3bp), US 2's 1.58% (-5bps), US 10's 1.66%(-7bps), US 30's 2.17%(-8bps), Bunds -0.59% (-2bp), France -0.28% (-1bp), Italy 1.71% (-11bp), Turkey 14.64% (+34bp), Greece 2.17% (-58bp), Portugal 0.25% (-3bp), Spain 0.24% (-4bp) and UK Gilts 0.48% (-0bp).
US 3-Month Bill Auction decreased from 1.990% to 1.960%
US 6-Month Bill Auction decreased from 1.950% to 1.890%
French 3-Month BTF Auction decreased from -0.561% to -0.599%
French 6-Month BTF Auction decreased from -0.658% to -0.678%
French 12-Month BTF Auction decreased from -0.645% to -0.679%