Blog/Market Talk
Posted Aug 10, 2020 by Martin Armstrong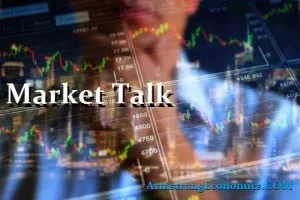 ASIA:
China said on Monday it has imposed sanctions on 11 Americans, including six US lawmakers, for "behaving badly on Hong Kong-related issues." The US on Friday sanctioned Hong Kong Chief Executive Carrie Lam as well as 10 other Chinese and Hong Kong officials for their role in crackdowns on political freedom in the region. This is the latest measure taken by the Trump administration in response to China's imposition of a controversial national security law on Hong Kong.
India's plan to regulate "non-personal" data has jolted US tech giants Amazon, Facebook and Google, and a group representing them is preparing to push back against the proposals, Reuters reported. A government-appointed panel in July recommended setting up a regulator for information that proposed a mechanism for firms to share data with other entities, even competitors, saying this would spur the digital ecosystem. The report, if adopted by the government, will form the basis of a new law to regulate such data. But the US-India Business Council (USIBC), part of the US Chamber of Commerce, calls-imposed data sharing "anathema" to promoting competition and says this undermines investments made by companies to process and collect such information.
India will stop importing 101 items of military equipment in an effort to boost domestic defense production, defense minister Rajnath Singh said on Sunday. India traditionally buys military equipment from Russia, but is increasingly purchasing from the United States and Israel. Modi has repeatedly called for cutting the military's dependence of expensive imports.
The major Asian stock markets had a mixed day today:
NIKKEI 225 closed
Shanghai increased 25.22 points or 0.75% to 3,379.25
Hang Seng decreased 154.19 points or -0.63% to 24,377.43
ASX 200 increased 105.40 points or 1.76% to 6,110.20
Kospi increased 34.71 points or 1.48% to 2,386.38
SENSEX increased 141.51 points or 0.37% to 38,182.08
Nifty50 increased 56.10 points or 0.50% to 11,270.15
The major Asian currency markets had a mixed day today:
AUDUSD decreased 0.0009 or -0.13% to 0.71497
NZDUSD decreased 0.0007 or -0.11% to 0.65909
USDJPY increased 0.02 or 0.02% to 105.94
USDCNY increased 0.00279 or 0.04% to 6.96084
Precious Metals:
Gold decreased 8.65 USD/t oz. or -0.43% to 2,026.05
Silver increased 0.713 USD/t. oz or 2.52%% to 29.057
Some economic news from last night:
China:
CPI (MoM) (Jul) increased from -0.1% to 0.6%
CPI (YoY) (Jul) increased from 2.5% to 2.7%
PPI (YoY) (Jul) increased from -3.0% to -2.4%
New Zealand:
ANZ Business Confidence (Jul) decreased from -31.8 to -42.4
NBNZ Own Activity (Jul) decreased from -8.9% to -17.0%
EUROPE/EMEA:
Britain's economy will be officially declared in recession this week for the first time since the 2008 financial crisis, as the coronavirus outbreak plunges the country into the deepest slump on record. Figures from the Office for National Statistics on Wednesday are expected to show that gross domestic product (GDP) fell in the three months to June by 21%.
UK Prime Minister Boris Johnson has said he will not hesitate to impose new quarantines if needed to stop the spread of coronavirus in the country. Government said Britain will keep looking at all the data citizens of the country are travelling.
Economic activity in France ran at 7% below normal levels in July, a slight improvement on June, as the construction sector neared pre-coronavirus crisis levels of activity and industrial capacity usage nudged higher, the Bank of France said. In its monthly update on business conditions, the central bank said on Monday the euro zone's second biggest economy contracted 13.8%, in line with its forecast.
The Italian government on Friday approved a new stimulus package worth €25 billion, setting aside roughly half of that sum to support employment. Italy has asked the European Union to tap its SURE unemployment scheme for €28.5 billion after extending furlough support to help the economy withstand the hit from the COVID-19 crisis. Italy extended temporary layoff schemes for up to 18 weeks, setting conditions and requiring firms not to cut jobs to qualify for state aid.
The major Europe stock markets had a green day today:
CAC 40 increased 19.99 points or 0.41% to 4,909.51
FTSE 100 increased 18.41 points, or 0.31% to 6,050.59
DAX 30 increased 12.65 points or 0.10% to 12,687.53
The major Europe currency markets had a mixed day today:
EURUSD decreased 0.00452 or -0.38% to 1.17404
GBPUSD increased 0.00194 or 0.15% to 1.30710
USDCHF increased 0.00291 or 0.32% to 0.91539
Some economic news from Europe today:
Swiss:
Unemployment Rate n.s.a. (Jul) remain the same at 3.2%
Unemployment Rate s.a. (Jul) remain the same at 3.3%
Norway:
Core CPI YTD (Jul) increased from 3.1% to 3.5%
Core Inflation (MoM) (Jul) increased from 0.4% to 0.9%
CPI (YoY) (Jul) decreased from 1.4% to 1.3%
CPI (MoM) (Jul) increased from 0.2% to 0.7%
PPI (YoY) (Jul) increased from -14.4% to -13.3%
Euro Zone:
Sentix Investor Confidence (Aug) increased from -18.2 to -13.4
US/AMERICAS:
President Trump signed an executive order over the weekend that will defer the payroll tax. Beginning in September, the measure will benefit any American earning under $104K annually (<$2000 per week) and will last until the end of the year. The president previously attempted to eliminate this tax, but was met with bipartisan opposition. "With respect to the payroll tax, basically we're giving 140-some-odd million people who worked through this pandemic, they're heroes, we're giving them about a $1,200 wage increase after tax," White House economic advisor Larry Kudlow said, after estimating that the average American will temporarily save $1,200 in taxes from the payroll tax holiday with some saving as much as $2,149. However, this tax holiday is only a deferral and the government will likely expect back payment in the future. "If I'm victorious on Nov. 3, I plan to forgive these taxes and make permanent cuts to the payroll tax. I'm going to make them all permanent," Trump said over the weekend.
As for unemployed Americans, President Trump signed a supplemental $400 weekly benefit. The prior $600 weekly benefit expire;;d at the end of July and political disagreements between the left and right have caused aspects of the stimulus package to expire without resolution. The president also signed orders to protect homeowners and renters from evictions and extended the student loan deferral program.
Despite the string of actions that the president took over the weekend, his Democratic opponents insist he is not doing enough but have been unwilling to compromise on a plan. On Monday morning, Treasury Secretary Steven Mnuchin announced a coronavirus relief package could happen as soon as this week. House Speaker Nancy Pelosi said she is willing to sit with lawmakers this week to discuss a plan that will last throughout 2020.
China is imposing retaliatory sanctions against 11 US citizens, including top officials, after Washing announced a round of sanctions for those interfering in Hong Kong autonomy. Senators Marco Rubio, Tom Cotton, Ted Cruz, Josh Hawley, and Pat Toomey were among those targeted. "In response to those wrong US behaviors, China has decided to impose sanctions on individuals who have behaved egregiously on Hong Kong-related issues," Chinese foreign ministry spokesman Zhao Lijian stated, but did not include what the sanctions will entail.
US Market Closings:
Dow advanced 357.96 points or 1.3% to 27,791.44
S&P 500 advanced 9.19 points or 0.27% to 3,360.47
Nasdaq declined 42.63 points or -0.39% to 10,968.36
Russell 2000 advanced 15.49 points or 0.99% to 1,584.67
Canada Market Closings:
TSX Composite advanced 61.02 points or 0.37% to 16,605.5
TSX 60 advanced 4 points or 0.4% to 995.1
Brazil Market Closing:
Bovespa advanced 668.93 points or 0.65% to 103,444.48
ENERGY:
The oil markets had a mixed day today:
Crude Oil increased 0.84 USD/BBL or 2.04% to 42.0600
Brent increased 0.61 USD/BBL or 1.37% to 45.0100
Natural gas decreased 0.085 USD/MMBtu or -3.78% to 2.1660
Gasoline increased 0.0206USD/GAL or 1.70% to 1.2344
Heating oil increased 0.0132 USD/GAL or 1.08% to 1.2381
Top commodity gainers: Silver (2.52%),Lean Hogs (4.67%),Copper (2.73%), and Ethanol (5.44%)
Top commodity losers: Palm Oil(-1.38%), Cocoa(-2.79%), Coffee (-3.12%), and Natural Gas (-3.78%)
The above data was collected around 16:40 EST on Monday.
BONDS:
Japan 0.01%(-1bp), US 2's 0.12% (-1bps), US 10's 0.55%(-1bps);US 30's 1.23%(-0bps), Bunds -0.53% (-3bp), France -0.24% (-3bp), Italy 0.98% (-1bp), Turkey 14.03% (+0bp), Greece 1.03% (+2bp), Portugal 0.28% (-2bp), Spain 0.26% (-3bp) and UK Gilts 0.12% (-3bp).
US 3-Month Bill Auction increased from 0.100% to 0.105%
US 6-Month Bill Auction increased from 0.105% to 0.120%
French 12-Month BTF Auction decreased from -0.560% to -0.565%
French 3-Month BTF Auction decreased from -0.574% to -0.576%
French 6-Month BTF Auction decreased from -0.590% to -0.631%