Blog/Market Talk
Posted Aug 10, 2018 by Martin Armstrong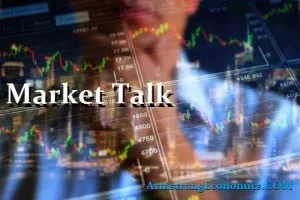 Although Asian stocks traded heavy given ongoing uncertainty surrounding US/China trade talks, it was Japan that appeared to take centre stage. The Yen continues to find a safe-haven bid even as the Nikkei lost 1.35%. Money is being taken off the table as concerns grew and economic activity begins to be questioned. The A$ is an example of this as we watch it decline near 1% today, now trading with a 0.72 handle. The Yen is bid to the mid 110's as emerging market currencies suffer with the core. Probably surprisingly, Hang Seng lost -0.85% whilst Shanghai actually closed small positive having spent much of the day in negative territory. SENSEX closed on the days lows as the INR narrowly rejected the early 69 handle.
The hot talking point for most of the day, has been Turkey. The Turkish Lira lost an additional 15% today, taking losses over the past two days, to near 25%. A headline from the ECB expressing concerns of European bank exposure took its toll on that currency also. The Euro lost 1.25% today, having broken the early support it was just a one-way street. GBP did follow with the early move, but found it holding support as talk of diversity and a deterrent bid, helped sentiment. The headline did not help European stocks and they were heavy all day. The DAX, FTSE MIB, IBEX and CAC all lost around 2% today, with bank stocks, energy and real-estate all leading the charge.
US stock indices were dragged lower as the negative global sentiment worked its way west. An impressive US CPI print, did not help confidence even though the USD was well bid. The DOW ended the day off 196 points (-0.77%), but was off of the sessions lows. The Russell index dipped in and out of negative territory, but eventually finished down just -0.24%. The nerves around the globe is evident and money leaving emerging markets is running to the USD. This FX move looks to have only just started and has plenty of room to run. Volumes have been thin, so it would have been interesting to witness the extent of the decline had trading sizes been more solid.
Japan 0.10%, US 2's closed 2.59% (-6bp), 10's closed 2.85% (-8bp), 30's 3.01% (-7bp), Bunds 0.31% (-6bp), France 0.66% (-5bp), 2.98% (+9bp), Greece 4.15% (+9bp) – credit concerns spreading, Turkey 20.67% (+182bp), Portugal 1.76% (u/c), Spain 1.40% (+1bp) and UK Gilts 1.24% (-5bp).