Blog/Market Talk
Posted Aug 1, 2019 by Martin Armstrong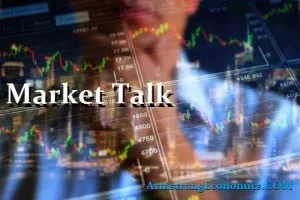 ASIA:
Tensions continue to mount in Hong Kong as protests are still occurring regarding the Chinese extradition laws. China released a video as a deterrent to those who think about carrying out riots in the region. The video is three minutes long and shows military carrying out "anti-riot" exercises. This video shows that there is a possibility of China sending in the military in order to stop the protests.
Former US chief economic advisor to President Trump has said that the Chinese tariffs are backfiring on the US according to the BBC. He went on to state that the tariff battle is having a dramatic impact on US manufacturing and capital investment and also that the trade war was a very convenient excuse for China to slow down its overheated economy.
Japan is set to further escalate the tensions between them and South Korea by removing them from a list of 'white listed' countries, which would mean stricter rules when it comes to trade. Currently many chemicals are currently difficult to trade which are integral to South Korean companies' core products such as Samsung Smartphone screens.
The latest economic data from China shows that factory activity from the Caixin/Markit Purchasing Managers' Index declined in July. The figures came in at 49.9 but was slightly better than expectations of 49.6. South Korea also posted a drop in exports as they fell by 11%.
The major Asian stock markets had a mixed day today:
Shanghai decreased 23.74 points or -0.81% to 2,908.77
Kospi decreased 7.21 points or -0.36% to 2,017.34
ASX 200 decreased 23.70 points or -0.35% to 6,788.90
NIKKEI 225 increased 19.46 points or 0.09% to 21,540.99
Hang Seng decreased 212.05 points or -0.76% to 27,565.70
SENSEX decreased 462.80 points or -1.23% to 37,018.32
The major Asian currency markets had a mixed day today:
AUDUSD increased 0.0019 or 0.28% to 0.6863
NZDUSD increased 0.0018 or 0.28% to 0.6574
USDJPY decreased 0.6640 or 0.61% to 108.0760
USDCNY decreased 0.0046 or 0.07% to 6.9030
Precious Metals:
Gold increased 6.2 USD/t oz. or 0.44% to 1,418.88
Silver decreased 0.035 USD/t. oz or -0.22% to 16.2355
Some economic news from last night:
South Korea:
CPI (MoM) (Jul) decreased from -0.2% to -0.3%
CPI (YoY) (Jul) decreased from 0.7% to 0.6%
Nikkei Manufacturing PMI (Jul) decreased from 47.5 to 47.3
Australia:
AIG Manufacturing Index (Jul) increased from 49.4 to 51.3
Manufacturing PMI decreased from 52.0 to 51.6
Export Price Index (QoQ) (Q2) decreased from 4.5% to 3.8%
Import Price Index (QoQ) (Q2) increased from -0.5% to 0.9%
Japan:
Foreign Bonds Buying decreased from 1,029.0B to -162.2B
Foreign Investments in Japanese Stocks increased from -109.9B to 37.5B
Manufacturing PMI (Jul) decreased from 49.6 to 49.4
Indonesia:
Nikkei Manufacturing PMI (Jul) decreased from 50.6 to 49.6
China:
Caixin Manufacturing PMI (Jul) increased from 49.4 to 49.9
Some economic news from today:
Indonesia:
Core Inflation (YoY) (Jul) decreased from 3.25% to 3.18%
Inflation (YoY) (Jul) increased from 3.28% to 3.32%
Inflation (MoM) (Jul) decreased from 0.55% to 0.31%
India:
Nikkei Markit Manufacturing PMI (Jul) increased from 52.1 to 52.5
Australia:
Commodity Prices (YoY) increased from 13.9% to 16.1%
Hong Kong:
Retail Sales (YoY) (Jun) decreased from -1.3% to -6.7%
EUROPE/EMEA:
Brexit Party leader Nigel Farage, stated that from the latest speeches from Boris Johnson, that he does not believe that the UK will leave the single market in October as Boris Johnson refers to a time frame of a "couple of years" similar to that of Theresa May. In the UK the BOE decided to hold rates steady as the uncertainty of Brexit looms.
European finance ministers are set to vote on who will take over Christine Lagarde's roles as the IMF head. Meanwhile, a European Union spokesman for EU diplomatic chief Federica Mogherini said today that "we regret this decision" referring to the US decision to impose sanctions against Iran's foreign minister Mohammad Javad Zarif and vowed to continue working with him. The Iranian President Rouhani also slammed the US over it's 'Childish' action to impose sanctions on Zarif.
The UK has told Iran there will be no tanker swap, "We are not going to barter: if people or nations have detained UK-flagged illegally then the rule of law and rule of international law must be upheld," Foreign Secretary Dominic Raab said while on a trip in Asia.
Italy has finally struck a deal with 5 EU nations over the 115 stranded migrants off the coast of Italy. The five countries willing to take on immigrants are Germany, France, Portugal, Luxembourg and Ireland. However, it is said that most of the immigrants will remain in Italy.
The major Europe stock markets had a mixed day today:
CAC 40 increased 38.52 points or 0.70% to 5,557.41
FTSE 100 decreased 1.91 points, or -0.03% to 7,584.87
DAX increased 64.11 points or 0.53% to 12,253.15
The major Europe currency markets had a mixed day today:
EURUSD increased 0.0005 or 0.05% to 1.1079
GBPUSD decreased 0.0006 or -0.05% to 1.21510
USDCHF decreased 0.0028 or -0.28% to 0.9910
Some economic news from Europe:
Norway:
Manufacturing PMI (Jul) decreased from 51.4 to 48.4
Spain:
Spanish Manufacturing PMI (Jul) increased from 47.9 to 48.2
Italy:
Italian Manufacturing PMI (Jul) increased from 48.4 to 48.5
France:
French Manufacturing PMI (Jul) decreased from 50.0 to 49.7
Germany:
German Manufacturing PMI (Jul) increased from 43.1 to 43.2
Eurozone:
Manufacturing PMI (Jul) increased from 46.4 to 46.5
UK:
Manufacturing PMI (Jul) remain the same at 48.0
BoE MPC vote cut (Aug) remain the same at 0
BoE MPC vote hike (Aug) remain the same at 0
BoE MPC vote unchanged (Aug) remain the same at 9
BoE QE Total (Aug) remain the same at 435B
BoE Interest Rate Decision (Aug) remain the same at 0.75%
U.S./AMERICAS:
This Thursday, President Trump announced that he will place a 10% tariff on $300 billion worth of Chinese goods. The president called the most recent round of negotiations "constructive." However, he reiterated his dissatisfaction with the prolonged negotiations as he expected a deal to be finalized three months ago. Additionally, the president noted that China did not purchase more U.S. agricultural products after promising to do so at the G20 summit. "We look forward to continuing our positive dialogue with China on a comprehensive Trade Deal, and feel that the future between our two countries will be a very bright one!" Trump tweeted. The new tariffs will go into effect on September 1.
The Senate passed a bill today that will increase government spending by $2.7 trillion over the next two years. The vote passed 67-28 with 23 Republicans and five Democrats opposing the spending increase. Senator Rand Paul stated that this passage marks the end of the Tea Party movement and fiscal conservatism. The White House is already projecting a budget deficit of $1 trillion for 2019. It is largely expected that President Trump will pass the legislation.
Part two of the Democratic debates were held in Detroit last night, with the next round of debates taking place September 12-13 in Houston. To qualify for the next round, candidates are required to secure 130,000 unique donors and receive a minimum of 2% of the vote in at least four separate polls before August 28. Seven candidates currently meet that criteria: Joe Biden, Kamala Harris, Cory Booker, Pete Buttigieg, Bernie Sanders, Beto O'Rourke, and Elizabeth Warren.
U.S. Market Closings:
The Dow declined 280.85 points or -1.05% to 26,583.42
S&P 500 declined 26.82 points or -0.90% to 2,953.56
Nasdaq declined 64.30 points or -0.79% to 8,111.12
Russell 2000 declined 23.84 points or -1.51% to 1,550.76
Canada Market Closings:
TSX Composite declined 29.52 points or -0.18% to 16,377.04
TSX 60 declined 2.94 points or -0.30% to 976.79
Brazil Market Closing:
Bovespa advanced 313.81 points or 0.31% to 102,125.94
ENERGY:
The Fed's decision to cut rates by 0.25%, which signaled the first rate cut in 11 years, underwhelmed the energy markets as Crude and WTI oil took a hit today dropping close to 2% at the time of writing.
A Reuters survey has shown that OPEC crude oil production in July has fallen to its lowest level since 2011. In July OPEC reduced supply by 280K bpd bringing total production to 29.42 million bpd. OPEC will release official numbers on the 13th of August.
The oil markets had a negative day today:
Crude Oil decreased 4.06 USD/BBL or -6.93% to 54.4366
Brent decreased 3.96 USD/BBL or -6.08% to 61.0999
Natural gas decreased 0.024 USD/MMBtu or -1.07% to 2.2134
Gasoline decreased 0.1471 USD/GAL or -7.73% to 1.7577
Heating oil decreased 0.0898 USD/GAL or -4.59% to 1.8623
Top commodity gainers: Lumber (5.35%), Live Cattle (1.43%), Gold(1.41%), and Oat (1.07%)
Top commodity losers: Gasoline (-7.57 %), Crude Oil (-6.91%), Palladium (-6.34%), and Brent (-6.00%)
The above data was collected around 13:50  EST on Thursday.
BONDS:
Japan -0.13%(+3bp), US 2's 1.82% (-7bps), US 10's 1.91%(-11bps), US 30's 2.48%(-5bps), Bunds -0.46% (+2bp), France -0.20% (-2bp), Italy 1.56% (+1bp), Turkey 15.14% (+23bp), Greece 2.06% (+2bp), Portugal 0.35% (-0bp), Spain 0.30% (+1bp) and UK Gilts 0.58% (-3bp).
Japan 10-Year JGB Auction decreased from -0.140% to -0.150%
US 4-Week Bill Auction decreased from 2.110% to 2.080%
US 8-Week Bill Auction decreased from 2.140% to 2.100%
French 10-Year OAT Auction increased from -0.13% to -0.10%
Spanish 5-Year Bonos Auction decreased from -0.205% to -0.254%
Spanish 10-Year Obligacion Auction increased from 0.257% to 0.300%