Blog/Market Talk
Posted Aug 1, 2018 by Martin Armstrong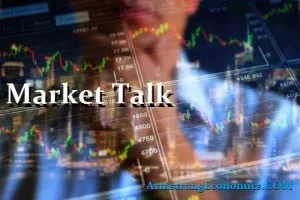 The China/US Trade Talks headline obviously spooked both Shanghai and the Hang Seng indices and we saw nervous selling of stock. Shanghai was hit most closing down -1.8% after having seen a positive opening move. However, the tariffs hit today and even though they plan to talk the impact on sentiment is immediate. Prices traded heavier and heavier as the day wore-on, with prices closing on the days low tick. The Hang Seng (-0.9%) also lower but not as dramatic as the core. Real-estate, banks and financials were hit most, but as volumes were thin trade execution had to extend limits. The SENSEX saw similar price action, but with a dip right at the last moment. It closed down -0.25% while the INR still manages to claw its way back to lower side of 68 benefiting from the RBI announcement and surprise 'Trade war' reference. . The Nikkei was the bright spot, closing up +0.9%, but only looked to benefit on the back of a weaker Yen and JGB rates finally breaking higher (yield). Trading with a 112 handle looks to have been reversed late in US hours as the FED announced an unchanged call, but we saw safe-haven flight take it back to mid 111's.
Traders in Europe were not sure whether to focus on US, Asia stocks, bonds or currency! In light summer trading, they really are searching for guidance and inspiration. The data has been poor to mediocre at best, but with the cash-flow still leaving and heading for the US prices tend to drift in quiet times. Both the DAX and CAC closed down around -0.4% with peripherals feeling even more pressure. IBEX and FTSE MIB were still heavy as concerns escalate with concerns over the political scene and as they watch long term bond yields start to rise. On Friday UK Prime Minister plans to meet with Franch President Macron in London. GBP has been a very quiet currency so far this week, but it still looks to be trading heavy ahead of the Bank of England announcement Thursday. Late in the day news that two Turkish officials have been sanctioned by the USA, the Lira challenges 5 and sees a decline of over 2% today.
Early gains were also lost in US markets as everyone awaits the FED decision. Upon the announcement stocks dipped, USD returned a little of its earlier strength and the treasury curve re-steepens. US 10's play around the 3% level even as the FED quoted a 'strong' economy. The market is pricing an 80% chance of a September move with another expected yet for 2018. We do have jobs number Friday, or as some are calling it – the hourly earnings number. Intraday weakness managed to recover and was led predominantly by the NASDAQ.
Japan 0.13% (+8bp), US 2's 2.67% (u/c), US 10's 3% (+4bp), 30's 3.12% (+4bp), Bunds 0.48% (+3bp), France 0.78% (+5bp), Italy 2.78% (+7bp), Greece 3.90% (-1bp), Turkey 17.77% (-15bp) – but news broke late, so expect further weakness tomorrow, Portugal 1.77% (+5bp), Spain 1.45% (+6bp) and Gilts 1.38% (+5bp).