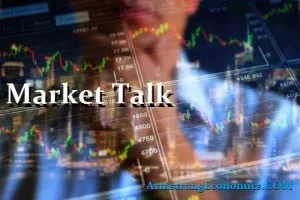 Despite a better than expected Japanese Q2 GDP (annualised 4%) the Nikkei fell 1% in thin summer trading. The currency probably took most of the blame for this as it weakened back towards 110 as we head to the end of the trading day. One wonders if the flight to safety argument is finally being questioned! However, most of the talk in Asia was surrounding China and have seen a host of data releases. From Factory Orders, Investments to Retail Sales all were modestly underwhelming but the market had its own agenda. Many were happy that the weekend passed relatively quietly; with this mornings headlines more discussing trade issues between themselves and the US. Both the Hang Seng and Shanghai closed strong with gains of +1.4% and +0.9% respectively. The KOPSI happily saw a refreshing +0.6% bounce, probably the result of a quiet weekend.
Seeing a strong Asian session has provided the lead for the European markets. Fixed-income markets are weakening, as are the currencies and with money moving back into equities and the USD. Don't forget though that August through to October is traditionally termed, "silly season" and as we ignore the latest economic data releases (Industrial Production missed forecasts by 0.1%) the market is just happy we experienced a quiet weekend. Financials have led the charge this Monday with core European banks (Cmmzbk and Deut Bk) both racing over 3% in todays trading. Not all been great though as we saw oil lose around 2.5% again on over supply and also the lack of demand. GBP lost -0.4% with lots of negative talks surrounding BREXIT but then it was a good day for the USD against the field. The DXY was last seen +0.4% trading 93.35.
Dip buyers were in early for all core US markets with solid cash gains across the board. Energy, Utilities are lagging slightly but as with Europe, we are being lead by financials. The VIX lost around 20% in early trading obviously a direct result of this move and gold lost around $10, but we do have a big week ahead. On Tuesday we will see the release of US Retail Sales, Wednesday are the FED minutes and NAFTA Talks, Thursday are Missile Talks and on Friday we see Walmart's numbers. There is lots of potential for more silliness especially with many core players away.
2's closed 1.32% (+3bp), 10's 2.22% (+3bp), 30's 2.81% (+3bp), Bunds 0.4% (+2bp), which closes the spread +182bp (+1bp). France +0.7% (+3bp), Italy 2% (-2bp), Greece 5.44% (-2bp), Turkey 10.54% (+8bp), Portugal 2.74% (-4bp), UK Gilts 1.07% (+1bp).