Blog/Market Talk
Posted Apr 9, 2019 by marty armstrong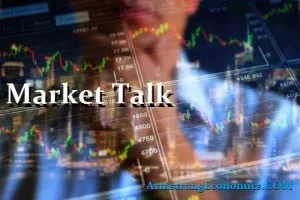 Asia:
China wishes to ban bitcoin mining in an attempt to make the world a safer place – at least that is the positioning according to the Chinese National Development and Reform Commission. While hard to take serious at times, the group releases a report every year announcing what industries it wishes to restrict or improve due to the negative effect that industry is producing. Cryptocurrency mining was on this list. It would be a significant impact to the cryptocurrency industry as China is a big player in producing hardware for their activities.
Over the Pacific Ocean, a Japanese F-35 stealth fighter, one of the world's most-advanced warplanes, has gone missing. This is according to the Japanese defense officials.
As a reminder, tomorrow India will be voting for their new president in what will be the world's largest democratic vote.
The majority of major Asian stock markets were green today: SENSEX increased 238.69 points (0.62%)to 38,939.22, ASX 200 increased 0.40 points (0.01%) to 6,221.80, NIKKEI 225 increased 40.94 points (0.19%) to 21,802.59, Hang Seng increased 80.34 points(0.27%) to 30,157.49, and KOSPI increased 2.96 points ( 0.13%) to 2,213.56. However, Shanghai took the opposite route and decreased 5.15 points (-0.16%) to 3,239.66.
The major Asian currency markets had a mixed day today: The NZDUSD increased 0.0004 or 0.05% to 0.6742 and the USDCNY increased 0.0016 or 0.02% to 6.7185. The AUDUSD and The USDJPY took the opposite route decreased 0.0001 or 0.01% to 0.7125 and 0.3600 or 0.32% to 111.1100 respectfully.
Gold increased 7.13 USD/t oz. or 0.55% to 1,304.41 and Silver decreased 0.015 USD/t. oz or -0.10% to 15.2314.
Some economic news about Australia from late evening yesterday:
Australia's Home Loans (MoM) (Feb) increased from -2.6% to 2.0%
Economic news on Tuesday:
Indonesian Retail Sales (YoY) (Feb) increased from 7.2% to 9.1%
Europe:
UK Prime Minister Theresa May met with President Macron of France to discuss possible options in hopes of gaining support to delay Brexit before the EU summit tomorrow.
Today, Europe held a summit with China to discuss the future of the two regions. In what was the 21st summit between the two, many discussion points were raised from the Italians joining the belt road initiative to technology concerns. EU President Juncker described progress as slower than they had liked. This Thursday another meeting will be held between the 12 European nations that were not present at today's summit.
Israel is about to release their primary results with the main front runners being center-right Benny Gantz and right Likud leader Benjamin Netanyahu, who is seeking his record fifth term. The turnout of Arab voters within Israel reached a record low after reports that Netanyahu party gave activists 1,200 cameras to film voting booths in Arab regions.
The major European stock markets had a negative day today: CAC 40 decreased 35.35 points or -0.65% to 5,436.42, the FTSE 100 decreased 26.32 points or -0.35% to 7,425.57, and DAX decreased 112.83 points or -0.94% to 11,850.57.
The major European currency markets had a mixed day today: The EURUSD increased 0.0007 or 0.06% to 1.1266 and the USDCHF increased 0.0009 or 0.09% to 0.9996. However, the GBPUSD took the opposite route decreased 0.0025 or 0.19% to 1.3037
Economic news about the UK from late evening yesterday
UK BRC Retail Sales Monitor (YoY) (Mar) decreased from -0.1% to -1.1%
Some economic news on Tuesday:
Swiss:
Unemployment Rate n.s.a. (Mar) decreased from 2.7% to 2.5%
Unemployment Rate s.a. (Mar) remain the same at 2.4%
Italian:
Italian Retail Sales (MoM) (Feb) decreased from 0.6% to 0.1%
Italian Retail Sales (YoY) (Feb) decreased from 1.2% to 0.9%
U.S./Americas:
Wall Street saw another day of declines. The Dow dropped for the second consecutive day, losing another 190.44 points (-0.72%), closing at 26,150.58. The S&P 500 declined -0.61% (2,878.20 close), the Nasdaq dropped -0.56% (7,909.28 close), and the Russell 2000 declined -1.22% (1,559.68 close).
The International Monetary Fund (IMF) downgraded their 2019 global growth estimate from 3.5% to 3.3%. "Although a 3.3 percent global expansion is still reasonable, the outlook for many countries is very challenging, with considerable uncertainties in the short term, especially as advanced economy growth rates converge toward their modest long-term potential," the official report noted. The report also noted that the year began "on weak footing" but is expected to increase during the second half of the year. "This pickup is supported by significant policy accommodation by major economies, made possible by the absence of inflationary pressures despite closing output gaps," the report continued. If the global economy stabilizes, the IMF forecasts that growth will rebound to 3.6% in 2020.
Bank of America CEO Brian Moynihan announced this Tuesday that the bank will raise their minimum wage to $20 per hour (equivalent of $41,000 per year for full-time workers). "With the success our company has … we have to share that success with our teammates," Moynihan said. Unemployment in America has reached a historic low (3.8%), and many companies are following the trend of raising the minimum wage in an effort to attract workers. The minimum wage requirement is also expected to be a hotly debated topic during the 2020 presidential election.
The USD Index decline -0.04% this Tuesday (last reading 97.01). The USDCAD rose 0.04% (last reading 1.3318).
The Canadian markets responded in turn to their readjusted growth rate. The TSX Composite declined -0.43%, closing at 16,336.45; the TSX 60 declined -0.45%, closing at 974.43.
A new report by PEtroLMI suggests that over 12,000 Canadians employed in the oil and gas sector may be out of work by the end of the year. The report predicts that the sector will decline by 23% in 2019 and cites decreases in capital spending and commodity prices as the main contributing factors.
The aforementioned IMF report released this Tuesday downgraded Canada's annual economic growth to 1.5%. This figure is well below the overall global growth prediction of 3.3%. However, the IMF predicts Canada's economy will rebound next year to a growth rate of 1.9%.
Investors are still watching for the breakout of emerging markets, which has rebounded year-to-date but remains a question mark for many. In Brazil, the Bovespa has been choppy since reaching the 100,000 level last month. Although the index was down again today by -1.11% (96,291.79 close), it is up 6.98% for the year overall.
Energy:
Most of major energy markets had a negative day today: Crude Oil decreased 0.38 USD/BBL or -0.59% to 63.9893; Brent decreased 0.47 USD/BBL or -0.66% to 70.5033; Natural gas decreased 0.008 USD/MMBtu or -0.30% to 2.6973 and Heating Oil decreased 0.0101 USD/GAL or -0.49% to 2.0429. Gasoline took the opposite route and increased 0.0095 USD/GAL or 0.48% to 1.9988.
Top commodity gainers are Cocoa (0.70%), Steel (1.20%), and Gold (0.53%). The biggest losers are Oat (-2.09%), Lumber (-1.79%), and Sugar (-1.49%).
The above data was collected around noon 15:38 EST time on Tuesday
Bonds:
Japan -0.05%(-1bp), US 2's 2.36% (+0bps), US 10's 2.52%(-1bps), US 30's 2.91%(-1bps), Bunds 0.00% (-0bp), France 0.36% (-0bp), Italy 2.64% (-4bp), Turkey 16.90% (-28bp), Greece 3.48% (-15bp), Portugal 1.23% (-1bp), Spain 1.09% (-0bp) and UK Gilts 1.11% (+3bp).
US 3-year Note Auction decreased from 2.448% to 2.301%
Spanish 3-month Letras Auction decreased from -0.411% to -0.418%
UK 10-year Treasury Gilt Auction decreased from 1.159% to 1.109%