Blog/Market Talk
Posted Apr 8, 2019 by marty armstrong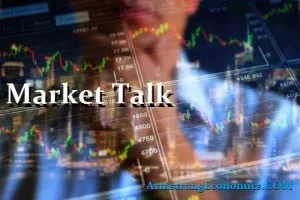 Asia:
Despite the global sanctions imposed on North Korea, China continues to work towards its own benefit. It was revealed that China has opened yet another border crossing for North Korea via a bridge over the Yalu River. Both countries are in negotiations with the United States in the meantime.
China and Russia have been increasing their gold holdings for months. In the case of China, they purchased 360 thousand ounces over the course of the past four months. In 2018, Russia dumped most of their treasuries. Some analysts stated this move was made in favor for gold and other assets in an attempt to reduce their exposure to the USD.
A Russian newspaper reported today that the Russian Defense Military deployed a surveillance drone to patrol the coastal areas of a Japanese-owned island.
India is set to have the world's largest democratic vote on Wednesday, with over 900 million eligible voters. The Hindu nationalist government of Prime Minister Narendra Modi seeks another term.
The major Asian stock markets had a mixed day today: Hang Seng increased 140.83 points (0.47%) to 30,077.15; ASX 200 increased 40.10 points (0.65%) to 6,221.40; KOSPI increased 0.99 points (0.04%) to 2,210.60. Shanghai, NIKKEI 225, and SENSEX took the opposite route. Shanghai decreased 1.76 points (-0.05%) to 3,244.81; NIKKEI 225 decreased 45.85 points (-0.21%) to 21,761.65 and SENSEX decreased 161.70 points (-0.42%) to 38,700.53.
The major Asian currency markets had a mixed day today: The AUDUSD increased 0.0020 or 0.28% to 0.7125, the NZDUSD increased 0.0013 or 0.19% to 0.6744, and the USDCNY increased 0.0070 or 0.10% to 6.7182. However, the USDJPY decreased 0.2560 or 0.23% to 111.4740.
Both gold and silver had a mixed day today. Gold increased 6.6 USD/t oz. or 0.51% to 1,296.11 and silver increased 0.161 USD/t. oz or 1.07% to 15.2296.
Some economic news from weekend:
Japan:
Adjusted Current Account increased from 1.83T to 1.96T
Current Account n.s.a. (Feb) increased from 0.600T to 2.677T
China:
FX Reserves (USD) increased from 3.090T to 3.099T
M2 Money Stock (YoY) (Mar) remain the same at 8.0%
New Loans (Mar) remain the same at 885.8B
Outstanding Loan Growth (YoY) (Mar) remain the same at 13.4%
Some economic news from Monday:
Japan Household Confidence (Mar) decreased from 41.5 to 40.5
Japan Economy Watchers Current Index (Mar) decreased from 47.5 to 44.8
Indonesian FX Reserves (USD) (Mar) increased from 123.30B to 124.50B
Hong Kong Foreign Reserves (USD) (Mar) increased from 434.40B to 437.90B
Singapore Foreign Reserves USD (MoM) (Mar) increased from 292.5B to 295.5B
Europe:
In her continuing efforts to elicit support for a deal, UK Prime Minister Theresa May attempted to explain the Brexit deal "in 60 seconds" via Twitter today. Persistence, if nothing else. A special EU summit will take place on Wednesday to discuss UK's request to delay Brexit after failing yet again to come to terms. While most believe something will be worked out to extend Britain's stay in the EU while it works out its own plans, there is still no certainty that an extension will be granted and the UK could technically be forced out of the EU by Friday.
Separately, there is growing concern over China's strategy in European trade negotiations as Chinese officials are having separate meetings with Eastern and Central countries apart from Western Europe. No surprise here.
In the Middle East, there is mounting tension between the U.S. and Iran as President Donald Trump designated Iran's elite Revolutionary Guard Corps (IRGC) as a foreign terrorist organization. This is the first time a foreign nation's main army has been called a terrorist organization.
Tomorrow, Israeli PM Netanyahu looks to find out if he's reelected for another term in the latest Presidential election – despite the legal controversy surrounding him of late.
The major European stock markets had a mixed day today. CAC 40 decreased 4.42 points or -0.08% to 5,471.78 and DAX decreased 46.35 points or -0.39% to 11,963.40. The FTSE 100 took the opposite route and increased 5.02 points or 0.07% to 7,451.89.
The major European Currency markets had a mixed day today: The EURUSD increased 0.0054 or 0.48% to 1.1268 and the GBPUSD increased 0.0024 or 0.19% to 1.3060. The USDCHF decreased 0.0010 or 0.10% to 0.9988.
Some economic news from Europe:
Eurozone: Sentix Investor Confidence (Apr) increased from -2.2 to -0.3
German Exports (MoM) (Feb) decreased from 0.1% to -1.3%
German Imports (MoM) (Feb) decreased from 1.4% to -1.6%
German Trade Balance (Feb) increased from 18.6B to 18.7B
U.S./Americas:
Wall Street traded in a choppy pattern to start the week. The Dow lost 83.97 points (-0.32%, 26,341.02 close), primarily due to another down day by Boeing. Meanwhile the S&P 500 was slightly up for the day (+0.10%, 2895.77 close), as was the Nasdaq (+0.19%, 7953.88 close), but the Russell 2000 declined 0.22% (1579.00 close).
As mentioned, Boeing's stock was down again (-4.44%) after Bank of America Merrill Lynch downgraded the stock from "buy" to "neutral." General Electric was also down today(-5.19%) after getting hit by a ratings downgrade.
Elsewhere, Pinterest announced their plans to list their IPO price between $15 and $17 dollars next week on the NYSE, valuing the company at roughly $12 billion. The company expects to earn between $1.3 and $1.5 billion from its IPO. This has been a highly anticipated "unicorn" listing – one of many expected this year, following Lyft's IPO from a couple of weeks ago.
The Federal Reserve proposed new regulations for foreign banks operating within the U.S. If passed, the measure will ease regulations on capital and stress testing and tighten liquidity requirements. The central bank estimates that the proposed regulations would reduce aggregate capital requirements by 0.5%. Foreign banks have long complained that they're held to higher standards than domestic banking institutions, and these measures would help to even out the playing field. However, the Fed voiced concerns over foreign banks engaging in riskier activities, such as international lending and short-term wholesale loans. Tighter liquidity requirements will eliminate some of the associated risks. Currently, U.S.-based foreign banks are worth over $50 billion and about 40% of those funds are held within the U.S.
On the economic front, U.S. employers laid off 190,410 workers during the first quarter of 2019, marking the highest number of layoffs in a three-month span since 2015. On a YoY basis, the number of layoffs during Q1 increased by 35.6%. The majority of layoffs occurred in the retail sector as brick and mortar stores struggle to compete with online stores. In the first quarter alone, 46,061 retail employees were dismissed.
Retail workers who stayed on board are seeing higher wage increases that surpass the annual average of 3%. Target announced last week that it will increase their minimum wage from $12 to $13 per hour. Costco and Amazon also recently increased their minimum wage to $15 per hour.
The USD Index declined 0.34% this Monday (last reading 97.06). The USDCAD sunk 0.52% (last reading 1.3313).
Canadian markets closed Monday ever so slightly in the green. The TSX Composite gained +0.07% (16,407.29 close) and the TSX 60 finished up +0.06% (978.82 close).
Brazil's Bovespa started the week on a high note (+0.27%, closing at 97,369.29).
Energy:
The reports last week suggesting that the Saudis were about to move away from the "Petrodollar" seem to be slightly unfounded. They issued a bond today worth 40 billion USD, and to no surprise denominated in dollars. Crude oil bounced today. Over the weekend there were clashes in Libya on the outskirts of Tripoli between Libyan warlord Khalifa Haftar and rival militias. Today, a warplane bombed the airport.
The energy markets had a green day today: Crude Oil increased 1.15 USD/BBL or 1.82% to 64.0996; Brent increased 0.69 USD/BBL or 0.98% to 71.1743; Natural gas increased 0.046 USD/MMBtu or 1.73% to 2.7058; Gasoline and Heating oil increased 0.0171 USD/GAL or 0.87% to 1.9833 and 0.0171 USD/GAL or 0.84% to 2.0558 respectfully.
Top commodity gainers are Bitumen (5.13%), Steel(4.32%), Rubber (3.56%), and Platinum (1.91%). The biggest losers are Sugar (-1.49%), Lumber (-2.15%) and Rice (-1.00%).
The above data was collected around noon 13:18 EST time on Monday
Bonds:
Japan -0.05%(-1bp), US 2's 2.34% (+0bps), US 10's 2.52%(+2bps), US 30's 2.91%(-1bps), Bunds 0.01% (+0bp), France 0.36% (-0bp), Italy 2.64% (-4bp), Turkey 16.90% (-28bp), Greece 3.49% (-41bp), Portugal 1.22% (-4bp), Spain 1.09% (-0bp) and UK Gilts 1.11% (+3bp).
US 3-month Bill Auction decreased from 2.380% to 2.375%
US  6-month Bill Auction increased from 2.380% to 2.395%
French 3-month BTF Auction increased from -0.530% to -0.519%
French 6-month BTF Auction increased from -0.529% to -0.524%
French 12-month BTF Auction remain the same at -0.520%