Blog/Market Talk
Posted Apr 7, 2017 by Martin Armstrong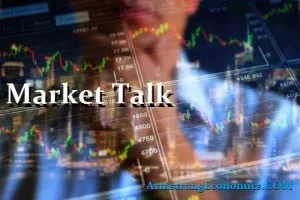 The main talking point affecting markets in Asia and indeed the rest of the world from the early hours trading was the US military action from the Mediterranean Sea. Safe haven assets were bid with bonds, gold and oil seeing good buying while the nerves found money being taken off the table in equity markets. The Nikkei was pushed to create lows for the year, but recovered as the day wore-on. By close of cash markets most core had regained all lost ground recording higher returns for the day. The Hang Seng failed to close in the positive but has had a good run recently (+10.3% YTD) so it is probably forgiven! All eyes and ears have now returned to thinking US jobs numbers so need to watch futures for that outcome.
Europe followed Asia weaker with all core indices showing negative returns of around -0.4% just ahead of the US numbers. The DAX seems to be the heaviest but has been for a few days with Deutsche Bank not helping confidence it seems. The US NFP's were a mixed bag of measures to say the least. A lower headline number shocked many (98k when the market consensus was 180k) but the rate countered that at 4.5% when forecasts were for unchanged at 4.7%. Retail jobs suffered again while we saw solid gains in construction. Keep an eye on the spread U6-U3 which is now around 4.5 because the FED will be commenting on it again soon. By the close of business the safe-haven had lost their bid and were trending lower, banks stocks were heavy again as we approach earnings season. Keep in mind that many are expecting 15%+ earnings returns for many of the large banks so there is certainly room for disappointment upon releases. Much is being debated around de-regulations with vocal support from both sides. Banks stocks were strong early in the year but have suffered recently as probably too much is priced-in. DXY also reversed early moves and is closing near the highs of the day at 101.10 (+0.55%).
Other headlines for the day was the downgrading of South Africa to junk bond status. This obviously increases the burden of cost to government paper but at this level will remove it from EM indices reducing broad demand for paper. Gold lost its early bid having seen $1270+ and by the close was back nudging the $1250 level. Oil also reversed early action closing still higher but off its highs at $52.20. Currency saw large moves for the USD against the Rouble (1.4%) but also GBP and Euro (around 0.75%) as central banks battle each other with opposing themes. Interesting there has been much flow out of US and into Europe recently but given the poor currency returns this flow may well be reversed back soon. Headlines are again back on the Trump/Xi meeting and the weekend coverage.
2's closed 1.29% (+5bp), 10's closed 2.38% (+4bp), Bunds 0.22% (-4bp) which closes the US/Germany spread at +216bp. France 0.88% (-1bp), Italy 2.20% (-5bp), Greece 6.71% (-19bp fresh tranche of cash was approved), Turkey 10.76% (u/c), Portugal 3.82% (-4bp), Gilts 1.07% (-3bp). Lots of the European closes were before the US market turned, so we may well spread realign on Monday.