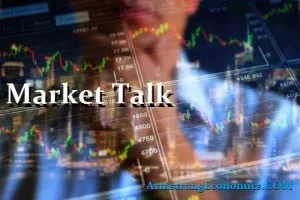 ASIA:
A group of Indian government ministers advised Prime Minister Narendra Modi to partially lift the lockdown imposed on March 25 for 21 days to sustain the livelihood of millions who have little to eat and to control the unemployment rate in the nation which has climbed to more than 20%. The panel has recommended cities open markets on alternate days after the three-week period ends. States can allow harvesting of crops across the country, they added.
The Indian benchmark equity indices, Sensex and Nifty, rallied almost nine percent on Tuesday, registering their best trading day since 2009. Sensex ended 2,476.26 points or 8.97 percent higher at 30,067.21 and the Nifty rallied 708.40 points or 8.76 percent to close at 8,792.20. Asian stock markets rallied for a second day on Tuesday buoyed by tentative signs the coronavirus crisis may be leveling off in New York and receding in Europe.
Chinese equities had alternated between positive and negative finishes through the last seven trading days since the end of the two-day winning streak in which it had risen more than 120 points or 4.5 percent. The global forecast for the Asian markets is broadly positive on optimism that the COVID-19 curve may finally be flattening.
More than 460,000 Chinese firms closed permanently in the first quarter as the coronavirus pandemic pummeled the world's second-largest economy, with more than half of them having operated for under three years, corporate registration data shows. At the same time, the pace of new firms being established slowed significantly. From January to March, around 3.2 million businesses were set up, a 29 percent drop from a year earlier.
Japan has declared a coronavirus emergency after reaching 3,906 confirmed cases on Tuesday, exactly double the number from a week earlier. Medical experts said that for months, Japan has confounded the world by reporting a relatively low rate of coronavirus infections without imposing the kind of stringent measures used by other nations.
The major Asian stock markets had a mixed day today:
NIKKEI 225 increased 373.88 points or 2.01% to 18,950.18
Shanghai increased from 56.78 points or 2.05% to 2,820.76
Hang Seng increased 504.17 points or 2.12% to 24,253.29
ASX 200 decreased 34.50 points or -0.65% to 5,252.30
Kospi increased 31.72 points or 1.77% to 1,823.60
SENSEX increased 2,476.26 points or 8.97% to 30,067.21
The major Asian currency markets had a mixed day today:
AUDUSD increased 0.0084 or 1.37% to 0.61940
NZDUSD increased 0.0042 or 0.71% to 0.59870
USDJPY decreased 0.2080 or -0.19% to 108.98
USDCNY decreased 0.0453 or -0.64% to 7.05708
Precious Metals:
Gold decreased 16.15 USD/t oz. or -0.97% to 1,644.80
Silver decreased 0.142 USD/t. oz or -0.94% to 15.0280
Some economic news from last night:
Australia:
AIG Services Index (Mar) decreased from 47.0 to 38.7
ANZ Job Advertisements (MoM) decreased from 1.2% to -10.3%
Exports (MoM) (Feb) decreased from -3% to -5%
Imports (MoM) (Feb) decreased from -3% to -4%
Trade Balance (Feb) decreased from 5.210B to 4.361B
New Zealand:
NZIER Business Confidence (Q1) decreased from -21% to -70%
NZIER QSBO Capacity Utilization (Q1) increased from 92% to 92.1%
Indonesia:
FX Reserves (USD) (Mar) decreased from 130.40B to 121.00B
Japan:
Average Cash Earnings (YoY) decreased from 1.2% to 1.0%
Household Spending (YoY) (Feb) increased from -3.9% to -0.3%
Household Spending (MoM) (Feb) increased from -1.6% to 0.8%
Overall wage income of employees (Feb) decreased from 1.2% to 1.0%
Overtime Pay (YoY) (Feb) decreased from -0.80% to -1.20%
Foreign Reserves (USD) (Mar) increased from 1,359.0B to 1,366.2B
South Korea:
Current Account (Feb) increased from 1.01B to 6.41B
Some economic news from today:
China:
FX Reserves (USD) decreased from 3.107T to 3.061T
Japan:
Coincident Indicator (MoM) (Feb) decreased from 0.8% to 0.6%
Leading Index (MoM) (Feb) increased from -0.4% to 1.6%
Leading Index increased from 90.5 to 92.1
Hong Kong:
Foreign Reserves (USD) (Mar) decreased from 445.70B to 437.50B
Singapore:
Foreign Reserves USD (MoM) (Mar) decreased from 283.0B to 279.1B
Australia:
RBA Interest Rate Decision (Apr) remain the same at 0.25%
New Zealand:
GlobalDairyTrade Price Index increased from -3.9% to 1.2%
EUROPE/EMEA:
European markets performed well today, from the opening bell European indices were up more than 4% (in the case of the DAX index) before trundling down for the rest of the day, however closing positive.
Positive news from Germany as the number of new cases are being outweighed by the number of recoveries for the first time since the virus outbreak.
The UK and the EU are failing to make progress as they have yet to officially schedule a timeslot for a video conference call to organize Brexit talks. Chief negotiator Michel Barnier said he will discuss with UK counterpart David Frost next week to discuss a way to move forward with talks.
Irish PM Leo Varadkar said for the EU to be more coordinated in the efforts to tackle the coronavirus. He went on to say that the effort by the countries has been "poor," describing that the recession is affecting all countries symmetrically and the EU should have a coordinated common response (i.e. offering cheap money to member states).
Youtube is beginning to ban any video linking the coronavirus to the newly installed 5G towers across the world. The conspiracy is that the 5G networks are causing people to fall sick. A recent interview by David Icke was used as a case for spreading "false information," according to Youtube.
The major Europe stock markets had a green day today:
CAC 40 increased 92.13 points or 2.12% to 4,438.27
FTSE 100 increased 122.06 points, or 2.19% to 5,704.45
DAX 30 increased 281.53 points or 2.79% to 10,356.70
The major Europe currency markets had a mixed day today:
EURUSD increased 0.01088 or 1.01% to 1.09068
GBPUSD increased 0.01188 or 0.97% to 1.23528
USDCHF decreased 0.0091 or -0.93% to 0.96910
Some economic news from Europe today:
Swiss:
Unemployment Rate n.s.a. (Mar) increased from 2.5% to 2.9%
Unemployment Rate s.a. (Mar) increased from 2.6% to 2.8%
Germany:
German Industrial Production (MoM) (Feb) decreased from 3.2% to 0.3%
Norway:
Manufacturing Production (MoM) (Feb) decreased from 0.4% to -0.5%
Unemployment Rate n.s.a. (Mar) increased from 2.30% to 10.40%
France:
French Current Account (Feb) decreased from -3.10B to -3.80B
French Exports (Feb) increased from 40.3B to 42.4B
French Imports (Feb) increased from 46.3B to 47.6B
French Reserve Assets Total (Mar) increased from 188,033.0M to 211,671.0M
French Trade Balance (Feb) increased from -6.0B to -5.2B
UK:
Labour Productivity (Q4) remain the same at 0.3%
Halifax House Price Index (MoM) (Mar) decreased from 0.2% to 0.0%
Halifax House Price Index (YoY) increased from 2.8% to 3.0%
Italy:
Italian Retail Sales (YoY) (Feb) increased from 1.5% to 5.7%
Italian Retail Sales (MoM) (Feb) increased from 0.1% to 0.8%
US/AMERICAS:
Tuesday was a volatile day on Wall Street with the Dow gaining 900 during its session high before closing in the red. The uncertainty surrounding the duration of the global slowdown continues to grow as the media is filled with conflicting reports.
The Trump administration is requesting an additional $250 billion in emergency funding from Congress. Senate Majority leader Mitch McConnell stated that the current program "may run dry" without additional funding.
Yesterday was the largest single-day spike in coronavirus cases in New York, bringing the total to 5,489. However, some data indicates that the state may be reaching their plateau in cases. Governor Andrew Cuomo stated today, "We cannot restart life as we knew it without testing." The governor is now reaching out to private agencies willing to provide the state with COVID-19 test kits.
India announced this Tuesday that they will lift their ban on exporting the drug hydroxychloroquine after the US threatened to take retaliatory steps.  Prime Minister Modi and President Trump solidified a relationship earlier in the year and came to an agreement. India also announced that they will lift export restrictions on 24 pharmaceutical ingredients that could potentially be used to treat coronavirus. "After having confirmed the availability of medicines for all possible contingencies currently envisaged, these restrictions have been largely lifted, " a member of India's foreign ministry stated.
President Trump questioned the integrity of the World Health Organization (WHO) this Tuesday. "The W.H.O. really blew it. For some reason, funded largely by the United States, yet very China centric. We will be giving that a good look. Fortunately I rejected their advice on keeping our borders open to China early on. Why did they give us such a faulty recommendation?" the president tweeted. The US is currently the largest funder of the 194-member of the organization but plans to reduce funding to under $58 million compared to the previously allocated $122 million.
US Market Closings:
Dow declined 26.13 points or -0.12% to 22,653.86
S&P 500 declined 4.27 points or -0.16% to 2,659.41
Nasdaq declined 25.98 points or -0.33% to 7,887.26
Russell 2000 advanced 0.39 of a point or 0.03% to 1,139.17
Canada Market Closings:
TSX Composite advanced 21.44 points or 0.16% to 13,614.14
TSX 60 declined 0.89 of a point or -0.11% to 830.58
Brazil Market Closing:
Bovespa advanced 2,285.11 points or 3.08% to 76,358.09
ENERGY:
The EIA report suggests there will be a -20% decline for the demand of oil in 2020. The Crude oil market today dropped heavily, especially that of WTI moving down 7.67% at the time of writing. The latest reports from OPEC+ is that there could be a possibility of a three-month output cut to offset the lack of demand.
The oil markets had a mixed day today:
Crude Oil decreased 1.42 USD/BBL or -5.44% to 24.6600
Brent decreased 0.72 USD/BBL or -2.18% to 32.3300
Natural gas increased 0.088 USD/MMBtu or 5.01% to 1.8430
Gasoline decreased 0.0433 USD/GAL or -5.56% to 0.7356
Heating oil decreased 0.0261 USD/GAL or -2.39% to 1.0679
Top commodity gainers: Natural Gas (5.01%), Lumber (7.23%), Feeder Cattle (4.67%), and Live Cattle (4.69%)
Top commodity losers: Crude Oil (-5.44%), Heating Oil (-2.39%), Orange Juice (-3.33%), and Gasoline (-5.56%)
The above data was collected around 14.20 EST on Tuesday.
BONDS:
Japan 0.01%(+0bp), US 2's 0.28% (+1bps), US 10's 0.78%(+10bps); US 30's 1.37%(+8bps), Bunds -0.32% (+10bp), France 0.18% (+11bp), Italy 1.64% (+10bp), Turkey 13.77% (-51bp), Greece 1.85% (-5bp), Portugal 0.86% (+2bp); Spain 0.86% (+13bp) and UK Gilts 0.41% (+8bp).
Japan 30-Year JGB Auction increased from 0.340% to 0.430%
US 3-Year Note Auction decreased from 0.563% to 0.348%