Blog/Market Talk
Posted Apr 6, 2020 by Martin Armstrong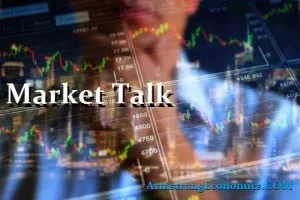 ASIA:
The former governor of the Reserve Bank of India Raghuram Rajan has said that India can beat the virus with the right resolve and priorities by focusing on immediate needs and delaying less important expenditures. He also said that it will be hard to lockdown the country entirely for much longer periods as the poor and non-salaried middle class will not be able to survive if they are kept out of work for longer periods.
The total number of novel coronavirus cases in India surged to 4,281 on Monday, according to the Union Health Ministry. The number of fresh cases increased by 214 today. The death toll has increased to 111, while 318 patients have been discharged or recovered from the highly contagious disease.
India is reconsidering President Trump's request to release the amount of hydroxychloroquine, one of the oldest and best-known anti-malarial drugs, ordered by the United States after India last month banned the drugs for exports. Based on some initial results, the Trump administration is banking heavily on using hydroxychloroquine for the successful treatment of coronavirus.
People flocked to popular tourist sites and major cities across China over the country's holiday weekend, despite warnings from health authorities that the risk posed by the coronavirus pandemic remains far from over. Images from the Huangshan mountain park in Anhui province on Saturday, April 4, showed thousands of people crammed together, many wearing face masks, eager to experience the great outdoors after months of travel restrictions and strict lockdown measures.
The People's Bank of China held a press conference in Beijing to check on the progress of continued research and development of central bank digital currency. The People's Bank of China has completed basic function development for a digital yuan. This puts China one step closer to issuing its CBDC (Central Bank Digital Currency).
Singapore needs to plan and be ready for more disruptions to its supply of food and other essentials, as lockdowns continue in exporting countries, said Minister for Trade and Industry Chan Chun Sing. Air travel restrictions have considerably diminished global air cargo capacity and connectivity, while seaport capacities are increasingly being put under stress, he said.
The major Asian stock markets had a green day today:
NIKKEI 225 increased 756.11 points or 4.24% to 18,576.30
Shanghai closed
Hang Seng increased 513.01 points or 2.21% to 23,749.12
ASX 200 increased 219.30 points or 4.33% to 5,286.80
Kospi increased 66.44 points or 3.85% to 1,791.88
SENSEX closed
The major Asian currency markets had a mixed day today:
AUDUSD increased 0.01052 or 1.76% to 0.60922
NZDUSD increased 0.00776 or 1.32% to 0.59376
USDJPY increased 0.61 or 0.56% to 109.09
USDCNY decreased 0.00148 or -0.02% to 7.10452
Precious Metals:
Gold increased 34.9 USD/t oz. or 2.16% to 1,654.20
Silver increased 0.4745 USD/t. oz or 3.29% to 14.8765
Some economic news from last night:
Australia:
MI Inflation Gauge (MoM) increased from -0.1% to 0.2%
New Zealand:
ANZ Commodity Price Index (MoM) remain the same at -2.1%
Indonesia:
Consumer Confidence (Mar) decreased from 117.7 to 113.8
Some economic news from today:
India:
Nikkei Services PMI (Mar) decreased from 57.5 to 49.3
Japan:
Household Confidence (Mar) decreased from 38.3 to 30.9
EUROPE/EMEA:
A very strong day for the European stock indices: DAX moved up more than 5% with the FTSE increasing by 3%. News emerged that the spread of the coronavirus has peaked in Europe as the number of deaths per day is declining in many countries.
After weeks of deliberating of how to assist the EU in economic recovery, Angela Merkel of Germany spoke today that Germany is ready to assist the EU. But mentioned that all countries have been hit by the virus equally and that any action must be in the interest of Germany as well.
UK PM Boris Johnson was admitted to the hospital over the weekend, today it was reported that his condition worsened and he was admitted to intensive care. The UK foreign secretary stepped up to take responsibility as interim PM until Boris Johnson recovers.
The EU is suggesting building an app across Europe that will help track citizens who were infected with the virus. Many countries were deciding to build their own, but the EU suggested it is better to build an app that covers all of the EU. The EU law of privacy has a clause that allows sensitive information to be shared in the case of public health concerns.
Major UAE businesses ranging from real estate to aviation announced plans to save their cash to fight against the economic slowdown caused by the coronavirus outbreak. One of the country's biggest corporations, Emaar group, talked about voluntary pay cuts for everyone from the chairman to the support staff. The UAE's mega carriers, Emirates and Etihad, as well as FlyDubai have gone in for adjustments on their salary payouts as the scale of the COVID-19 and its ability to bring global travel to a standstill came into focus.
The major Europe stock markets had a green day today:
CAC 40 increased 191.56 points or 4.61% to 4,346.14
FTSE 100 increased 166.89 points, or 3.08% to 5,582.39
DAX 30 increased 549.40 points or 5.77% to 10,075.17
The major Europe currency markets had a mixed day today:
EURUSD decreased 0.00075 or -0.07% to 1.07995
GBPUSD increased 0.00404 or 0.33% to 1.23084
USDCHF increased 0.00248 or 0.25% to 0.97798
Some economic news from Europe today:
Germany:
German Factory Orders (MoM) (Feb) decreased from 4.8% to -1.4%
Euro Zone:
Sentix Investor Confidence (Apr) decreased from -17.1 to -42.9
UK:
Construction PMI (Mar) decreased from 52.6 to 39.3
Housing Equity Withdrawal (QoQ) increased from -6.0B to -5.1B
Spain:
Spanish Consumer Confidence decreased from 85.7 to 63.3
US/AMERICAS:
Former Federal Reserve Chair Janet Yellen believes the US economy could recover in a sharp "V" or slingshot formation but the speed of recovery is dependent "on just how much damage is done during the time that the economy is shut down." During a CNBC interview on Monday, Yellen said she believes unemployment is steeper than the current data suggests and estimates that it is likely around 13%. She also warned that prolonged damage caused by a shutdown economy could cause the revival to come in a slower "U" formation. "There are worse letters like 'L' and I hope we don't see something like that," Yellen heeded.
US President Trump has been touting hydroxychloroquine as an effective treatment for coronavirus despite the intensive controversy surrounding the medicine's effectiveness. The drug is primarily manufactured in India which is where the US imports nearly 50% of their hydroxychloroquine supply. Now, India announced that they will no longer export the medication. The Trump administration said they are working on discussing the ban with India.
Mexico's President Andrés Manuel López Obrador said that his administration does not plan to offer a large stimulus package for citizens, however, they do plan to ramp up social programs. "We have always known that heedless self-interest was bad morals, we now know that it is bad economics," President Obrador said during a speech on Sunday, quoting former US President Franklin Roosevelt. Mexico's economy was already in a recession prior to the coronavirus. Mexico's Treasury is predicting that the economy may contract by 3.9% this year, but that is an optimistic forecast compared to other analysts who are predicting an 8% decline.
Brazil's Education Minister Abraham Weintraub, a member of President Bolsonaro's inner circle, accused China of profiting off of the coronavirus and posted a mocking cartoon on Twitter that has since been deleted. The Chinese embassy in Brazil called the claims "despicable declarations with racist character" and said that Weintraub has "caused negative influences in the healthy development of bilateral relations."
US Market Closings:
Dow advanced 1,627.46 points or 7.73% to 22,679.99
S&P 500 advanced 175.03 points or 7.03% to 2,663.68
Nasdaq advanced 540.16 points or 7.33% to 7,913.24
Russell 2000 advanced 86.72 points or 8.24% to 1,138.78
Canada Market Closings:
TSX Composite advanced 654.40 points or 5.06% to 13,592.70
TSX 60 advanced 39.27 points or 4.96% to 831.47
Brazil Market Closing:
Bovespa advanced 4,535.42 points or 6.52% to 74,072.98
ENERGY:
WTI and Brent dropped today after news emerged that Russia and Saudi were very close to a deal to cull oil production. However, talks have been delayed for now. Oilprice site quoted that the Russian production of oil dropped for the first few days of April.
The oil markets had a mixed day today:
Crude Oil decreased 2.2 USD/BBL or -7.76% to 26.1400
Brent decreased 0.93 USD/BBL or -2.73% to 33.1800
Natural gas increased 0.096 USD/MMBtu or 5.82% to 1.7460
Gasoline increased 0.0032 USD/GAL or 0.42% to 0.7698
Heating oil decreased 0.0426 USD/GAL or -3.78% to 1.0855
Top commodity gainers: Natural Gas (5.82%), Lumber (6.82%), Cocoa (5.34%), and Cotton (3.39%)
Top commodity losers: Crude Oil (-7.76%), Heating Oil (-3.78%), Orange Juice (-2.71%), and Brent (-2.73%)
The above data was collected around 14.55 EST on Monday.
BONDS:
Japan 0.01%(+1bp), US 2's 0.26% (+5bps), US 10's 0.67%(+8bps); US 30's 1.27%(+5bps), Bunds -0.42% (+1bp), France 0.07% (-0bp), Italy 1.54% (-0bp), Turkey 14.28% (-5bp), Greece 1.93% (-4bp), Portugal 0.84% (-4bp); Spain 0.75% (+0bp) and UK Gilts 0.33% (+1bp).
French 3-Month BTF Auction increased from -0.486% to -0.477%
French 6-Month BTF Auction decreased from -0.478% to -0.479%
French 12-Month BTF Auction increased from -0.494% to -0.465%
US 3-Month Bill Auction increased from 0.085% to 0.125%
US 6-Month Bill Auction increased from 0.100% to 0.160%