Blog/Market Talk
Posted Apr 6, 2017 by Martin Armstrong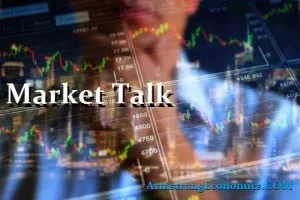 Japan was the major mover in Asian trade that followed the sentiment set by the afternoons reversal in US stocks. The Nikkei fell around 1.4%. The yen traded back to previous highs as again it was pushing against the 110 resistance level. Shanghai continued its run after the long weekend, eventually closing +0.35 higher again. Markets really feel they need direction from tomorrow's NFP's but will keep an extremely open ear on the China/US presidents meeting. In late US trading, the Nikkei futures has regained +0.65% of earlier losses while the yen remains firmly around the 111 handle.
Opening in quiet trading, Europe looked for direction from Mario Draghi's press address in Frankfurt. The initial reaction was for a weaker Euro after he declared the banks monetary policy is working and so remain. Although he said it is working he also said the outlook is to be gradual. This hit the currency from 1.0685 down to 1.0630 – we are closing mid range. Remember their inflation targets remains 25, yet the market indicators (5y5y frwds) are nowhere close. Key core market closed better than DAX +0.1%, CAC +0.6% and IBEX +1.1% but we did see pressure in the UK's FTSE -0.4% as pressures and headlines continue to weigh on BREXIT negotiations but also German industrial data was better than previous release, but again under market forecasts. The Czech Republic removed its currency cap against the euro today, which it held at 27 for the past three years. Having been flagging this move for a while the reaction was rather muted moving just under 2% stronger.
After yesterday's fun and games, today, core US stocks were reasonably well behaved in a steady as you go momentum. We saw intraday highs around mid-session but headlines from president Trump surrounding Korea hit confidence as well as prices (energy and financials were the leaders). However, the day before the employment report see dealers optimistic we see a strong number but remain nervous of the meeting of president Xi.
US 2's closed 1.24% (+1bp), 10's 2.34% (+1bp), Bunds 0.26% (+1bp), closes the spread US/Germany at +208bp. France 0.89% (-3bp), Italy 2.25% (-1bp), Greece 6.90% (+2bp), Turkey 10.76% (+7bp), Portugal 3.86% (-5bp) and finally UK Gilts 1.10% (+1bp)