Blog/Market Talk
Posted Apr 5, 2017 by Martin Armstrong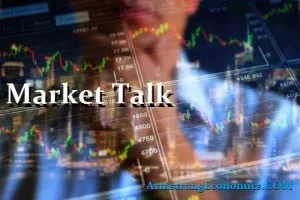 After two days of national holidays, the main Shanghai index opened with strong buying demand with many anticipating positive comments when President Xi Jinping meets President Trump in Florida on Thursday. The Hang Seng also closed positive (+0.6%) but nowhere near the +1.5% seen for Shanghai. In Japan, the Nikkei recorded a higher close but also saw the currency back into the 111-handle countering much of the stock's performance.
Europe closed mixed but with much of the attention on the bond markets rather than stocks or indeed currency. Having seen a blistering ADP report (anticipated +187k the release was 263k) fixed-income sold off in the US but that had a knock-on effect for Europe. Initially, bonds were bid but with the PMI data the market sold off. Bunds and peripherals hit their highs mid-session but were hit after the US data. In last evening's TV debate in France markets felt confident given the press reports and so had more of a cooling effect than anything else.
US started the day with a broad employment report, but obviously has the main NFP's release due on Friday. After a hesitant start all, core indices climbed to intraday highs around mid-session. It was the release of the FED minutes that seemed to halt the markets enthusiasm even though the DOW had seen an almost 200 point gain. FED minutes showed that the reinvestment shift is to continue; there had been talk that time maybe worked-in due to geopolitical concerns. Treasuries 30yrs lost over a point on these comments but clawed much of that back before the close. Comments that the economy is at or close to full employment soared but expressed overall it is steady as she goes. This is the one reason why treasuries recouped much of the losses as the market accepts it will take its time to taper. This may also slow the amount of rate hikes the markets sees for the balance of 2017. Probably the main reason provided why stocks reversed their gains as did treasuries. Still lots to play for this week so you can expect more volatility before the weekend.
2's closed 1.23% (-2bp), 10's 2.33 (-3bp), Bunds 0.25% (u/c) closes the spread +208bp (-3bp). France 0.92% (u/c), Italy 2.26% (u/c), Greece 6.88% (-2bp), Turkey 10.69% (u/c), Portugal 3.91% (+3bp) and Gilts 1.09% (+3bp)