Blog/Market Talk
Posted Apr 5, 2016 by Martin Armstrong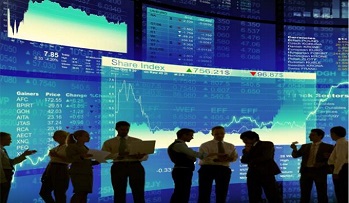 Oil was blamed for the majority of today's equity weakness but there was no new news and the reason was a little baffling! The Nikkei broke the 16k level and then fell another 300 points quite sharply. In late US trading, it lost an additional 150 points and is currently trading around the 15,500 level. Exporters leading the way and looking at the currency moving stronger (around 1% firmer on the day) Dealers were anticipating intervention soon. Shanghai remained strong throughout the day despite the weaker tone seen from the Hang Seng. Also in Asia we saw India cut rates by 25bp to 6.5%.
Europe saw HSI and Nikkei off 2% and the softer opening was already on the cards. Weak data in Europe and that was enough to see sellers emerge across the board. PMI for individuals were good for Spain, bad for Italy, France slipped back in to contraction (49.9) and bad also for Germany – Euro land average released 53.1 (estimates were for 54). Not great readings and fear produced fear and by lunch we had the DAX down 2.5%. There we stayed for the majority of the afternoon and even though we are seeing the US market bouncing from its lows, Europe will need a bit of convincing tomorrow. Given the mixed data in the peripherals, see Bond spreads below.
In the US futures had predetermined the open and that produced the days lows. A stronger than expected ISM report halved stock losses sadly, not held, but did set the tone for the rest of the day. Towards the close Indices came under renewed pressure as confidence waned when speculation mounted that the economy probably did not grow in Q1. We have the FED minutes tomorrow but given the amount of FED speakers we have heard recently, it is doubtful we will hear anything new!
Treasuries have been rallying most of the day. Opening at unchanged (1.77%) bonds have been bid as equities came under pressure. The highs we saw were around 1.70 but we close this evening around 1.72%. 2's were last seen 0.715% puts 2/10's at +100.5bp (about 2bp flatter on the day). In Germany Bunds were bid but given the uncertainty between credit, it was not the same across the board. Bund 10yr closed 0.10% (-3bp), Italy 1.27% (+3bp), Greece 8.78% (+15bp), Turkey 9.66% (+6bp) and UK Gilt 10yr closed 1.37% (-5bp). Portugal saw pressures today on their debt (10yr closed +21bp at 3.12%) on talk of additional issuance and rumors Blackrock and others filed a lawsuit after the central bank decided to impose losses on their securities.
More on this story to follow…