Blog/Market Talk
Posted Apr 5, 2019 by marty armstrong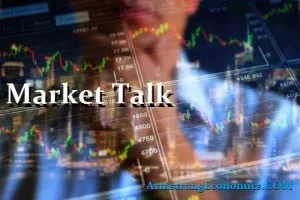 Asia:
Chinese Vice President Liu backed by his delegation stated that a new consensus has been reached after yesterday's meeting with President Trump. The two countries are still working toward a deal, but it appears as if progress has been made.
Japanese bank Nomura stated that they will reduce the point of sales by at least 20% as a part of structural change.
The major Asian stock markets had a mixed day today: KOSPI increased 3.08 points (0.14%) to 2,209.61; NIKKEI 225 increased 82.55 points (0.38%) to 21,807.50; SENSEX increased 177.51 points (0.46%) to 38,862.23. However, ASX 200 took the opposite route decreased 51.50 points (-0.83%) to 6,181.30. Shanghai and Hang Seng are closed today due to the public holiday.
Most of the major currency markets had a red day today: The AUDUSD decreased 0.0012 or 0.17% to 0.7099; the NZDUSD decreased 0.0028 or 0.41% to 0.6723, and the USDCNY decreased 0.0039 or 0.06% to 6.7119. However, the USDJPY took the opposite route and increased 0.0880 or 0.08% to 111.7380.
Both gold and silver had a negative day today: Gold decreased 0.17 USD/t oz. or -0.01% to 1,289.39 and silver decreased 0.023 USD/t. oz or -0.15% to 15.1115.
Some economic news from yesterday late evening:
Australia AIG Construction Index (Mar) increased from 43.8 to 45.6
Japan:
Average Cash Earnings (YoY) decreased from 1.2% to -0.8%
Household Spending (YoY) (Feb) decreased from 2.0% to 1.7%
Household Spending (MoM) (Feb) decreased from 7% to -2.0%
Overtime Pay (YoY) (Feb) increased from -1.00% to -0.50%
Foreign Reserves (USD) (Mar) increased from 1,281.8B to 1,291.8B
Some economic news from Friday:
Indonesian Consumer Confidence (Mar) decreased from 125.1 to 124.5
FX Reserves, USD increased from 406.67B to 411.91B
Japan:
Coincident Indicator (MoM) (Feb) increased from -2.5% to 0.7%
Leading Index increased from 96.5 to 97.4
Leading Index (MoM) (Feb) increased from -1.0% to 0.9%
Europe:
Prime Minister May has asked for a further extension from the EU until 30th of June. This news comes about after PM May wrote a letter to EU Leader Tusk, including that she is frustrated that the process is taking so long. It seems possible that this extension will be granted by the EU, even after they have stated that April 12th was a definitive deadline, but who knows. Hopefully the UK will have enough time to put everything in order.
The major European stock markets had a green day today: CAC 40 increased 12.40 points or 0.23% to 5,476.20; The FTSE 100 increased 44.93 points or 0.61% to 7,446.87, and DAX increased 21.74 points or 0.18% to 12009.75.
The European currency markets had a mixed day today: The EURUSD decreased 0.0007 or 0.06% to 1.1213 and The GBPUSD decreased 0.0064 or 0.49% to 1.3013.
The USDCHF took the opposite route increased 0.0008 or 0.08% to 1.0004
Some economic news from Europe:
German Industrial Production (MoM) (Feb) increased from -0.8% to 0.7%
Norway Manufacturing Production (MoM) (Feb) decreased from -0.1% to -0.3%
French Current Account (Feb) decreased from 0.30B to -0.80B
French Exports (Feb) increased from 42.5B to 42.9B
French Imports (Feb) increased from 46.7B to 46.9B
French Trade Balance (Feb) increased from -4.2B to -4.0B
Spanish Industrial Production (YoY) (Feb) decreased from 2.7% to -0.3%
Spanish Consumer Confidence decreased from 96.1 to 93.9
UK Halifax House Price Index (YoY) (Mar) decreased from 2.8% to 2.6%
UK Halifax House Price Index (MoM) (Mar) decreased from 6.0% to -1.6%
U.S./Americas:
Wall Street finished off in the green today. The Dow was slightly up today, gaining over 40 points (+0.15%, 26424.99 close). The S&P 500 jumped 0.46% (2892.74 close), while the Nasdaq rose by 0.59% (7938.69 close), and the Russell 2000 had the strongest day – gaining almost a full percentage point (0.96%, 1582.56 close).
On the economic front, the U.S. added 196,000 new jobs in March – exceeding analysts' expectations. This is a well-received rebound after February's alarming figure of 20,000 (which was later revised to 33,000). Unemployment remained at its lowest level in decades, hovering around 3.8%.
In March, healthcare and education sectors grew at the quickest pace upon adding 70,000 new jobs. The professional and business sectors increased by 37,000 jobs, leisure and hospitality by 33,000 jobs, and construction by 16,000 jobs. The manufacturing and retail sectors saw a decrease in new positions after losing 6,000 and 11,700 jobs respectively.
Despite what many could interpret as the Federal Reserve becoming much more favorable to White House position,  the President shot another suggestion via a casual press briefing today that shows he is still at odds with the Fed on how to best stimulate the U.S. economy. President Trump yet again took the opportunity to criticize the Fed's decision to maintain interest rates and shrink the balance sheet, urging not just a pull back on quantitative tightening, but now calling for a policy that "should absolutely now be quantitative easing." This is a surprising ask, and now Fed-Watch begins yet again on how they may respond.
The USD Index rose by 0.09% on Friday (last reading 97.39). The USDCAD rose by 0.19% (last reading 1.3383).
On the Canadian front, the economy lost 7,200 jobs this March, according to a report released by Statistics Canada this Friday. Although the number was underwhelming, analysts had predicted that the surge in new jobs would begin to slow after posting the best two-month job creation start since 1981. Hourly wage growth YoY came in at 2.4%, up 0.1% from the prior month. Unemployment remained steady at 5.8%.
Major Canadian indexes finished on a high note for the fourth consecutive day. The TSX Composite rose by 0.52% (16396.15 close) and the TSX 60 rose by 0.49% (978.21 close).
Brazilian Economy Minister Paulo Guedes stated this week that failure to reform pensions will lead the country into bankruptcy. Pension reform has long been a controversial topic in Brazil. In 2018, 44% of all government spending went into Social Security and pension programs. President Jair Bolsonaro is backing a pension reform bill that would save the nation 1 trillion reais over a 10-year period. The bill includes raising the retirement age and changing workers' contributions into pension programs. However, it will be difficult to convince citizens to delay their retirements.
The Bovespa gained 0.83% today, closing at 97108.17.
Energy:
In what seems to be the unthinkable act, Saudi Arabia touted the idea of dropping the exclusivity of using the U.S. dollar for trading oil. This comes about with the U.S. possibly passing anti-OPEC legislation. This legislation would allow the U.S. to sue OPEC countries for tampering with the price of oil by varying supply. There is tension within the U.S. behind the initiative to stabilize oil prices led by Russia and Saudi, which is often dubbed as OPEC+.
"For decades, Saudi Arabia has benefited from trading its vast supplies of cheap oil on an unfree market dominated by the OPEC cartel—at American expense," said Robbie Diamond, president of Securing America's Future Energy.
The Energy markets had a green day today: Crude Oil increased 0.63 USD/BBL or 1.01% to 62.6451; Brent increased 0.67 USD/BBL or 0.97% to 70.1847; Natural gas increased 0.021 USD/MMBtu or 0.79% to 2.6592; Gasoline and Heating oil increased 0.0226 USD/GAL or 1.17% to 1.9588 and 0.0225 USD/GAL or 1.12% to 2.0400 respectfully.
Top commodity gainers were Coal (1.88%), Gasoline (1.32%), Heating oil (1.28%), and Palm Oil (1.38%). The biggest losers were Coffee (-2.10%), Lumber (-1.92%), and Live Cattle (-1.25%).
The above data was collected around noon 13:35 EST time on Friday
Bonds:
Japan -0.03%(+1bp), US 2's 2.35% (+1bps), US 10's 2.50%(-1bps), US 30's 2.91%(-1bps), Bunds 0.00% (+1bp), France 0.36% (-1bp), Italy 2.48% (-3bp), Turkey 16.64% (-13bp), Greece 3.55% (-7bp), Portugal 1.25% (-2bp), Spain 1.11% (-0bp) and UK Gilts 1.11% (+3bp)