Blog/Market Talk
Posted Apr 4, 2018 by Martin Armstrong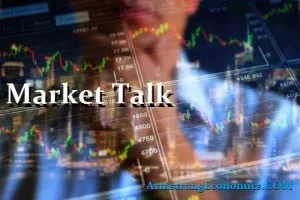 It was a close race between the Nikkei and the SENSEX for today's outperformer in core Asia but the winner was eventually India. The SENSEX rallied 1.75%, with all sectors adding to the sentiment, but it was the currency appreciating that really added the value. However, we are still under the key resistance level of 33,710 on a daily closing basis and so the trend lower longer term. Currency is key, however, especially as the USD starts to gain pace against the DXY basket. The Nikkei added 1.55% on the day but we are watching the Yen resume its weak path. The range has been 104.50 – 107.30 and so a daily close outside of this range dictates the next target. As we write the weaker Yen appears to be testing that boundary and close outside projects a gap to the 114 level quite quickly. DXY has enjoyed the relief rally and still looks to have established its low against the majors. Worth keeping an eye on currencies going forward as we are starting to see some interesting movement due.
European markets were buoyed by the depreciating Euro and GBP and added momentum of the Asian markets that were open. Funnily enough, the USD has some life back in it just as mainstream media is writing it off! Today we saw a +0.5% rally in the DXY with talk of short-covering hitting many screens. This has helped rebalance European stocks and we saw between 2% and 3% gains across the boards. German manufacturing numbers failed to live up to expectation, but the mood was there and no-one wanted to take notice – yet! European bonds have also started to weaken but we will probably see more of that off of tomorrows NFP's report.
Tech was all the rage again today with all the biggies bouncing around 2%. This and the talk that President Trump's administration is moving into a softer trade approach has everyone jumping back-in. We had a fairly good clue after treasuries failed to react to a 600 point decline in the DOW and today we watch as yields climb across the curve. Tomorrow we will see the employment report with a market consensus of around 200k headline number. Markets are not pricing in a May move by the FED and so could push boundaries tomorrow if that number surprises.
Japan 0.04%, US 2's closed 2.30% (+1bp), US 10's closed 2.83% (+3bp), 30's 3.08% (+4bp), Bunds 0.52% (+2bp), France 0.75% (+3bp), Italy 1.78% (+5bp), Greece 3.96% (-8bp), Turkey 12.71% (+43bp) – Reports that Deputy PM quit, Portugal 1.65% (+5bp), Spain 1.22% (+7bp), and Gilts 1.41% (+4bp).