Blog/Market Talk
Posted Apr 4, 2017 by Martin Armstrong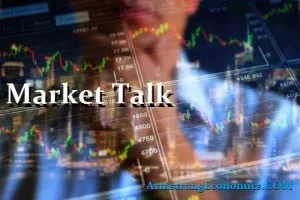 Core Asian markets seemed to be dragged lower by the weight of the Nikkei today as Yen buying returned. Always difficult to gauge sentiment when half the core markets are closed (Shanghai, Hang Seng, India). so many focused on the RBA rhetoric and watched currencies more than equity indices. The yen again attempted to breach the 110 upper level and came within 30 tics, while others watched AUD, GBP, and Euro trade heavy most of the day.
Currency declines offset a lot of the equity indices strength in today's trading, but even so finished around +0.4% across the board. BREXIT is still very much on everyone's daily blotter and today was no exception. The UK Parliamentary Commission requested Theresa May prove that a no deal is better than a bad deal and also provide details of the contingency plan! Probably not surprising GBP was under pressure today when one considers the enormity of the task ahead and the hurdles being thrown in her path. A little alarming but an EU lawmaker said this morning that all financial business in Euros based in the UK should be passed to the remaining 27 countries – Reuters was reporting. If this is the case, what message does that send to the market and what ramifications will that have for clearinghouses/exchanges. None of the exchanges are in a position to start losing CCP's. This could lead to wider spreads, and increase in variation margin and even thinner trading conditions.
US saw a mixed session with initial losses turn positive in afternoon trading. The main talking point, like in Asia, appeared to be treasuries and currency. It took a while for the broader S+P to join the DOW but eventually it caught a bid, closing small better on the day. The DXY continues to trade well following the Asian and European trading hours, with treasuries teetering close to 2.30% (in very good volume) only to lose the bid at the close of stocks. Talk is that money is being taken off the table ahead of the US/China talks scheduled Thursday/Friday and especially coupled with NFP's released Friday lunchtime. US Trade deficit narrowed in data released earlier at $43.56bn whilst expectations were looking for $44.8bn. Still lots to play for when we see the broader ADP and ISM released tomorrow.
US 2's closed 1.25% (+1bp), 10's 2.36% (+1bp), Bunds 0.25% (-2bp) which closes the US/Germany spread at +211bp. France 0.92% (-2bp), Italy 2.26% (-5bp), Greece 6.90% (+7bp), Turkey 10.69% (+6bp), Portugal 3.88% (+2bp) and UK Gilts 1.06% (u/c).