Blog/Market Talk
Posted Apr 4, 2019 by marty armstrong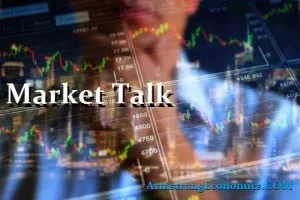 Asia:
MIT university announced today that they have terminated funding and research links with China's Huawei and ZTE. The decisions comes amid ongoing tensions between the telecommunications company as well as China and the U.S. as a whole.
On a more optimistic note, numerous news sources have claimed that America's trade war with China is coming to an end. There are preparations being made now to schedule a meeting between President Trump and China VP Liu, but no summit is expected to take place until/unless a deal is signed.
In news regarding the drug Fentanyl, China has now banned all forms of the opioid drug entirely – this could be viewed as an olive branch from China to the U.S.
The major Asian stock markets had a mixed day today: Shanghai increased 30.28 points (0.94%) to 3,246.57; NIKKEI 225 increased 11.74 points (0.05%) to 21,724.95; KOSPI increased 3.26 points (0.15%) to 2,206.53. However, Hang Seng, ASX 200, and SENSEX took the opposite route. Hang Seng decreased 50.07 points (-0.17%) to 29,936.32; ASX 200 decreased 52.20 points (-0.83%) to 6,232.80; SENSEX decreased 192.40 points(-0.49%) to 38,684.72.
The major Asian currency markets had a mixed day today. The AUDUSD increased 0.0008 or 0.11% to 0.7120 and the USDJPY increased 0.0770 or 0.07% to 111.5470. However, the NZDUSD and The USDCNY took the opposite route and decreased 0.0016 or 0.24% to 0.6760 and 0.0002 or 0.00% to 6.7131 respectfully.
Both gold and silver markets had a green day today: Gold increased 2.69 USD/t oz. or 0.21% to 1,294.98 and silver increased 0.025 USD/t. oz or 0.17% to 15.1719.
Economic news from yesterday late evening:
South Korea Current Account (Feb) increased from 2.82B to 3.60B
Japan Foreign Bonds Buying decreased from 1.782.0B to 1,243.5B
Japan Foreign Investments in Japanese Stocks increased from -1,092.2 B to 438.7B
Some economic news from India on Thursday:
Nikkei Services PMI (Mar) decreased from 52.5 to 52.0
Cash Reserve Ratio remain the same at 4.00%
Interest Rate Decision decreased from 6.25% to 6.00%
Reverse REPO Rate decreased from 6% to 5.75%
Europe:
The Brexit deal seems to be deadlocked at every vote. Today, the two main parties in the UK had a discussion to work out a route moving forward. Most recently, MPs have voted by a majority of one to force Theresa May to ask for an extension to the Brexit process in a bid to avoid a no-deal scenario. Regarding citizen's rights, the UK announced that Britons living in the EU will be able to bring non-British family members until March 2022.
The major European stock markets had a mixed day today. The DAX increased 33.61 points or 0.28% to 11,988.01. The CAC 40 and FTSE 100 took the opposite route and decreased 5.10 points or -0.09% to 5,463.80 and 16.34 points or -0.22% to 7,401.94 respectfully.
The major European currency markets had a mixed day today. The USDCHF increased 0.0018 or 0.18% to 1.0000. The EURUSD and the GBPUSD took the opposite route decreased 0.0017 or 0.15% to 1.1217 and 0.0083 or 0.63% to 1.3076 respectfully.
Some economic news from Europe:
German Factory Orders (MoM) (Feb) decreased from -2.1% to -4.2%
UK Housing Equity Withdrawal (QoQ) increased from -7.3B to -6.2B
US/Americas:
Most U.S. indexes closed in positive territory today. The Dow advanced 166.50 points or +0.64%, closing at 26384.63. The S&P 500 closed higher for the sixth consecutive day (0.21%, 2879.39 close). The Nasdaq slightly declined by -0.05% (7891.78 close). The Russell 2000 jumped 0.42%, closing at 1567.49.
With concerns raised about a potential closing of U.S. – Mexico border and its impact on the economy, President Trump stated he will grant Mexico one year to secure the U.S.-Mexican border. The President cited illegal immigration and drug smuggling as the main factors for his hard stance. If Mexico fails to secure the border within a year's period, Trump threatened to place heavy tariffs on Mexico, especially concerning the automotive industry (as high as 25%), and close sections of the border.
Rumors are circulating that Herman Cain, 2012 Republican presidential candidate, may be nominated as the next member of the Federal Reserve by President Trump. Cain presented a number of different views during in the past, including advocating a return to the gold standard. His most notable advocacy was for a "9-9-9" tax plan that would simplify the U.S. tax code by placing a 9% flat tax on corporations, individual income, and sales. The President does not have the power to appoint someone to the board, so if nominated, the Senate must approve before he can be appointed to the Federal Reserve.
The USD Index rose by 0.19% (last reading 97.28). The USDCAD rose by 0.09% (last reading 1.3355).
The Canadian markets closed in the green this Thursday: The TSX Composite was up 0.20% (16311.61 close) and the TSX 60 was up 0.18% (973.45 close).
Brazil's Bovespa regained some of the losses from earlier in the week, closing up +1.93% (96313.06 close).
Energy:
Brent Crude has now topped over $70 USD. The last time it reached this level was in November 2018. This brings the Crude up 30% YTD and WTI 38% YTD.
U.S. crude production now stands at a record 12.2 million barrels per day, making this a record month. This comes as a direct order to fill the void by OPEC.
The most of the energy markets had a red day today: Crude Oil decreased 0.31 USD/BBL or 0.05% to 62.2186; Brent decreased 0.05 USD/BBL or 0.07% to 69.3996; Natural gas decreased 0.035 USD/MMBtu or 1.31% to 2.6418 and Gasoline decreased 0.0177 USD/GAL or 0.91% to 1.9372. Heating oil took the opposite route and increased 0.0061 USD/GAL or 0.30% to 2.0095.
Top commodity gainers were Rubber (2.04%), Live Cattle (1.29%), and Feeder cattle (1.45%). The biggest losers were Bitumen (-4.66%), Palladium (-2.88%) and Sugar (-1.90%).
The above data was collected around noon 15:20 EST time on Thursday.
Bonds:
Japan -0.04%(+1bp), US 2's 2.32% (+3bps), US 10's 2.50%(+4bps), US 30's 2.93%(+4bps), Bunds -0.01% (-0bp), France 0.37% (-2bp), Italy 2.51% (-4bp), Turkey 17.05% (-54bp), Greece 3.61% (-4bp), Portugal 1.27% (+0bp), Spain 1.11% (-3bp) and UK Gilts 1.09% (-1bp).
Japan 30-year JGB Auction decreased from 0.620% to 0.540%
US 4- week Bill Auction decreased from 2.400% to 2.390%
US 8-week Bill Auction decreased 2.395% to 2.380%
Spanish 10-year Obligacion Auction increased from 1.100% to 1.121%
Spanish 3-year Bonos Auction decreased from -0.182 to -0.244%
French 10-year OAT Auction decreased from 0.57% to 0.39%