Blog/Market Talk
Posted Apr 3, 2017 by Martin Armstrong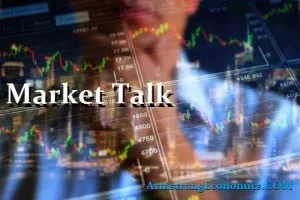 The first topic on dealers lips this morning was President Trumps comment that America is willing to tackle North Korea alone unless China were to apply necessary pressure to address the matter. Asian markets opened on an uneasy footing with early gains seen for treasuries and gold. As the day wore on, both lost their bid but then that was reversed at the US open. China has a national holiday today, so volumes were quieter than usual and most of the play left to the Nikkei and currencies. Japan saw the release of the Tankan (Business Confidence) at +12, which is a slight disappointment as the market had been expecting a 14 print. The Nikkei closed +0.35% better on the day and the Hang Seng +0.6% but with volumes low and Shanghai closed it was a good performance.
European markets opened a quiet
Monday
session with a mildly positive tone but was sadly to be disrupted by the tragic events in St Petersburg. All core were holding-in until the news crossed the screens then saw buyers for govies and gold appear in a flight to safety. Core indices closed down around -0.6% but IBEX lost almost -1.5%. The UK's PMI released lower than expected and hit both FTSE and GBP. However, there is still plenty to play for this week with many talking the meeting Thurs/
Friday
between Trump and Xi as a potential "event" given Trumps unpredictable comments. Infrastructure has got to be on the agenda somewhere in the meeting and the odd surprise contract surely cannot be ruled out!
US markets opened weaker more through the time of opening than anything else. Nerves and a rush for the safe zones pushed DXY firmer but had the opposite action for stocks. The negative theme had run its course by med-session and the bounce looked to be in place. The ISM was marginally better than the 57 expected whist Prices Paid came in 70.5 against the expected 66. Confidence increased as the day wore-on and were joined by Treasuries and gold as they retreated from their earlier highs.
Bunds dipped below the 0.3% in 10's today upon the news in St Petersburg, talk of possible less US hikes for the year and talk from the ECB that they do not think they are to blame for rates being so low.  Last seen 2's 1.24%, 10's 2.35%, Bund 0.27%, France 0.94%, Italy 2.31%, Greece 6.83%, Turkey 10.63%, Portugal 3.86% and Gilts 1.06%