Blog/Market Talk
Posted Apr 30, 2018 by Martin Armstrong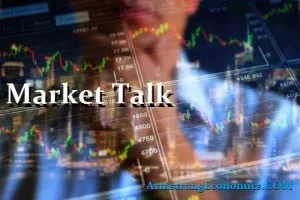 On the final day in April, we have seen shares rally across the board and not just in Asia. Two major markets were closed today for national holidays and so volumes are traditionally quiet on these occasions. However, we saw a stunning +1.74% return for the Hang Seng as a broad based rally consumed much of the talk. Tech, financials, real estate and the weekends Korea headlines all helped to this strong performance. Japan and China main were off today, but we did see Yen continue to trade lower against the USD even with the late correction in US stocks. SENSEX opened well and kept its bid for the whole day, strong performance. More consolidation for the INR around mid 66's.
Europe followed on from Asia's excitement, with US DOW futures also looking for positive gains and the market a hub with retail merger talks. The CAC outperformed the DAX by +0.4% closing +0.7% on the day, but again volumes are light with May Day holidays imminent. Germany's Retail Sales disappointed the market, as did inflation and so the markets start to question if Europe's begun to slip back into the dark even before it has had chance to unwind the last failed mess. Mid afternoon we heard that the Italian Five Star movement has called a snap election for June to resolve who's to govern. This news pushed Italian BTP's out almost 10bp against Fridays closing Bund spread. However, in late trading they were brought back a tad to close just 5bp wider. The big question is how is this friction between US and Europe about to play-out! Worth keeping your eyes o the FX market and that looks as though it is already revealing the answer. Lots of data also later this week with the all important payrolls number Friday. Fed Wednesday with no press conference but keep a close eye on the USD for surprises.
As discussed earlier, the mood for Monday started positive (DOW +200) earnings again beating expectations and all was looking good then mid-session US turned on talk China/US trade rift in technology. This was a headline that apparently is being talked why tech shares rolled and the NASDAQ led all core lower. Healthcare and Tech weighed heavily and even saw Verizon, Microsoft, GE all losing over 2% on the day. Not a great way to close the month but at least we have seen small gains. Also worth mentioning that the US Dollar is close to it best level in three months against the Euro.
Japan 0.05%, US 2's closed 2.48% (u/c), 10's at 2.96% (u/c), 30's 3.11% (-2bp), Bunds 0.57% (u/c), France 0.78% (-1bp), Italy 1.78% (+5bp), Greece 3.81% (-7bp), Turkey 12.22% (-1bp), Portugal 1.64% (+2bp), Spain 1.27% (+2bp) and Gilts 1.42% (-2bp).