Blog/Market Talk
Posted Apr 3, 2020 by Martin Armstrong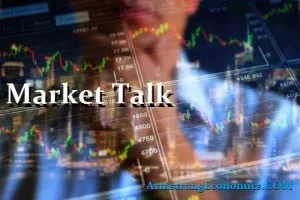 ASIA:
A slow increase in output and new business, coupled with a steep decline in exports following the global coronavirus pandemic, pulled down India's manufacturing activity to a four-month low in March, a private survey showed on Thursday. The IHS Markit India Manufacturing Purchasing Managers' Index (PMI) declined to 51.8 in March from 54.5 in February.
India's real estate market is likely to see a significant price correction for the first time in a decade as the coronavirus pandemic stalls businesses across the country. Property prices may come down by 10-20% across geographies, while land prices could see an even higher reduction of 30%. The country's nine major residential markets have unsold units worth some USD 80 billion, according to a report in January by PropTiger, an online real-estate portal. Banks are also worried that if developers can't liquidate their stocks, it could lead to defaults and add to a $140 billion pile of bad loans.
Beijing is bolstering its soft power and taking the lead in a global response to the coronavirus public health crisis. The moves come as China's daily number of new infections decline while those in the US rise. In the last few weeks, Chinese President Xi Jinping has been busy calling leaders across the world and rallying for global coordination in managing the coronavirus outbreak. Chinese health experts have hosted video conferences with those from other countries to share experiences. On social and state media, China continues to promote its shipments of medical supplies to hard hit countries in Europe and Africa.
China's central bank said on Friday it was cutting the amount of cash that small and mid-sized banks must hold as reserves, releasing around $56.38 billion in liquidity to shore up the economy, which has been badly jolted by the coronavirus crisis. The People's Bank of China said on its website it will cut the reserve requirement ratio (RRR) for those banks by 100 basis points (bps) in two equal steps, the first effective as of April 15 and the second as of May 15.
Singapore will close schools and most workplaces, except for essential services like supermarkets and banks, for a month, Prime Minister Lee Hsien Loong said on Friday, as part of stricter measures to stop the spread of the coronavirus. The coronavirus cases rose sharply in recent weeks, to 1,114 on Friday, and five people have died.
The major Asian stock markets had a mixed day today:
NIKKEI 225 increased 1.47 points or 0.01% to 17,820.19
Shanghai decreased 16.65 points or -0.60% to 2,763.99
Hang Seng decreased 43.95 points or -0.19% to 23,236.11
ASX 200 decreased 86.80 points or -1.68% to 5,067.50
Kospi increased 0.58 points or 0.03% to 1,725.44
SENSEX decreased 674.36 points or -2.39% to 27,590.95
The major Asian currency markets had a mixed day today:
AUDUSD decreased 0.0064 or 1.05% to 0.5993
NZDUSD decreased 0.0059 or 1.00% to 0.5850
USDJPY increased 0.4320 or 0.40% to 108.4520
USDCNY increased 0.0215 or 0.30% to 7.1134
Precious Metals:
Gold increased 6.29 USD/t oz. or 0.39% to 1,618.70
Silver decreased 0.16 USD/t. oz or -1.12% to 14.3430
Some economic news from last night:
China:
Caixin Services PMI (Mar) increased from 26.5 to 43.0
Japan:
Services PMI (Mar) decreased from 46.8 to 33.8
South Korea:
FX Reserves – USD (Mar) decreased from 409.17B to 400.21B
Australia:
AIG Construction Index (Mar) decreased from 42.7 to 37.9
Services PMI decreased from 49.0 to 38.5
Retail Sales (MoM) (Feb) increased from -0.3% to 0.5%
Hong Kong:
Manufacturing PMI (Mar) increased from 33.1 to 34.9
Some economic news from today:
Singapore:
Retail Sales (MoM) (Feb) decreased from 0.2% to -8.9%
Retail Sales (YoY) (Feb) decreased from -5.3% to -8.6%
Manufacturing PMI (Mar) decreased from 48.7 to 45.4
India:
FX Reserves, USD remain the same at 475.56B
EUROPE/EMEA:
European markets trundled down today, with much uncertainty with the future impact of the virus on the economy. We imagine there will be more news regarding insolvencies and bailouts to come.
The Hungarian president has hit back at the EU, stating that the bureaucrats in Brussels are wasting time criticizing rather than saving lives. This comes about after the EU deemed Hungary's recent action as non-EU applicable by giving government absolute power to tackle the crisis as well as not taking in enough refugees.
The EU has scrapped all VAT and duties associated with any medical equipment that can help with the outbreak of the virus.
There has been a lot of criticism of the EU of late over Germany's response to the coronavirus. Many accuse the richer nation of not doing enough to support the poorer southern countries. Germany recently rejected the idea of a bond that would help the EU recover from the economic damage caused by the virus. The French finance minister has pleaded for the EU to show solidarity to weather the crisis claiming that the crisis is expected to be long and costly.
The major Europe stock markets had a negative day today:
CAC 40 decreased 66.38 points or -1.57% to 4,154.58
FTSE 100 decreased 64.72 points, or -1.18% to 5,415.50
DAX 30 decreased 45.05 points or -0.47% to 9,525.77
The major Europe currency markets had a mixed day today:
EURUSD decreased 0.00463 or -0.43% to 1.07997
GBPUSD decreased 0.01338 or -1.08% to 1.22542
USDCHF increased 0.00345 or 0.35% to 0.97785
Some economic news from Europe today:
France:
French Government Budget Balance (Feb) decreased from -20.0B to -35.2B
French Markit Composite PMI (Mar) decreased from 52.0 to 28.9
French Services PMI (Mar) decreased from 52.5 to 27.4
Spain:
Spanish Industrial Production (YoY) (Feb) increased from -2.2% to -1.3%
Spanish Services PMI (Mar) decreased from 52.1 to 23.0
Germany:
German Composite PMI (Mar) decreased from 50.7 to 35.0
German Services PMI (Mar) decreased from 52.5 to 31.7
Italy:
Italian Public Deficit (Q4) decreased from 2.2% to -2.4%
Italian Composite PMI (Mar) decreased from 50.7 to 20.2
Italian Services PMI (Mar) decreased from 52.1 to 17.4
Norway:
Unemployment Rate n.s.a. (Mar) increased from 2.30% to 10.70%
House Price Index (YoY) (Mar) decreased from 3.60% to 1.50%
Euro Zone:
Markit Composite PMI (Mar) decreased from 51.6 to 29.7
Services PMI (Mar) decreased from 52.6 to 26.4
Retail Sales (YoY) (Feb) increased from 2.2% to 3.0%
Retail Sales (MoM) (Feb) increased from 0.7% to 0.9%
UK:
Composite PMI (Mar) decreased from 53.0 to 36.0
Services PMI (Mar) decreased from 53.2 to 34.5
US/AMERICAS:
A short time ago, the US-China trade war dominated the global media and marketplace, with both sides declaring victory after passing the first phase of the deal. US Secretary of State Mike Pompeo stated this week that the coronavirus response has highlighted the delicate and often difficult relationship between the two economic powerhouses. Pompeo claimed "…reciprocity doesn't exist. We've seen that in trade. We've seen that with respect to how journalists are treated, freedom of information, how it flows across borders and across the region." He said that China will remain a "true strategic competitor for the United States" in all matters.
The Trump administration used the powers of the Defense Production Act to pressure 3M to provide supplementary N95 respirator masks for Americans and discontinue exporting N95 masks that are manufactured in America. However, despite being an American company, 3M manufactures most of their masks in China, and President Xi also demanded that the company provide his country with the essential masks. 3M was then accused of selling the N95 masks to the highest bidder and engaging in price gouging. Yesterday, President Trump said that 3M "will have a big price to pay" if they do not act in accordance with the law. Today, CEO Mike Roman called the price gouging accusation "absurd" and noted that China has approved the exportation of 10 million N95 masks back to the US. In a separate statement, 3M warned the White House that discontinuing exports will have repercussions. "In addition, ceasing all export of respirators produced in the United States would likely cause other countries to retaliate and do the same, as some have already done," the company stated.
As part of the CARE Act, the US Small Business Administration (SBA) has issued a paycheck protection program with $350 billion in available funding. The government agency said the initiative is designed to provide small businesses with liquidity to keep workers employed and cover any overhead costs. The
At the federal level, Mexico has closed their beaches to prevent the spread of COVID-19. Deputy Health Minister Hugo Lopez-Gatell stated that the order will go into effect until April 30, and is aimed to prevent both international and local tourism. "The state government makes this delicate decision in an unsatisfactory setting: we have had to choose between protecting life and suspending economic activity," the Mexican authorities stated in a press release. Roughly 8.5% of Mexico's GDP is derived from tourism.
US Market Closings:
Dow declined 360.91 points or 1.69% to 21,052.53
S&P 500 declined 38.25 points or 1.51% to 2,488.65
Nasdaq declined 114.23 points or -1.53% to 7,373.08
Russell 2000 declined 33.76 points or -3.11% to 1,052.05
Canada Market Closings:
TSX Composite declined 159.54 points or -1.22% to 12,938.3
TSX 60 declined 8.61 points or -1.08% to 792.2
Brazil Market Closing:
Bovespa declined 2,715.90 points or -3.76% to 69,537.56
ENERGY:
Crude markets continued to rise from lows with Brent moving up 9.29% at the time of writing and WTI adding 5.29% to its price. Still, a price war between Russia and Saudi persists. However, now they are discussing possible cuts after the US recently stepped in to try and solve the issue with shale oil being impacted heavily.
The oil markets had a green day today:
Crude Oil increased 2.19 USD/BBL or 8.65% to 27.5100
Brent increased 3.75 USD/BBL or 12.53% to 33.6900
Natural gas increased 0.041 USD/MMBtu or 2.63% to 1.5980
Gasoline increased 0.0263 USD/GAL or 3.65% to 0.7471
Heating oil increased 0.0456 USD/GAL or 4.41% to 1.0798
Top commodity gainers: Crude Oil (8.65%), Brent (12.53%), Heating Oil (4.41%), and Oat (3.88%)
Top commodity losers: Feeder Cattle (-3.16%), Lean Hogs (-8.27%), Orange Juice (-4.35%), and Coffee (-4.02%)
The above data was collected around 14.15 EST on Friday.
BONDS:
Japan -0.01%(-2bp), US 2's 0.21% (-1bps), US 10's 0.58%(-5bps); US 30's 1.21%(-5bps), Bunds -0.44% (-0bp), France 0.08% (+4bp), Italy 1.58% (+8bp), Turkey 14.33% (+45bp), Greece 1.97% (+20bp), Portugal 0.86% (+3bp); Spain 0.78% (+7bp) and UK Gilts 0.32% (-2bp).