Blog/Market Talk
Posted Apr 29, 2016 by Martin Armstrong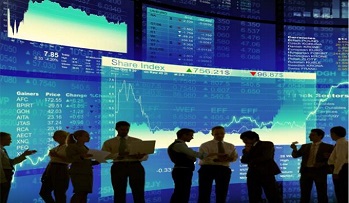 It was the turn of the Hang Seng to play catch-up with Japan today and probably the perfect opportunity with the Nikkei closed for a national holiday. The HSI dropped over 1.5% that could have been a reaction to the Yuan fix (6.489 is the highest in over 10years) but also impacting from the JPY strength! The JPY saw another day of positive gains (1.4%) despite Tokyo closed for Golden Week (Nikkei closed now until the end of next week). In late US trading we are watching the JPY trading with a 106 handle whilst Nikkei futures fall -1.4%, China 300 and HSI both around 0.3% lower.
Given we saw some poor results ahead of the opening (RBS £-968mio loss compared to previous £-469mio) for example and also mixed data all core indices saw profit-taking ahead of the long weekend. DAX,CAC and IBEX all suffered near 2.75% declines whilst the FTSE lost 1.25%. Interesting that fixed-income core and peripheries lost ground also but more on that below. Miners and Basic Resources all rallied as we saw strong gains for precious metals and energy (as Europe closed).
Disappointing data also in the US and we saw the kind of profit-taking many had been expecting. We were in danger of witnessing a panic afternoon at one stage but selling volumes died late in the day and we saw the DOW recover over half of its intra-day moves to close just down 0.35%. A lot of talk this week about the US Dollars weakness against the majors. The JPY has seen a 6% move in 36hours, an 18month low. As a result we have seen rallies in oil, gold, sliver and EM currencies. Gold this evening closes at $1295 a rally of $30 (2.4%) and levels not seen in over a year and silver pressed higher implying a pop into next week is likely.
This evening Portugal managed to retain its credit rating, a relief for many European banks market-makers commented. US 10yr notes closed today at 1.83% (unchanged, having traded a 5bp all day). German 10yr Bund closed 0.27% (+2bp). This closes the 10/10's spread at 156bp. Italy closed 1.48%, Greece 8.25%, Turkey 9.02%, Portugal 3.13% and UK Gilt 10yr at 1.59%.