Blog/Market Talk
Posted Apr 29, 2021 by Martin Armstrong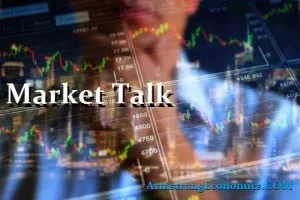 ASIA:
President Joe Biden proposed a sweeping new $1.8 trillion plan in a speech to a joint session of Congress on Wednesday, pleading with Republican lawmakers to work with him on divisive issues and to meet the stiff competition posed by China. He said, "China and other countries are closing in fast," adding that he has spent a lot of time talking to Chinese President Xi Jinping.
Indian food delivery startup Zomato, backed by China's Ant Group, filed for an IPO of up to 82.5 billion rupees ($1.11 billion) on Wednesday to cash in on a pandemic-led surge in online ordering. Indian food delivery market is estimated to be worth 4.2 billion USD which currently has three players Zomato and Accel backed Swiggy and Amazon. While Swiggy and Zomato dominate the Indian food delivery market, Amazon remains a relatively new and smaller player. Zomato logged a 98.4% jump in revenue from operations for the year ending March 2020, while its loss widened to 23.67 billion rupees from 9.65 billion rupees a year earlier.
Samsung Electronics Co Ltd said on Thursday it expects chip profits to rise in the second quarter as customers seek to secure stock amid a global chip shortage, that will likely hit device production and mobile profits that same quarter. Samsung, which reported its highest first-quarter operating profit in three years, said it expected memory chip earnings to improve "significantly" in the second quarter, as "market conditions improve on the back of strong server demand".
The major Asian stock markets had a mixed day today:
NIKKEI 225 closed
Shanghai increased 17.83 points or 0.52% to 3,474.90
Hang Seng increased 231.92 points or 0.80% to 29,303.26
ASX 200 increased 17.60 points or 0.25% to 7,082.30
Kospi decreased 7.40 points or -0.23% to 3,174.07
SENSEX increased 32.10 points or 0.06% to 49,765.94
Nifty50 increased 30.35 points or 0.20% to 14,894.90
The major Asian currency markets had a mixed day today:
AUDUSD decreased 0.00307 or -0.39% to 0.77682
NZDUSD decreased 0.00279 or -0.38% to 0.72384
USDJPY increased 0.39 or 0.36% to 108.92
USDCNY decreased 0.00723 or -0.11% to 6.46619
Precious Metals:
Gold decreased 13.56 USD/t oz. or -0.76% to 1,767.76
Silver decreased 0.23 USD/t. oz or -0.88% to 25.940
Some economic news from last night:
South Korea:
Manufacturing BSI Index (May) increased from 91 to 95
Australia:
Export Price Index (QoQ) (Q1) increased from 5.5% to 11.2%
Import Price Index (QoQ) (Q1) increased from -1.0% to 0.2%
New Zealand:
ANZ Business Confidence (Apr) increased from -4.1 to -2.0
NBNZ Own Activity (Apr) increased from 16.6% to 22.2%
Exports (Mar) increased from 4.50B to 5.68B
Imports (Mar) increased from 4.30B to 5.65B
Trade Balance (MoM) (Mar) decreased from 201M to 33M
Trade Balance (YoY) (Mar) decreased from 2,380M to 1,690M
EUROPE/EMEA:
The Spanish government has approved a €70 billion recovery plan to be funded with EU resources, which has the long-term aims of shifting the country's economy away from over-reliance on services and boosting digitalization. Spain will submit its stability plan to the European Commission on Wednesday (April 28), EFE reported. The plan contains a series of reforms, including of the tax and pension systems. The plan is intended to promote an economic green transition through decarbonization and electrification, notably by promoting the use of electric vehicles. It also seeks to reinforce the use of renewable energies generally and features a hydrogen road map.
Sweden's economy logged a robust growth in March, data from Statistics Sweden showed on Thursday. Gross domestic product grew 2.1 percent on month in March, much faster than the 0.2 percent rise seen in February. This was the fastest growth since July 2020, when it was up 3.5 percent. On a yearly basis, GDP grew 3.5 percent in March, in contrast to February's 1.1 percent fall. For the first quarter as a whole, GDP grew by 1.1 percent sequentially, well above economists' forecast of 0.5 percent.
The major Europe stock markets had a negative day:
CAC 40 decreased 4.41 points or -0.07% to 6,302.57
FTSE 100 decreased 2.19 points or -0.03% to 6,961.48
DAX 30 decreased 137.98 points or -0.90% to 15,154.20
The major Europe currency markets had a mixed day today:
EURUSD decreased 0.00166 or -0.14% to 1.21168
GBPUSD increased 0.00032 or 0.02% to 1.39540
USDCHF increased 0.00111 or 0.12% to 0.91007
Some economic news from Europe today:
Germany:
German Import Price Index (MoM) (Mar) increased from 1.7% to 1.8%
German Import Price Index (YoY) (Mar) increased from 1.4% to 6.9%
German Unemployment Change (Apr) increased from -6K to 9K
German Unemployment Rate (Apr) remain the same at 6.0%
German Unemployment (Apr) increased from 2.751M to 2.760M
German Unemployment n.s.a. (Apr) decreased from 2.827M to 2.771M
German CPI (YoY) (Apr) increased from 1.7% to 2.0%
German CPI (MoM) (Apr) increased from 0.5% to 0.7%
German HICP (MoM) (Apr) remain the same at 0.5%
German HICP (YoY) (Apr) increased from 2.0% to 2.1%
Spain:
Spanish CPI (YoY) (Apr) increased from 1.3% to 2.2%
Spanish CPI (MoM) (Apr) increased from 1.0% to 1.2%
Spanish HICP (YoY) (Apr) increased from 1.2% to 1.9%
Spanish HICP (MoM) (Apr) decreased from 1.9% to 1.1%
Spanish Unemployment Rate (Q1) decreased from 16.13% to 15.98%
Italy:
Italian PPI (YoY) (Mar) increased from 0.7% to 2.7%
Italian PPI (MoM) (Mar) increased from 0.5% to 0.9%
Euro Zone:
M3 Money Supply (YoY) (Mar) decreased from 13.3% to 10.1%
Loans to Non Financial Corporations (Mar) decreased from 7.1% to 5.3%
Private Sector Loans (YoY) increased from 3.0% to 3.3%
Business and Consumer Survey (Apr) increased from 100.9 to 110.3
Business Climate (Apr) increased from 0.31 to 1.13
Consumer Confidence (Apr) increased from -10.8 to -8.1
Consumer Inflation Expectation (Apr) increased from 18.6 to 19.6
Selling Price Expectations (Apr) increased from 17.5 to 24.1
Services Sentiment (Apr) increased from -9.6 to 2.1
Industrial Sentiment (Apr) increased from 2.1 to 10.7
US/AMERICAS:
President Joe Biden addressed a joint Congress last night and laid out his plan to the "blue-collar blueprint to build America." Biden praised his administration for the vaccination rollout, but said more needs to be done to end trickle-down economics, stating they "never worked." "It's time to grow the economy from the bottom up and middle-out." Biden took a tough stance on China, stating that the country was surpassing the US in technological advancements and more needed to be done to stay competitive. He also said, "Any country that out-educates us will also outcompete us." The president laid out his American Families Plan that would entitle workers to take time off work to welcome a new child or to care for an elderly relative. He would also like to embrace bereavement pay, previously citing the untimely death of his son. The president reiterated his stance on raising taxes on Americans making over $400,000 annually, saying that the tax was "fair" and "fiscally responsible." Furthermore, Biden proposed raising the federal minimum wage to $15 which was originally omitted from his $1.9 trillion COVID-19 relief package in March.
New York Mayor Bill de Blasio said that New York will finally fully reopen on July 1. The city has not fully reopened since the pandemic began last March, and was once the epicenter for the virus in America. Over 36% of the population has been fully vaccinated and at least half of the city's adult population has received one dose of the vaccine. Bill de Blasio boldly claimed that he believes people will "flock" back to NYC as it will be the hip city to live in once again.
US GDP spiked 6.4% this quarter, marking the fastest pace of growth since Q3 of 2003. Dow Jones economists had anticipated a slightly higher uptick of 6.5%. Consumer spending advanced 10.7%, a 2.3% increase from Q4. Good accounting for 23.6% of expenditure spending, while services, a sector that has suffered significantly throughout the pandemic, rose 4.6%. An increasing number of Americans are also saving, with 21% reporting saving away money in Q1 compares to 13% in Q4. Imports rose 5.7%, while exports declined 1.1%. Government expenditures and investments rose 13.9% at the federal level are 1.7% from state and local entities.
US Market Closings:
Dow advanced 239.98 points or 0.71% to 34,060.36
S&P 500 advanced 28.29 points or 0.69% to 4,211.47
Nasdaq advanced 31.51 points or 0.22% to 14,082.55
Russell 2000 declined 8.7 points or -0.38% to 2,295.46
Canada Market Closings:
TSX Composite declined 101.03 points or -0.52% to 19,255.92
TSX 60 declined 5,44 points or -0.47% to 1,147.95
Brazil Market Closing:
Bovespa declined 986.77 points or 0.82% to 120,065.75
ENERGY:
The oil markets had a mixed day today:
Crude Oil increased 0.71 USD/BBL or 1.11% to 64.5700
Brent increased 0.86 USD/BBL or 1.28% to 68.1300
Natural gas decreased 0.063 USD/MMBtu or -2.13% to 2.8970
Gasoline increased 0.0077 USD/GAL or 0.37% to 2.0799
Heating oil increased 0.0115 USD/GAL or 0.59% to 1.9501
Top commodity gainers: Crude Oil (1.11%), Brent (1.28%), Tin (1.15%) and Aluminum (1.17%)
Top commodity losers: Natural Gas (-2.13%), Lean Hogs (-1.93%), Oat (-10.85%), and Orange Juice (-2.08%)
The above data was collected around 11:36 EST on Thursday.
BONDS:
Japan 0.0950%(+2bp), US 2's 0.17%(+0.002%), US 10's 1.6593%(+3.93bps); US 30's 2.3268%(+0.03%), Bunds -0.2300% (+0bp), France 0.155% (+13.5bp), Italy 0.8710% (+4bp), Turkey 17.80% (-1bp), Greece 0.992% (+4.1bp), Portugal 0.486% (+4.1bp); Spain 0.477% (+3.88bp) and UK Gilts 0.841% (+4.2bp).
Italian 5-Year BTP Auction increased from 0.05% to 0.17%
Italian 10-Year BTP Auction increased from 0.72% to 0.88%
US 4-Week Bill Auction decreased from 0.005% to 0.000%
US 8-Week Bill Auction decreased from 0.015% to 0.010%