Blog/Market Talk
Posted Apr 29, 2020 by Martin Armstrong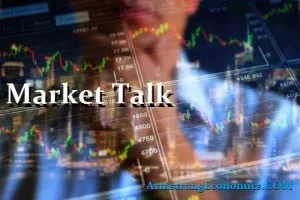 ASIA:
India's sovereign rating could come under pressure if its fiscal outlook deteriorates further as the government tries to steer the country through the coronavirus crisis, rating agency Fitch said on Tuesday. Fitch currently rates India at BBB-, with a stable outlook, but any downgrade would consign its sovereign debt to junk bond territory. The rating agency believes the country has limited fiscal space to respond to the challenges posed by the health crisis and the government debt is likely to rise to over 77% of GDP in FY21 versus 70% of GDP in FY20 on the back of fall in growth, wider fiscal deficits, and assuming a restrained fiscal response.
Investors are watching China closely for clues about when a recovery from the coronavirus-induced economic slump may begin in the United States. China itself has been hinting that a rebound is starting to take hold. Analysts are determining the outlook based on the official numbers from the Chinese government. However, many believe the government cannot be considered reliable in the present scenario and are waiting to hear what executives at large US and European multinationals are saying about a potential turnaround in China.
China announced on Wednesday that it will hold the country's biggest annual political meeting in May following a two-month delay. This is the strongest signal yet from the Chinese government that it considers the novel coronavirus outbreak to be under control. The annual meeting of the National People's Congress (NPC), China's top legislative body, is usually held in early March. This year, it was postponed for the first time in decades due to the coronavirus outbreak.
Japan's government plans to extend a nationwide state of emergency beyond May 6, as the country's coronavirus outbreak has yet to subside, Nikkei said in a report. The public could be urged to stay at home for about one month longer under a proposal to be discussed at an expert meeting on Friday.
The major Asian stock markets had a green day today:
NIKKEI 225 closed
Shanghai increased 12.42 points or 0.44% to 2,822.44
Hang Seng increased 67.63 points or 0.28% to 24,643.59
ASX 200 increased 80.30 points or 1.51% to 5,393.40
Kospi increased 13.47 points or 0.70% to 1,947.56
SENSEX increased 605.64 points or 1.89% to 32,720.16
The major Asian currency markets had a mixed day today:
AUDUSD increased 0.00326 or 0.50% to 0.65337
NZDUSD increased 0.00427 or 0.70% to 0.61102
USDJPY decreased 0.04 or -0.04% to 106.74
USDCNY decreased 0.0112 or -0.16% to 7.07539
Precious Metals:
Gold decreased 3.83 USD/t oz. or -0.22% to 1,703.68
Silver increased 0.01 USD/t. oz or 0.07% to 15.2000
Some economic news from last night:
South Korea:
Manufacturing BSI Index (May) decreased from 52 to 45
Industrial Production (MoM) (Mar) increased from -3.8% to 4.6%
Industrial Production (YoY) (Mar) decreased from 11.3% to 7.1%
Retail Sales (MoM) increased from -6.0% to -1.0%
Service Sector Output (MoM) (Mar) decreased from -3.5% to -4.4%
New Zealand:
Exports (Mar) increased from 4.87B to 5.81B
Imports (Mar) increased from 4.34B to 5.14B
Trade Balance (YoY) (Mar) decreased from -3,300M to -3,460M
Trade Balance (MoM) (Mar) increased from 531M to 672M
Australia:
CPI (YoY) (Q1) increased from 1.8% to 2.2%
CPI (QoQ) (Q1) decreased from 0.7% to 0.3%
CPI Index Number (Q1) increased from 116.20 to 116.60
Trimmed Mean CPI (YoY) (Q1) increased from 1.6% to 1.8%
Trimmed Mean CPI (QoQ) (Q1) increased from 0.4% to 0.5%
Weighted mean CPI (YoY) (Q1) increased from 1.3% to 1,7%
Weighted mean CPI (QoQ) (Q1) increased from 0.4% to 0.5%
Some economic news from today:
Singapore:
Unemployment Rate (Q1) increased from 2.3% to 2.4%
EUROPE/EMEA:
European markets had a strong day today, FTSE 100, CAC 40, and DAX all rose above 2% on anticipation of the US Federal Reserve's policy statement and eased quarantine measures.
The EU and the UK have still not settled the matter over the proposed EU technical office/embassy in Belfast, Northern Ireland. The UK earlier said that it was not necessary and would be divisive for EU representation in the UK, whereas the EU argued that they needed to be able to check the border and provide services for Northern Irish citizens who have the right to hold both Irish and British passports.
Poland's presidential election, scheduled for May 10, will be pushed back to a later date. The current party, PiS, deemed an election unconstitutional as it could expose the public to health risks. Former EC President Donald Tusk, head of the European People's Party, has said that he will refuse to vote and urged his rivals not to participate.
Germany is contemplating re-installing the lockdown as new coronavirus cases spiked after easing measures just days ago. Meanwhile, the Spanish government announced a four-phase plan to lift their lockdown with the aim of returning to "normal" by the end of June.
Lithuania announced today that they are opening cafes and restaurants, albeit only for outdoor dining, turning the capital into a huge open-air cafe by allowing restaurants to use the spaces outside of their premises.
The major Europe stock markets had a green day today:
CAC 40 increased 101.32 points or 2.22% to 4,671.11
FTSE 100 increased 156.75 points, or 2.63% to 6,115.25
DAX 30 increased 312.11 points or 2.89% to 11,107.74
The major Europe currency markets had a green day today:
EURUSD increased 0.00373 or 0.34% to 1.08663
GBPUSD increased 0.00197 or 0.16% to 1.24490
USDCHF increased 0.00151 or 0.16% to 0.97569
Some economic news from Europe today:
UK:
BRC Shop Price Index (YoY) decreased from -0.8% to -1.7%
Germany:
German Import Price Index (MoM) (Mar) decreased from -0.9% to -3.5%
German Import Price Index (YoY) (Mar) decreased from -2.0% to -5.5%
German CPI (MoM) (Apr) increased from 0.1% to 0.3%
German CPI (YoY) (Apr) decreased from 1.4% to 0.8%
German HICP (MoM) (Apr) increased from 0.1% to 0.4%
German HICP (YoY) (Apr) decreased from 1.3% to 0.8%
Spain:
Spanish Business Confidence decreased from -7.1 to -35.1
Spanish Retail Sales (YoY) (Mar) decreased from 1.8% to -14.1%
Italy:
Italian PPI (MoM) (Mar) decreased from -0.5% to -1.0%
Italian PPI (YoY) (Mar) decreased from -2.7% to -3.6%
Swiss:
ZEW Expectations (Apr) increased from -45.8 to 12.7
Euro Zone:
M3 Money Supply (YoY) (Mar) increased from 5.5% to 7.5%
Loans to Non Financial Corporations (Mar) increased from 3.0% to 5.4%
Private Sector Loans (YoY) decreased from 3.7% to 3.4%
Business and Consumer Survey (Apr) decreased from 94.2 to 67.0
Business Climate (Apr) decreased from -0.28 to -1.81
Consumer Confidence (Apr) decreased from -11.6 to -22.7
Consumer Inflation Expectation (Apr) increased from 23.0 to 29.1
Selling Price Expectations (Apr) decreased from -0.3 to -7.9
Services Sentiment (Apr) decreased from -2.3 to -35.0
Industrial Sentiment (Apr) decreased from -11.2 to -30.4
US/AMERICAS:
The world's largest economy contracted in -4.8% in what has been the most disastrous quarter since 2008. Analysts had anticipated a -4% slowdown in the US during the first quarter. According to the Bureau of Economic Analysis, the quarantine orders "led to rapid changes in demand" that caused consumers to cancel, restrict, and redirect their spending. Consumer spending, the most significant percentage of US GDP, declined -7.6%, marking the steepest loss in twenty years.
Bank of America CEO Michael Meyer believes consumer spending will never return to pre-coronavirus levels. "Following this COVID shock, the tendency will be to build up savings and there will also be a change in how people spend and how people live," Meyer told reporters at Financial Times.
The healthcare sector took a significant hit during the first quarter after profitable elective procedures were deemed "non-essential." The sector declined overall by about -2.25% during the first three months of the year. Postponing non-emergent procedures has led to more than a decline in cosmetic procedures. Medical providers across the country specializing in areas such as dentistry, gynecology, ophthalmology, fertility, and others have been forced to temporarily suspend procedures.
A coronavirus cure may be on the horizon after Gilead Sciences' (+5.68%) announced promising trial test results for an antiviral drug. Dr. Fauci corroborated the claims and said the drug could provide a "clear-cut positive effect in diminishing time to recover." The patients who received the placebo drug recovered in 15 days compared to those who took the newly developed drug, remdesivir, who recovered in 11 days.
Boeing (+5.86%) declared a $641 million loss during the first quarter due to the coronavirus crisis that has nearly halted air travel and production. According to Al Jazeera, an estimated 10% of Boeing employees will lose their jobs due to the slowdown. CEO David Calhoun said he expects the grounded 737 MAX jet production to resume in 2020, albeit at a slower pace.
US Market Closings:
Dow advanced 532.31 points or 2.21% to 24,633.86
S&P 500 advanced 76.12 points or 2.66% to 2,939.51
Nasdaq advanced 306.98 points or 3.57% to 8,914.71
Russell 2000 advanced 62.68 points or 4.83% to 1,360.76
Canada Market Closings:
TSX Composite advanced 429.82 points or 2.9% to 15,228.11
TSX 60 advanced 26.11 points or 2.92% to 920.28
Brazil Market Closing:
Bovespa advanced 1,858.57 points or 2.29% to 83,170.80
ENERGY:
WTI Crude jumped close to 30% today, pushing above 15 as the future demand of oil is looking brighter after restrictions caused by the coronavirus are easing worldwide.
The oil markets had a green day today:
Crude Oil increased 2.92 USD/BBL or 23.66% to 15.2600
Brent increased 2.04 USD/BBL or 9.97% to 22.5000
Natural gas increased 0.089 USD/MMBtu or 4.96% to 1.8820
Gasoline increased 0.0383 USD/GAL or 5.30% to 0.7607
Heating oil increased 0.0747 USD/GAL or 10.49% to 0.7864
The above data was collected around 14.03 EST on Wednesday.
Top commodity gainers: Crude Oil (23.66%), Heating Oil (10.49%), Brent (9.97%), and Lean Hogs (26.89%)
Top commodity losers: Wheat (-1.95%), Cheese (-11.32%), Milk (-11.47%), and Lumber (-2.82%)
The above data was collected around 14.06 EST on Wednesday.
BONDS:
Japan -0.04%(-1bp), US 2's 0.20% (-1bps), US 10's 0.60%(-1bps); US 30's 1.21%(+0bps), Bunds -0.50% (-4bp), France -0.05% (-5bp), Italy 1.77% (+4bp), Turkey 11.61% (+22bp), Greece 2.17% (+0bp), Portugal 0.92% (-6bp); Spain 0.83% (-2bp) and UK Gilts 0.28% (-1bp).
German 10-Year Bund Auction decreased from -0.340% to -0.480%
Italian 10-Year BTP Auction increased from 1.48% to 1.78%
Italian 5-Year BTP Auction increased from 0.80% to 1.36%
UK 30-Year Treasury Gilt Auction decreased from 0.680% to 0.612%