Blog/Market Talk
Posted Apr 29, 2019 by marty armstrong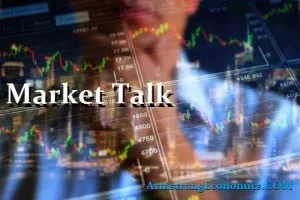 ASIA:
A large rally (people, not stocks) took place in Hong Kong today appealing against the countries extradition law. The proposed law will allow suspect to be sent to mainland China for trail. It is believed over 100 thousand people took part in the protests. Regarding US and China relations the US Treasury Secretary Mnuchin says trade deal with China is now in the final stages, as an American delegation heads to Beijing to try and wrap up the deal this week – but let's wait to see it before we believe it.
Indonesia's current capital Jakarta is sinking at a faster rate than no other city in the world. Calls from the Indonesian government to relocate the capital to another city. Panagariya, a city based within the largest islands of Indonesia is seen as a likely destination. The officials are complaining for the traffic within Jakarta home of 10 million people.
The major Asian stock markets had a mixed day today: SENSEX increased 336.47 points(0.87%) to 39,067.33; Hang Seng increased 287.80 points(0.97%) to 29,892.81; KOSPI increased 37.12 points(1.70%) to 2,216.43; however NIKKEI 225 ;ASX 200 and Shanghai took the opposite route; NIKKEI 225 decreased 48.85 points(-0.22%) to 22,258.73; ASX 200 decreased 26.10 points(-0.41%) to 6,359.50 and Shanghai decreased 23.90 points(-0.77%) to 3,062.50.
The major Asian currency markets had a mixed day today: The AUDUSD increased 0.0016 or 0.23% to 0.7055;The NZDUSD increased 0.0009 or 0.13% to 0.6668 and The USDJPY increased 0.0670 or 0.06% to 111.6470; however The USDCNY took the opposite route decreased 0.0009 or 0.01% to 6.7385
Gold decreased 6.3USD/t oz. or -0.49% to 1,281.06 and Silver decreased 0.15 USD/t. oz or -1.00% to 14.9404
Some economic news:
Exports (MoM) (Mar) increased from -6.9% to -1.2%
Imports (MoM) (Mar) increased from -3.8% to -0.1%
Trade Balance decreased from -48.8B to -59.3B
EUROPE:
Spanish Socialists win at the countries general election. Although there was an increase in far right support – who managed to win seats for the first time – the socialist party did enough to capture the overall win, but still short of a majority. PM Pedro Sanchez, party polled in at 29% and will need a coalition to form a government from the remaining parties. Meanwhile, European Union's Juncker stated that Poland will be unlikely to leave the EU even if the Eurosceptic law and justice party wins the upcoming election.
A beluga whale has been found of the coast of Norway with Spy equipment attached to its body – some believe this is a "Russian Spy Whale"  trained by the Russian Navy, but of course experts cannot be certain.
The major Europe Stock markets had a green day today: CAC 40 increased 11.63 points or 0.21% to 5,580.98; The FTSE 100 increased 12.47 points, or 0.17% to 7,440.66 and DAX increased 12.84 points or 0.10% to 12,328.0.
The major currency markets had a green day today: The EURUSD increased 0.0037 or 0.33% to 1.1185; The GBPUSD increased 0.0016 or 0.13% to 1.2933 and The USDCHF increased 0.0001 or 0.01% to 1.0196.
Some economic news:
Italian PPI (MoM) (Mar) increased from -0.1% to 0.0%
Italian PPI (YoY) (Mar) decreased from 3.1% to 2.9%
Spanish Business Confidence decreased from -2.4 to -3.8
M3 Money Supply (YoY) (Mar) increased from 4.3% to 4.5%
Private Sector Loans (YoY) decreased from 3.3% to 3.2%
Business and Consumer Survey (Apr) decreased from 105.6 to 104.0
Business Climate (Apr) decreased from 0.54 to 0.42
Consumer Confidence (Apr) decreased from -7.2 to -7.9
Consumer Inflation Expectation (Apr) decreased from 17.0 to 15.7
Selling Price Expectations (Apr) decreased from 6.9 to 5.2
Services Sentiment (Apr) remain the same at 11.5
Industrial Sentiment (Apr) decreased from -1.6 to -4.1
US / AMERICAS:
Another positive day on Wall Street to start another week, albeit an active one with more noteworthy corporate earnings on the schedule (e.g. Apple, Alphabet / Google, Qualcomm, among others) as well as a Federal Reserve update.  The Dow closed fairly flat today, gaining just over 11 points and closing at 26,554.39 (+0.04%). Meanwhile the S&P 500 (2,943.03 close, +0.11%) set another intraday high today. The Nasdaq closed at 8,161.85 (+0.34%). The Russell 2000 had the strongest percentage gain today (+0.41%), closing at 1,598.36. Keep in mind, the Vix (which measures volatility of the S&P 500) spiked nearly 3% today.
Not major gaps or moves across the sectors today; Financials lead the way (+0.93%) while Real Estate (-1.06%) was at the bottom. Intel (-2.52%) continued its slide into the new week, while JP Morgan (+1.44%), Adobe (+1.48%), Goldman Sachs (+1.89%), American Airlines (+2.15%) and Tesla (+2.69%) were among the day's gainers. Recently public Pinterest (+14.77%) had a strong upward movement.
In Canada, the TSX Composite was down slightly (16,600.37 close, -0.08%), while the TSX 60 was just barely in the red (995.73 close, -0.02%).
In Brazil, the Bovespa was also just narrowly in the red, closing at 96,187.75 (-0.05%).
ENERGY:
There are rumors that India and China – the world's second and third largest imports of Crude oil – are trying to build a "buyers" bloc. The idea of this will try and put more pressure on OPEC to reduce premiums placed on oil sold to Asian countries.
The oil markets had a mixed day today: Crude Oil increased 0.31 USD/BBL or 0.49% to 63.4827; Natural gas increased 0.024 USD/MMBtu or 0.94% to 2.5847 and Heating oil increased 0.0055 USD/GAL or 0.27% to 2.0530; however Brent and Gasoline took the opposite route decreased 0.17 USD/BBL or -0.24% to 71.8560 and 0.0183 USD/GAL or -0.87% to 2.0813 respectfully.
Top commodity gainers are Cocoa (2.05%), Oat(1.30%) \, Rice (1.15%) and Steel(1.04%),. Biggest losers are Palladium (-6.42%), Sugar(-5.14%) ;Orange Juice(-3.11%) and Copper (-2.73%).
The above data were collected around noon 17:13 EST time on Monday
BONDS:
Japan -0.04%(+0bp), US 2's 2.30% (-9bps), US 10's 2.53%(-6bps), US 30's 2.96%(-4bps), Bunds -0.02% (-1bp), France 0.37% (+1bp), Italy 2.58% (-1bp), Turkey 18.59% (+129bp), Greece 3.31% (-43bp), Portugal 1.13% (-6bp), Spain 1.01% (-1bp) and UK Gilts 1.16% (-4bp)
US 3-Month Bill Auction decreased from 2.400% to 2.385%
US 6-Month Bill Auction decreased from 2.400% to 2.395%
French 3-Month BTF Auction decreased from -0.516% to -0.546%
French 6-Month BTF Auction decreased from -0.515% to -0.540%
French 12-Month BTF Auction decreased from -0.527% to -0.535%