Blog/Market Talk
Posted Apr 28, 2020 by Martin Armstrong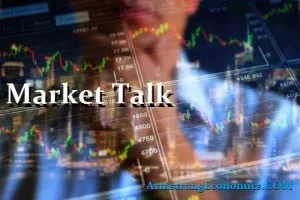 ASIA:
India's central bank, the Reserve Bank of India (RBI) will open a special liquidity window of approximately 6.6 billion USD to ease pressure on mutual funds, which are facing liquidity strains due to heightened volatility in capital markets in the wake of the COVID-19 outbreak. The scheme is available from April 27, 2020, until May 11, 2020, or up to utilization of the allocated amount, whichever is earlier. The RBI would review the timeline and amount depending on market conditions.
India could emerge as an alternative investment destination for US companies doing business in China in the aftermath of the COVID-19 pandemic, a view that the US government's Department of State is supporting. In a meeting held last week between a senior official of the US Department of State and representatives of large American companies operating in India through the American Chamber of Commerce in India, the importance of India as a potential destination for businesses shifting from China was underlined.
As India has entered into its last week of the 40-day nationwide lockdown, which is scheduled to end on May 3, 2020, the total number of novel coronavirus cases in the country rose to 29,974 today, according to the latest Ministry of Health and Family Welfare data. The death toll also increased by 51 to 937.
China has announced new measures to avoid a second wave of COVID-19 infections as it gradually reopens its economy and releases citizens from coronavirus lockdowns. Under the new guidelines, which Beijing calls "civilized behaviour," there are new curbs to prevent a second wave of the virus. As per new guidelines, people who feel ill must wear a face mask in public, and anyone who doesn't cover their nose and mouth when coughing or sneezing will be fined. This also includes a requirement for people to use their own utensils when eating shared meals. Under the new guidelines, eating on public transport is banned.
US President Donald Trump suggested on Monday that he may seek damages from China over the coronavirus outbreak, which began in the Chinese city of Wuhan and spread around the world. Trump said, "There are a lot of ways you can hold them accountable. We're doing some very serious investigations as you probably know."
The major Asian stock markets had a mixed day today:
NIKKEI 225 decreased 12.03 points or -0.06% to 19,771.19
Shanghai decreased 5.47 points or -0.19% to 2,810.02
Hang Seng increased 295.82 points or 1.22% to 24,575.96
ASX 200 decreased 8.30 points or -0.16% to 5,313.10
Kospi increased 11.32 points or 0.59% to 1,934.09
SENSEX increased 371.44 points or 1.17% to 32,114.52
The major Asian currency markets had a mixed day today:
AUDUSD increased 0.0051 or 0.80% to 0.6496
NZDUSD increased 0.00396 or 0.66% to 0.60593
USDJPY decreased 0.42 or -0.40% to 106.84
USDCNY decreased 0.0092 or 0.13% to 7.0840
Precious Metals:
Gold decreased 4.3 USD/t oz. or -0.25% to 1,705.15
Silver decreased 0.0795 USD/t. oz or -0.52% to 15.0710
Some economic news from last night:
South Korea:
Consumer Confidence (Apr) decreased from 78.4 to 70.8
Japan:
Jobs/applications ratio (Mar) decreased from 1.45 to 1.39
Unemployment Rate (Mar) increased from 2.4% to 2.5%
Some economic news from today:
Japan:
BoJ Core CPI (YoY) decreased from 0.2% to 0.1%
EUROPE/EMEA:
Major news outlets are suggesting the EU project is in real trouble due to no union regarding tackling the coronavirus. No solution is present regarding a financial package that suits all members, both north and south, with constant infighting between MPs. Even now in Ireland, a poll suggests that public opinion of the EU is now at a seven-year low.
The EU solidarity fund that was set up for natural disasters is now acting as a fund for urgent medical supplies. The UK is actually eligible to use the service as they pumped in millions while a member but must apply for funds before the end of June.
Mexico and the EU have now finalized a new free trade agreement. The agreement extended to allow each side to bid on public tenders.
German Chancellor Angela Merkel suggested that the EU must build their recovery around the green deal, also mentioning that the EU should be able to reduce greenhouse gasses by 55% by 2030.
The major Europe stock markets had a green day today:
CAC 40 increased 64.53 points or 1.43% to 4,569.79
FTSE 100 increased 111.71 points, or 1.91% to 5,958.50
DAX 30 increased 135.64 points or 1.27% to 10,795.63
The major Europe currency markets had a mixed day today:
EURUSD increased 0.0005 or 0.05% to 1.08287
GBPUSD increased 0.0006 or 0.05% to 1.24274
USDCHF decreased 0.00092 or -0.09% to 0.97492
Some economic news from Europe today:
France:
French Consumer Confidence (Apr) decreased from 103 to 95
Norway:
Core Retail Sales (MoM) (Mar) decreased from 2.0% to -0.9%
Spain:
Spanish Unemployment Rate (Q1) increased from 13.78% to 14.41%
UK:
CBI Distributive Trades Survey (Apr) decreased from -3 to -55
US/AMERICAS:
The US government reiterated today that large corporations who received funding intended for small businesses must return the funds by May 7 or face legal action. Treasury Secretary Steven Mnuchin told reporters that he was outraged by public companies who applied for government funds despite having the liquidity to make it through the downturn. "Anybody that took the money that they shouldn't have taken — one, it won't be forgiven, and two, they may be subject to criminal liability, which is a big deal," Mnuchin stated this Tuesday.
Secretary Mnuchin also announced that he foresees the US economy bouncing back by the end of the summer. US state governments are now deciding when and how to reopen. "Now again, the states are going to open up slowly, so you're going to see June and July pick up, but I think by August and September, you're going to see a big bounce back from what has been a very rocky period," Mnuchin declared.
Speaker Nancy Pelosi firmly announced that the House will continue their extended recess, opting to miss next week's scheduled meeting due to fears of the coronavirus. The decision caused a further divide between US politics as the Republican-led Senate and White House chose to remain open.
Brazil's Supreme Court will investigate President Bolsonaro for alleged corruption and political interference. After stepping down from his justice ministry position last week, Sergio Moro released statements claiming that the president was re-appointing the federal police chief to hide his own wrongdoings. Moro is best known for presiding over an investigation known as "project car wash" that led to the arrest of former President Luiz Inacio Lula da Silva. Bolsonaro denies all allegations and called Moro a "liar."
Mexico verbally finalized a deal with the European Union this Tuesday, ensuring free trade between the two economies. Mexico's Economy Minister Graciela Márquez and EU Trade Commissioner Phil Hogan discussed the finalization of the deal over the phone this Tuesday. According to Reuters, 14 Mexican states are now prepared to export their procurement markets to the EU. However, the negotiation process has been slow. In order for the free trade deal to commence, the legislation must be revised, approved by Brussels, and translated in every EU language.
US Market Closings:
Dow declined 32.23 points or -0.13% to 24,101.55
S&P 500 declined 15.09 points or -0.52% to 2,863.39
Nasdaq declined 122.43 points or -1.4% to 8,607.73
Russell 2000 advanced 16.2 points or 1.26% to 1,298.08
Canada Market Closings:
TSX Composite advanced 156.18 points or 1.07% to 14,798.29
TSX 60 advanced 9.64 points or 1.09% to 894.17
Brazil:
Bovespa advanced 3,073.63 points or 3.93% to 81,312.23
ENERGY:
The French government has suggested there should be a floor to the price of fossil fuels in order to promote cleaner energy.
The oil markets had a mixed day today:
Crude Oil increased 0.01 USD/BBL or 0.08% to 12.7900
Brent increased 0.15 USD/BBL or 0.75% to 20.1400
Natural gas decreased 0.05 USD/MMBtu or -2.67% to 1.8200
Gasoline increased 0.0071 USD/GAL or 1.04% to 0.6907
Heating oil increased 0.0062 USD/GAL or 0.88% to 0.7081
The above data was collected around 13.09 EST on Tuesday.
Top commodity gainers: Lumber (4.06%), Sugar (2.17%), Cotton (3.28%), and Coal (2.09%)
Top commodity losers: Natural Gas (-2.67%), Cocoa (-1.92%), Palladium (-1.13%), and Soda Ash (-1.15%)
The above data was collected around 13.11 EST on Tuesday.
BONDS:
Japan -0.04%(-0bp), US 2's 0.21% (-2bps), US 10's 0.62%(-4bps); US 30's 1.22%(-3bps), Bunds -0.47% (-2bp), France 0.00% (-2bp), Italy 1.76% (+0bp), Turkey 11.39% (-3bp), Greece 2.17% (-4bp), Portugal 0.97% (-7bp); Spain 0.87% (-3bp) and UK Gilts 0.29% (-1bp).
US 7-Year Note Auction decreased from 0.680% to 0.525%
UK 10-Year Treasury Gilt Auction decreased from 0.270% to 0.260%
Italian 6-Month BOT Auction increased from 0.055% to 0.227%