Blog/Market Talk
Posted Apr 27, 2017 by Martin Armstrong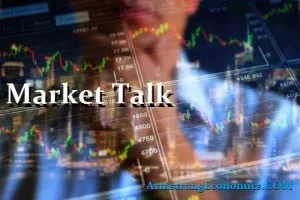 Two central banks were in play today, but neither moved on rates which was very much expected by the markets. The BOJ did however raise its economic forecast although that did not help support the Nikkei which closed small down at 19,250. The psychological barrier remains the 20k level but as it's the end of the month we shall look at Fridays closes for guidance. Both the Hang Seng and the core Shanghai indices closed around +0.4% higher after a volatile week for the Shanghai, it looks to have settled for the moment. Later in the day we will hear from the European central bank, but no change was the expectation throughout Asian trading anyway.
It was not a healthy close for Europe across the board. Although the bank followed consensus and even heard Mr Draghi recognize the regions recovery but warned in the same sentence it was nothing to get excited about. He did comment inflation had moved from +0.4% to +0.5% but also that bond purchases remained at 60bn and they would continue with the same target yield or lower if they had too, even though the downside risks have diminished. After an initial spike in the Euro sellers beat it back down and by close was way off the highs down -0.3%. He would not get pulled into the French election debate, saying the ECB follows markets and not political parties politics. All core indices were lower with DAX and CAC both off -0.3% – Deutsche Bank not helping trading down 3.5% showing low revenues. IBEX and FTSE -0.75% again financials (BBVA down 2%) even though results were better than anticipated.
Attention was more on Europe than the US even though data, March Durable, disappointed. Energy continues to keep raising concerns with yet another down day, hitting $48.40 at one stage. Even though the market was quiet today we still see a bid on declines. Most of the large caps have reported now and tonight we see the NASDAQ hit record intraday highs and encouraging we see the DOW, S+P and NASDAQ all closing better on the day. Friday tomorrow and Month end so will be interesting running the numbers. A few numbers tomorrow with GDP, PMI, Consumer Sentiment and Phili FED.
2's closed 1.25% (-2bp), 10's at 2.29% (-1bp), Bunds 0.29% (-6bp) closes the US/Germany 10yr spread at +200bp (+5bp). France closed 0.82% (-6bp), Italy 2.23% (-6bp), Greece 6.24% (+1bp), Turkey 10.09% (-13bp), Portugal 3.41% (-12bp) and Gilts 1.06% (-2bp). All European market performed well as the buyer said he'll chase the market if he has too