Blog/Market Talk
Posted Apr 27, 2018 by Martin Armstrong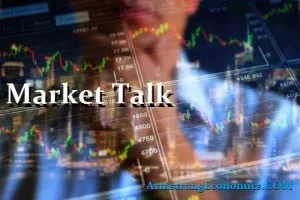 A steady day all-round today for Asia following Thursday healthy US session. The Hang Seng bounced back the 1% that it lost yesterday, although still has a little work to do. The Tech and Energy sectors have eventually found buyers and encouragingly they finished with a strong bid. Shanghai added 0.23% led by healthcare but, was an encouraging close as much of the day was spent in negative territory. In Japan, the BOJ expectedly left rates unchanged but removed any reference to timeframe when considering inflation targets. The Nikkei made steady progress all day and closed at the days high +0.7%. The Yen was initially weaker, around mid 109's as the Korea news was released (removes the need for a safety flight was the talk), but has crept back into the high 108's as US markets waned into the close. The INR had another day of consolidation which helped the SENSEX add more ground to finish the week adding 1.7% to the index, (0.7% of that gain came today).
European markets were better bid following the tech sector bounce and also better than expected Spanish banking results. BBVA rallied a near 2.5% but sadly in Germany the Deutsche Bank remains heavy, losing -3.5% today. Both the DAX and CAC gained 0.6% whilst the UK's FTSE added 1.06%. However, that rebalancing was probably because GBP continued its decline after economics data missed expectations. UK GDP came in at 0.1% with forecasts at +0.4% the release was a big miss, the worst since 2012. Some blamed the snow, but maybe failed to spot the increase in online purchases and demand for energy during that chilly period. However, Q1 is traditionally poor so all eyes on Q2, but it does reduce the chances of a May rate hike. All core indices bounced at the close as the US numbers looked very promising, but having seen US markets turn back lower – Monday could be weak again.
US GDP was the talk of markets as oil, tech, commodities and S+P all rallied. That was not to last and having seen the NASDAQ up over 1% by the close most of that had been returned to the market gods. Interesting that the DOW has found it difficult moving in either direction even as President Trump and Angela Merkel speak on trade. It could be a big week next week as we have the Federal Reserve on Wednesday and then the employment numbers released Friday. Lack of commitment by equities is one of the reasons treasuries recovered and the curve has resumed the flattening theme.
Japan 0.05%, US 2's 2.48% (-1bp), 10's 2.96% (-4bp), 30's 3.13% (-5bp), Bunds 0.57% (-2bp), France 0.79% (-2bp), Italy 1.73% (-1bp), Greece 3.88% (-2bp), Turkey 12.23% (-3bp), Portugal 1.62% (-4bp), Spain 1.25% (u/c), Gilts 1.44% (-6bp).